Hey, y'all!!
Nothing too exciting to report about this weekend. We've been enjoying our only free weekend in April (or actually our only free weekend until the end of May). We do enjoy our free time. It has been movies, tv shows, video games, and sleeping mostly. The calm before the storm, people.
Now let's get into Q&A Monday!
It is time again for Friend Makin' Monday. If you have a blog, I would like to invite you to answer the questions as well. Leave me a comment here, so I know you are playing. Then you can also leave a comment over at All The Weigh, so other folks can check out your answers as well. It is a fun way to connect to other bloggers.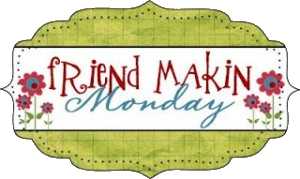 1. If you could be a recurring star on a show that is currently on TV, which show would you choose?
Parks and Rec. It is a fun comedy show with awesome people. I would LOVE it.
2. Name the movie that you are most embarrassed to admit that you love.
I can't think of one I am embarrassed about. I love "National Lampoon's Christmas Vacation", "Far and Away", "Steel Magnolias", "Dirty Dancing", "My Best Friend's Wedding", ".....etc etc. Okay, maybe "Teen Witch" and the "Beverly Hills Chihuahua" movies (because I LOVE talking animals).
3. Name one show that you've never seen and would love to watch.
If we take a loose, non-tv or movie related interpretation, I wish I could have seen Westlife perform before they broke up. OH, if I go the Broadway route, "Hairspray"!
4. Do you ever go to movies alone?
Not lately. When I worked at a craft store in town years ago, I would sometimes go see a movie at the theater next door before or after my work shift.
5. If you could only watch one TV show for the next year, which show would you choose and why?
Maybe The Daily Show or Conan because they are funny and do a handful of shows during the week so it doesn't get too old.
6. If you could star in one reality show, which one would it be and why?
It would be my own show that could either be me on tour with bands/groups I like, hanging out and doing fun stuff. Or some kind of travel show where I also hang out and do fun activities with celebrities.
7. If someone rented a billboard for you, what would it say?
"Love Who You Are". Something like that. I'd want it to be something positive for everyone and not just me.
8. Who is the most famous person with whom you have been in the same room?
Hmmmmmm, well, I took this to mean not a concert but in the same room with, so I am going with that. Britney Spears, various members of NSYNC, the Backstreet Boys, all the New Kids On The Block, 98 Degrees, Keanu Reeves, Geraldo Rivera, lol....Wil Wheaton, Gosh I don't know who else. Most of you probably aren't interested in most of those people.
9. If you were chosen to be a contestant on a TV game show, which show would you want to be on?
My husband suggested I should be on "Who Wants To Be A Millionaire?: NKOTB Edition". I would totally win. lol
10. If there was a movie being made about you, which actor would you choose to play you?
Okay, this one was really tough too. Here is a list of my top choices thus far: Queen Latifah, America Ferrera, Rebel Wilson with dark hair, or Sara Rue BEFORE she lost weight and was super cute.
Alrighty, y'all! Your turn to answer the questions. Hope you all have a Happy Monday!