If you don't know about Birchbox, it is a monthly subscription service. For $10 a month, you get a box of 4 to 5 high-end skincare, makeup, and/or hair care products to sample. Sometimes there are also "lifestyle samples", like an organic granola bar, tea, etc. Some products are even full-size!
It is a really fun thing to get in the mail! Plus, I am a product junkie and love being able to try all these different products. Check out the website for more information!
This month's theme is:
Best Year Ever
.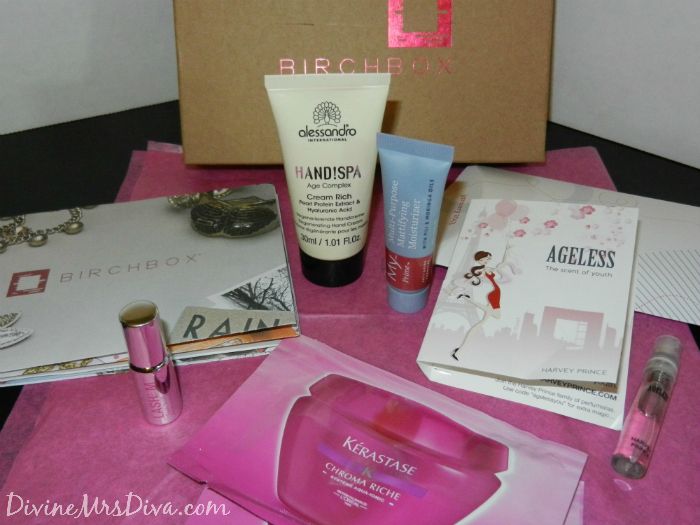 Products Included:
1. Alessandro Cream Rich Hand Cream
- This felt creamy and moisturizing without being greasy. Plus, it has a great, almost Sweet Tart-like scent, but not overpowering. I would definitely buy this in the future.
2. Harvey Prince Ageless Perfume
-This perfume offers notes of "pink grapefruit, pomegranate, and jasmine." I enjoy its light, cheery citrusy scent. It smells slightly sweet with a warmness that doesn't come from a musky note. I like it. (And that is saying a lot because I HATE perfume samples.)
3. Kerastase Masque Chroma Riche Conditioner
-With just one usage, I could tell the difference in my hair. It gave my thirsty tresses such a big drink of moisture that helped my curls work better and my hair behave. It was much needed. This stuff definitely works.
4. LASHEM Double Trouble Lash Mascara
- I wore this for a whole day to test it out. I normally wear a tubing mascara or MAC splashproof, because all other mascaras tend to give me racoons eyes by the end of the night. This one seemed okay for a while, but left giant blackened marks under my eyes by the end of the day. I do not appreciate makeup that migrates on my face. No, thank you.
5. My Multi-Purpose Mattifying Moisturizer
-This is actually a really great product. It is kind of thick feeling in texture, but smooths over my face nicely. It really made my skin feel moisturized and happy. It kept my skin matte for quite a while, which is very hard to do.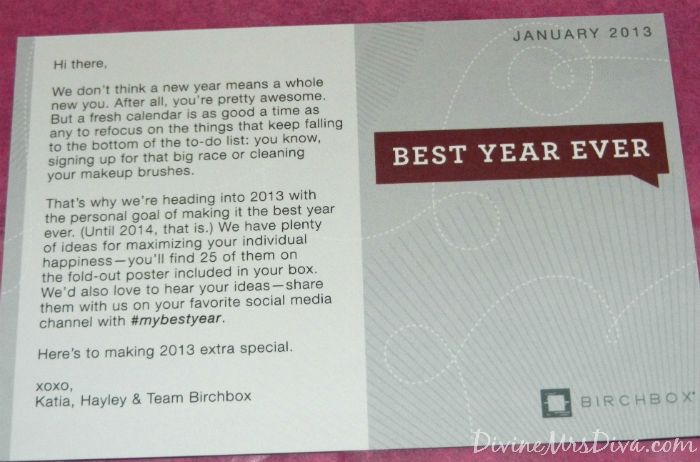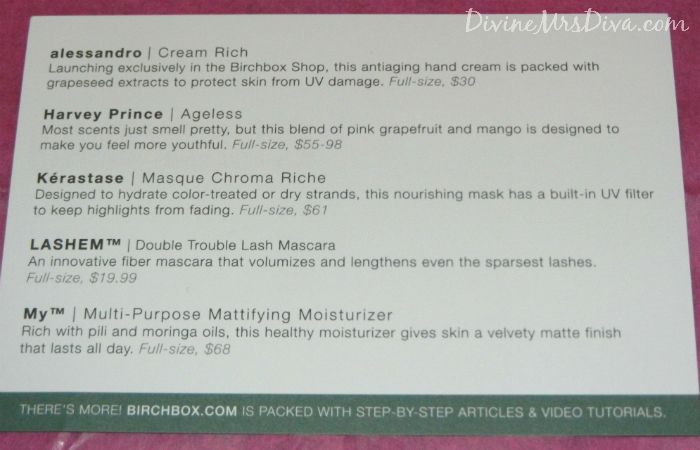 The enclosed booklet had a list of "25 ways to make 2013 awesome" which talked about products, beauty tips, and other activities or goals you could set.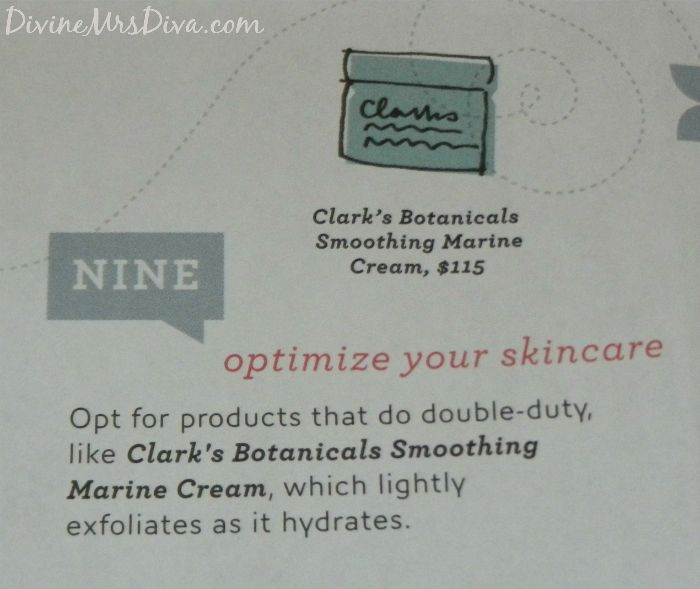 A close-up: I happen to LOVE the Clark's Botanicals Smoothing Marine Cream that I have previously received as a sample. I would buy the full-size if it wasn't so expensive.