Within the blogosphere, specifically the lifestyle and fashion blogs, you'll encounter a wide range of opinions on what is—
or isn't
—attractive, fashionable, or even simply blogworthy. Thus, even though both readers and bloggers span a wide range of body shapes and sizes, everyone, no matter who he or she is, should be able to find something relatable and enjoyable out there.
One of my favorite parts of reading other blogs is the common themes, often called "challenges". A small group of bloggers get together, and at regular intervals, they each host a commonly shared theme post—e.g. "Stripes". The neat thing about this type of blog post is that it offers us, the readers, an opportunity to see how the people in question interpret and incorporate the given theme into their outfits; it's like a fashion-lover's taster menu of personality.
With that in mind, and wanting to partake in the celebration of diversity,
Aislynn of Couture For Curves
and yours truly have decided to start our own monthly theme, the name of which will be—if you hadn't already guessed by the title of this post—"Sartorial Medley".
Each month on the 15th, we're going to post a theme, and if you'd like to participate, just send one of us an e-mail by the 25th (
mine is diva@divinemrsdiva.com
) with a link to your blog and the specific post you've written for the challenge; we'll e-mail you back as soon as we can. And no, we're not size discriminatory; if you're interested in participating and we think your blog is a nice fit to the challenge—i.e., it's a fashion-related blog/post—we'd be happy to have you join and link up when you're able to.
This month's theme:
Burgundy
.
This dress from SWAK Designs has been sitting in my closet for a few months. (I acknowledge it is more eggplant than burgundy, but it is the closest thing I have to burgundy. lol) I bought it for a wonderful sale price, but had to acquire pieces that would mesh well with it. I tend to own a lot of bright jewel-toned pieces that just didn't seem to go with this rich, dark color. The dress itself fits well and is so comfortable to wear. My only issue is that it is about two or three inches too long for me to wear flat shoes with it. I'll need to get it hemmed.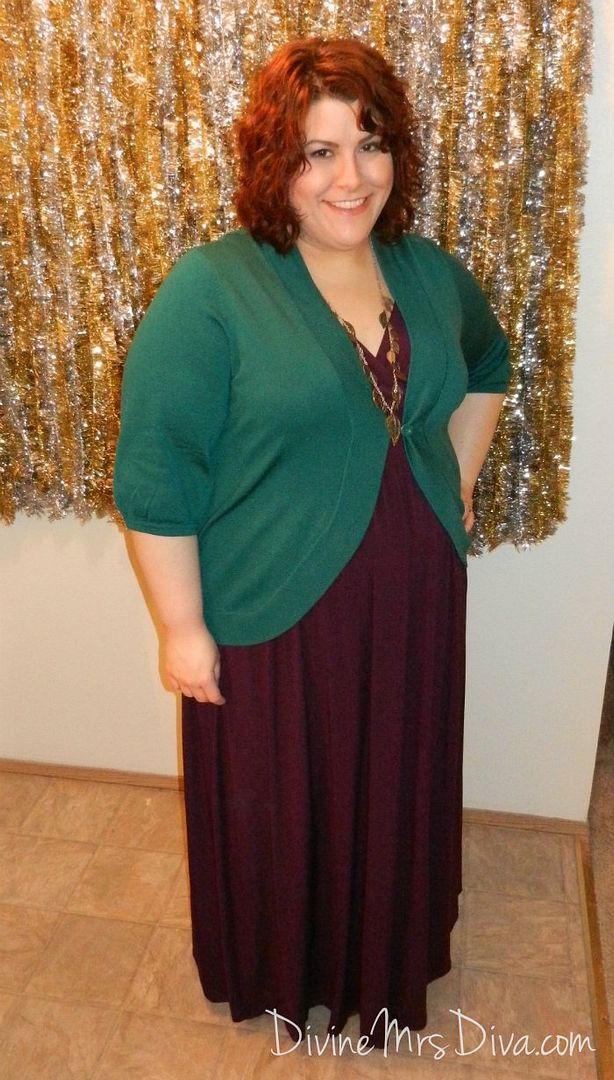 Sabrina Maxi Dress - SWAK Designs
Teal cardigan - Lane Bryant Outlet
Mixed metal leaves necklace - In Pink
Brown wedge sandals (not pictured) - Payless