Hey, y'all!
I hope this week finds you well and happy. For us, the weekend included running errands, a fun night of Bunco with friends and family, and a lazy Sunday of sleeping and playing Skyrim. I do feel somewhat ready to take on the week of cleaning, blogging, and all the other mundane and fun things on my To Do List.
It is time again for Friend Makin' Monday. If you have a blog, I would like to invite you to answer the questions as well. Leave me a comment here, so I know you are playing. Then you can also leave a comment over at All The Weigh, so other folks can check out your answers as well. It is a fun way to connect to other bloggers.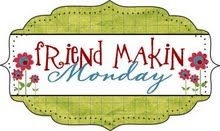 Getting To Know Each Other
1. What is your favorite color?
Pink is definitely my favorite. More specifically, a bright fuchsia pink with sparkles.

2. Share one or more of your talents.
I'm great at New Kids On The Block trivia, tying a cherry stem in a knot with my tongue, and sometimes singing. My friends usually rave about my cooking, creativity, and ability to take one-handed photos.

3. If you were spending the day getting to know someone new, where would you want to go?
I'd probably choose a fun amusement park.

4. What is your favorite meal?
Oh my gosh. Look, I love food. I don't think I have one all-encompassing favorite meal. I love the yellow curry at our local Thai place. I love the garlic salmon, mashed potatoes, and veggies we had at one of our fave restaurants the night we got engaged. (And pretty much every meal we have had at that restaurant since then.) I love the fondue we make at the house on Valentine's Day. I just can't choose one.

5. Do you prefer to text or talk?
I prefer to text on a daily basis, but nothing beats hearing someone's voice/laugh/tone and sharing the back and forth of a conversation.

6. Share something about yourself that might surprise someone that you're getting to know.
I've lived in 8 states, 16 cities, 22 different addresses, and physically moved about 26 times. I do not enjoy it, though I feel all of that greatly contributed to my personality and intelligence.

7. Do you color your hair?
I do. In fact, I've colored my hair since I was 14, right before my freshman year of high school. I was inspired by Angela Chase on My So-Called Life.

8. Do you wear glasses or contacts?
I have glasses that I need to wear when trying to see far away.

9. What is your favorite breakfast food?
I have been trying not to eat much meat for over a year now. There is a restaurant we don't get to very often, but they have this chicken fried steak benedict that is super tasty. I love biscuits and gravy and hashbrowns and other such things. But what I actually have for breakfast every day is Greek yogurt with granola and some kind of fruit.

10. Would your friends say that you're sarcastic?
Never. lol I am definitely sarcastic. It is one of the reasons my mother hates me so much. But I really don't think I am as sarcastic as I used to be.

11. Do you prefer salty or sweet?
As I get older, salty is more my preference. I find it easier to satisfy my sweet tooth these days.

12. What is the first thing you notice about the opposite sex?
Height, face, eyes, hair, smile.

13. What is the last movie you watched?
I watched the remake of Footloose on Netflix one day while I was filling out calendars. That was probably a couple weeks ago.

14. Are you religious?
No, I'm not religious. I am more agnostic than athiest.

15. Are you a neat freak, a slob, or somewhere in between?
I am probably somewhere in between. I like things clean and organized, but I sometimes get lazy about over-all cleaning. I'd much rather read, blog, spend time with Sean and the furkids, craft, or whatever else is on my list than vacuum or dust. I still make time to do it, but I don't do it as often as I would like.

16. Share something from your bucket list that you hope to do someday.
I want to visit Ireland.

17. Are you a risk taker, or do you prefer to play it safe?
I play it safe.

18. Have you ever worn braces?
Yes. I had braces for 4 years, from 8th grade until my senior year of high school. I even had the thing that went in my upper mouth area that had to be turned with a key to widen my jaw. It was horrendous.

19. Would you rather spend an evening at a theater or at a club?
A theater, unless the club was reserved for only my friends and I.

20. If you could have three wishes, what would one of them be?
I'd wish for health in all aspects of life for myself and my friends and family...well, everyone in the world really because everyone's state of being affects everyone else around them.


Now give it a go. Don't forget to link up with Kenlie and also say hello in the comments. Happy Monday!