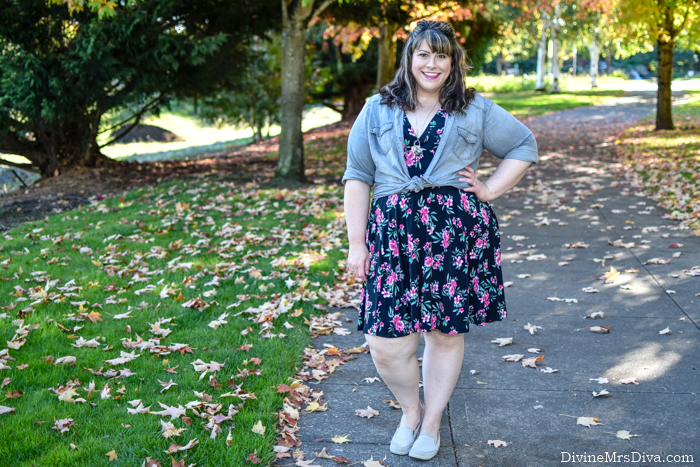 The holiday season is upon us, and I am a stressed out mess. This week and next are extremely busy, but I feel like I haven't really had time to breathe since I've been back home from my trip. Along with cancer check-ups, shooting a new KATU segment,
Outlander
Craft Day with the OFWA group, and a dentist appointment, I also have multiple photoshoots, an endo appointment, Thanksgiving, Friendsgiving, Bunco, Black Friday, and blogging to contend with. (
And that's just this week and next week
.) Like the title of Michael Scott's future book, somehow I'll manage.
In today's post, I am continuing to catch you up on my trip to Georgia-Lina for my 20-year high school reunion, with a look at meeting my friends for dinner and attending my high school's homecoming game.. You can check out the
Savannah leg of my trip
from a previous post. As with that post, I will include outfit photos up front, before going into the photo journal portion of the post.

- I bought the items in this post. All opinions presented are my own and without influence. This post contains affiliate links and I will be compensated if you make a purchase after clicking on my links. -
Before we get started, I am 5'9", typically wear a 22/24, wear a 40B bra, a size 11 wide shoe, and my measurements are 52/49/58.
Packing for the reunion portion of the trip was really tough for me. I wanted looks that were lightweight and cool to combat the heat and humidity. Just as I am more susceptible to the cold since losing my thyroid, I am also really susceptible to the heat. I recently read an article that this could be due to me being overmedicated for my thyroid to keep any cancer recurrence at bay. Heat makes me really cranky, anxious, and makes me feel claustrophobic. I just can't deal, so I needed pieces that would help keep me comfortable. I also wanted to pack items that were lightweight in my suitcase, wrinkled minimally, represented my style and made me feel like me, fit my body well and accentuated the parts of me I like most, and allowed me to present my best self in both appearance and personality. I started planning well in advance of my trip, making a Pinterest board with outfits from the blog and pieces I had purchased to inspire my decision-making.
For my arrival dinner I wore
an outfit you have seen on the blog before
, with the addition of a purple cami I picked up at Torrid in Savannah while I was shopping with my sister. You can find similar camis in
grey
,
blue
, and
fuchsia
. This outfit also proved to be great for the two hour car ride to Augusta as well.
For the homecoming game, I wanted to be cute and casual with some playful femininity thrown in for good measure. In shopping my closet for an outfit, I chose to start with the
Black Floral Jersey Knit Skater Dress
from Torrid. The fit-and-flare silhouette and bright tropical flowers definitely represent the "me" elements I look for in my clothing. I am wearing a size 3 and find it fits true to size. (
It is still available in sizes 10 through 30, minus the 22/24.
) I initially bought this dress in a black and white polka dot version that
I wore on vacation
in Victoria, B.C. back in May. While wearing it on vacation, I loved it so much that I immediately bought this floral version online. The fabric is actually poly/spandex material that is not a jersey knit feel, more like a rayon/spandex. It is still lightweight, stretchy, comfortable, and easy to wear. The fabric moves well and hangs well on the body. The 3 fits my bust very well while still accommodating my tummy and hips. Though I thought the length might be a little short, it is actually quite pleasing. The hem hits slightly above my knee, which can be a little short for me at times, but never makes me feel like I am too exposed. I also always wear undershorts when I wear dresses, so the
lace-trimmed Zerdocean shorts
are perfect.
I certainly didn't need to have an added layer in the heat, but I opted for some arm coverage to keep me feeling confident and to protect some of my skin from sun exposure and mosquitoes. My
Taylor-Grey Wash Denim Button-Up Shirt
, also from Torrid, fit the bill for a casual layering piece. I own this shirt in three washes thus far and find them very useful for layering and travel. I usually
layer them over a tank with capris or shorts
for easy vacation outfits. The fabric is prone to wrinkling, but during wear it looks lived-in versus sloppy. For a bit more of a casual, flirty silhouette, I tied the top at the waist, keeping the neckline open, and rolled up the sleeves. Once I was given my reunion t-shirt at the game, I took off the chambray and popped on my reunion tee, knotting it on the side to still give me some shape and keep things cute, not sloppy and boxy.
As I have already mentioned the undershorts, my other accessories of choice were my taupe Zahara flats, Nagasako Designs earrings, and travel necklace. I have been wearing these shoes non-stop since I bought them and am really bummed they are discontinued. You can still find them in
a few smaller sizes on Amazon
, but they are absolutely my comfiest pair of slip-on sneakers. I'll go into more detail about the necklace in another reunion post, but I absolutely adore my Etsy-found
charm holders
. This particular necklace is a combination of my state charms (for every state I have lived in), and travel charms from special trips I have taken in recent years. I'm always looking to make a purchase from Nagasako Designs, a Lahaina, Maui-based company that makes beautiful orchid jewelry. I went with the
Kalea Earrings
because their vibrant pink petals and rose quartz and pink crystal beads matched my dress perfectly.
As previously mentioned, Sean and I drove up to Augusta on Thursday to get settled before the reunion events kicked off. That night, we met up with my friends Jennifer and Brandon for dinner. It had been quite a while since I had seen either one of them in person, so I was extremely nervous but so excited! I missed them both like crazy and was so happy to see their smiling faces as we talked over dinner. This trip was a very emotional one for me. Getting reacquainted with them before the busy weekend really helped set the tone of the trip for me, and made me feel loved and comfortable enough to take on the rest of the events. During one of
my recent Facebook Lives
, I recapped the reunion weekend in words and talked about my emotional state during the trip. If you want more insight into all my feels, that video is for you!
The drive to Augusta got a little wet, but we love seeing rainbows!
Preparing for dinner and saying inspirational drag queen quotes to myself in the amazing bathroom lighting.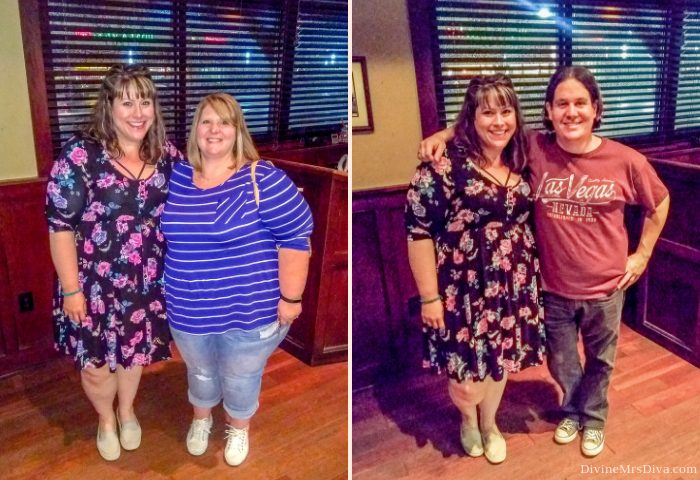 With Jennifer and Brandon after dinner
~I met Jennifer in 5th grade. We didn't like each other at first (she thought I was snotty because I was so quiet; and I was so quiet because I was the new kid.). Eventually, we became best friends and would have sleepovers pretty much every weekend. She was my New Kids homie. We spent hours playing Barbies, learning New Kids dance steps, and making radio shows with my karaoke machine.
It was so wonderful seeing her. I'm so grateful for all the people who kept me sane in dark times.
~Brandon has been my homie since 7th grade. Of course, I love the story of how I actually saw him for the first time in 5th grade and didn't know it until years later.
He was always making me laugh in class with funny impressions. He put up with me being scandalized by pretty much anything and nagging him about how he shouldn't be cussing. (I know. He's as shocked as you that I have such a sailor mouth now.) And later on, he became a trusted friend with whom I could talk to about all the bullshit going on in my life. When I didn't have many people I could count on, he was there trying to build me up and help me see the positive.
Friday was the only day on this trip that I was able to sleep in a bit, so I did. My energy levels are already quite compromised (
dumb thyroid
), so traveling and the like can take its toll. I was able to rest and get ready for the day in a relaxing manner. Sean and I drove over to my high school, looking for the group of classmates we were to meet up with. I ended up texting my friend Brandon to ask him where everyone was. I felt thoroughly lost and confused. We were headed in the right direction, however, and he found us. To my surprise, he said they were all heading onto the football field to await the beginning of the game. He took off running to catch up with our classmates, so I took off running after him. We were out on the field as the players got hype and prepared to make their entrance onto the field. Engines revved, cheers went up in the air, and fog engulfed us as the players ran out to start the game. It was an exciting little venture that was completely unexpected!
Once the game began, most of our classmates went up into the bleachers to watch the game. I can tell you straight up, I do not give one care about football. Even when I was on a Fantasy Football league (
learned how to play and won first place multiple years in a row
), football was equal parts boring and confusing to me. (
But it is such a joy to beat asshole men at a game they think they should be the only ones to excel at.
) Instead of watching the game from the bleachers, I stayed on the track with a small group of friends to watch the game from that angle. We joked around, took some photos, and just hung out together. At halftime, we all decided to cut out and meet some other friends at
The Pizza Joint
in Augusta. I had the Baked Potato pizza, which was quite tasty. I took my leftovers back to the hotel for a tasty breakfast the following morning. The group of us spent a few hours catching up over our comforting food before parting ways for the night.
Where's Waldo?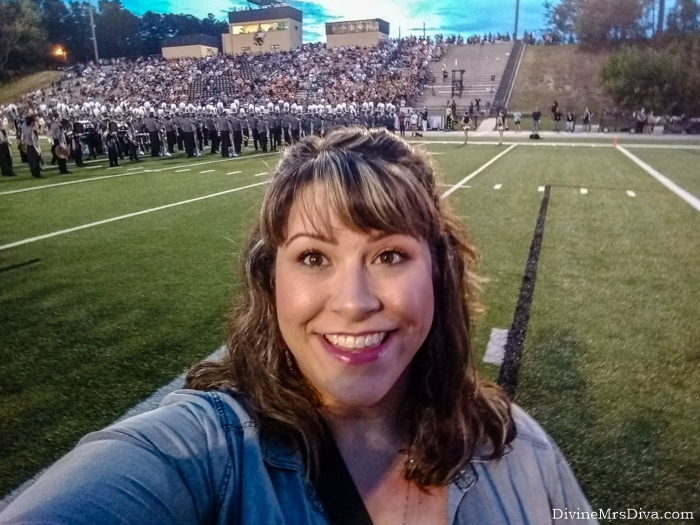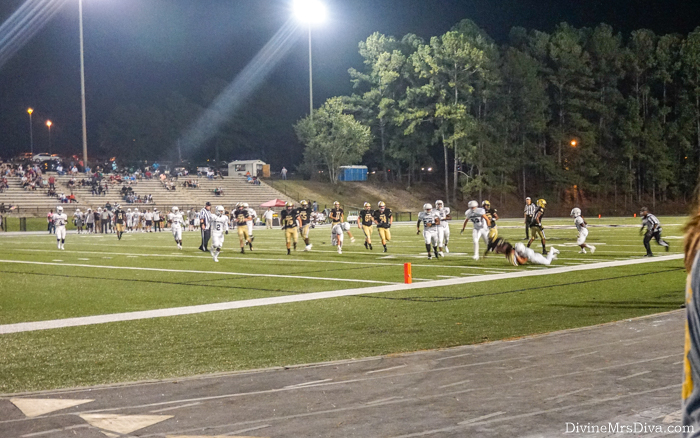 Sean served as my event photographer, so we don't have many photos of the two of us together during our trip. He hung back and took photos to capture moments to give me more time to hang out with my friends.
Me, Carl, Suziey, and Brandon
Photo by Brandon
Me basically the entire trip. Always carry a handheld fan. lol
In my next reunion trip installment, I will talk about our Meet and Greet picnic!
In other news, what outfit would you wear to represent your style and personality?