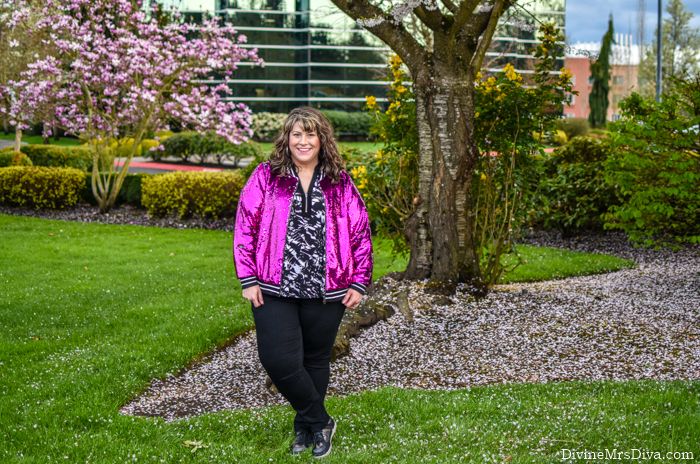 Last week, I attended Bianca Del Rio's
Blame It On Bianca
tour in Portland with friends. We had a really fun time, though I wasn't okay with the stereotypical fat jokes that were made. While Bianca is an equal opportunity offender, I thought she was really shining when she poked fun at herself and her experiences. I'm never fond of fat jokes, but I am vehemently against the unoriginal, thoughtless kind that want to assume stereotypes are always true. There were a lot of fat women like me in the audience. I hated the idea that these kinds of regurgitated put-downs could reinforce negative feelings for any of us. And I was appalled at how loud the laughter was for these particular jokes.
All that aside, I am here to show you my outfit. I've been looking for a prime opportunity to don my sequin bomber, and seeing a sparkling drag queen seemed like the perfect time to do it. I first talked about this bomber in a recent
At Home Fitting Room post
, but now you can see it in action.

- I bought the items in this post. All opinions presented are my own and without influence. This post contains affiliate links and I will be compensated if you make a purchase after clicking on my links. -
Before we get started, I am 5'9", typically wear a 22/24, wear a 40B bra, a size 11 wide shoe, and my measurements are 52/49/58.
All the elements of this outfit have been talked about on the blog before, but I will go over the highlights of the look. The
Pink & Silver Reversible Sequin Bomber Jacket
is still available in limited sizes online and also comes in a
matte black and gold version
. The sequins flip when you run your hand over them. (
You can see them in action over on my InstaStory
.) I am wearing a size 4 and prefer this fit to a 3. I think the fit around my hips, in particular, is much better than the smaller size. I didn't have a whole lot of issues with sequins flipping on their own, though I don't really mind a silver patchiness. My friends loved playing with it and running their hands up and down my arm to flip the sequins. I received a lot of compliments from other show attendees who passed by me.
There was no way this jacket wasn't going to be the standout piece of this look, but I really wanted the pink to pop. I opted to go with a black and white ensemble underneath to ensure it really stood out. These Genius Fit Skinny Jeans from Lane Bryant are no longer available, but are definitely my go-to for black pants. They don't stretch out very fast, which is always a plus. The black and white Brushstroke Top is another of my favorite style from Avenue. I've talked about this pleated style of top
here
,
here
, and
here
. They do have a few on clearance right now for 50% off. I've included links below to other black and white versions available now.
I'm so glad I found the
Black Lemont Leather Walking Shoe
on Zulily. I really want to pick up another pair in brown or navy. I love the texture and detail in the snake print and metallic bronze. It just makes them look a bit fancier without being too attention-grabbing. I am obviously a fan of the occasional attention-grabbing but, with a comfortable shoe like this, I want the versatility of it blending in as well. I am wearing an 11 wide and find they fit true to size. They look really small when they are off my feet, but they fit well. The insole is also removable in case you want to use your own. I find the Comfortiva shoes to be pretty comfortable, though I do feel like my Cobb Hill sneakers have more arch support.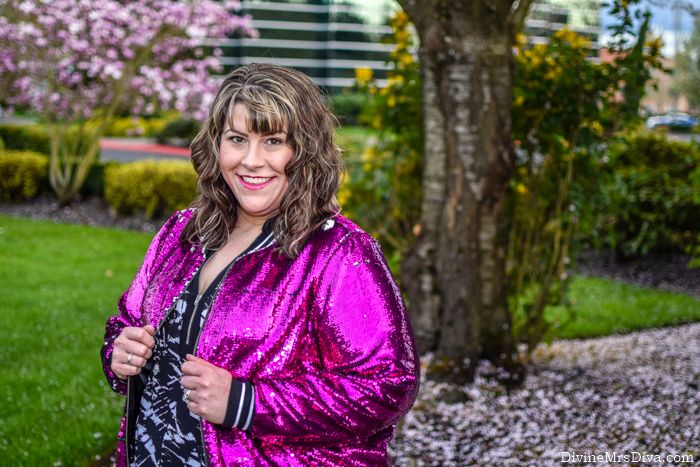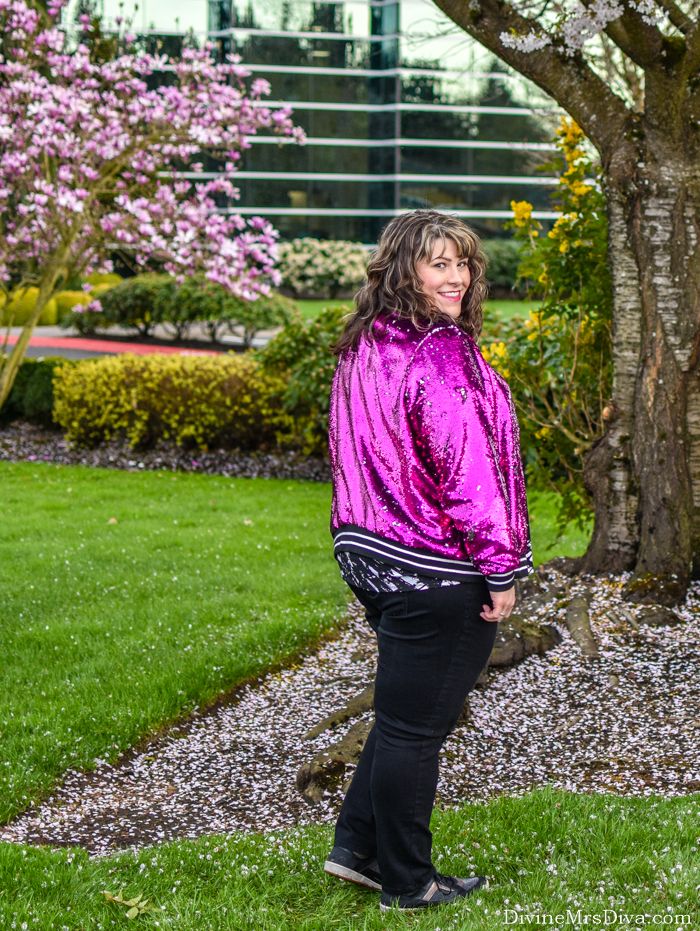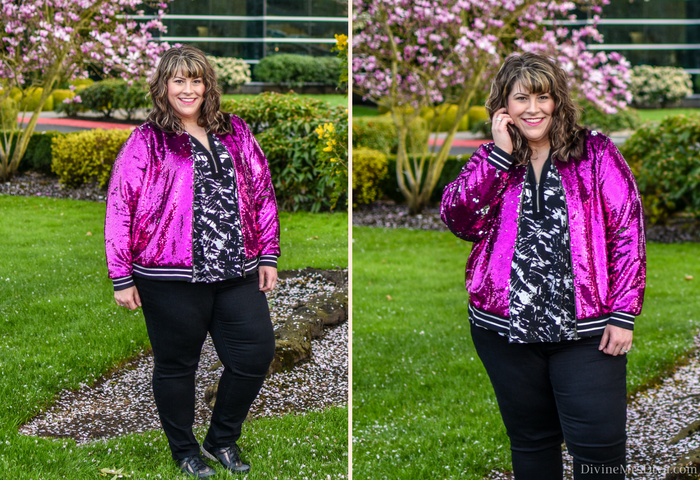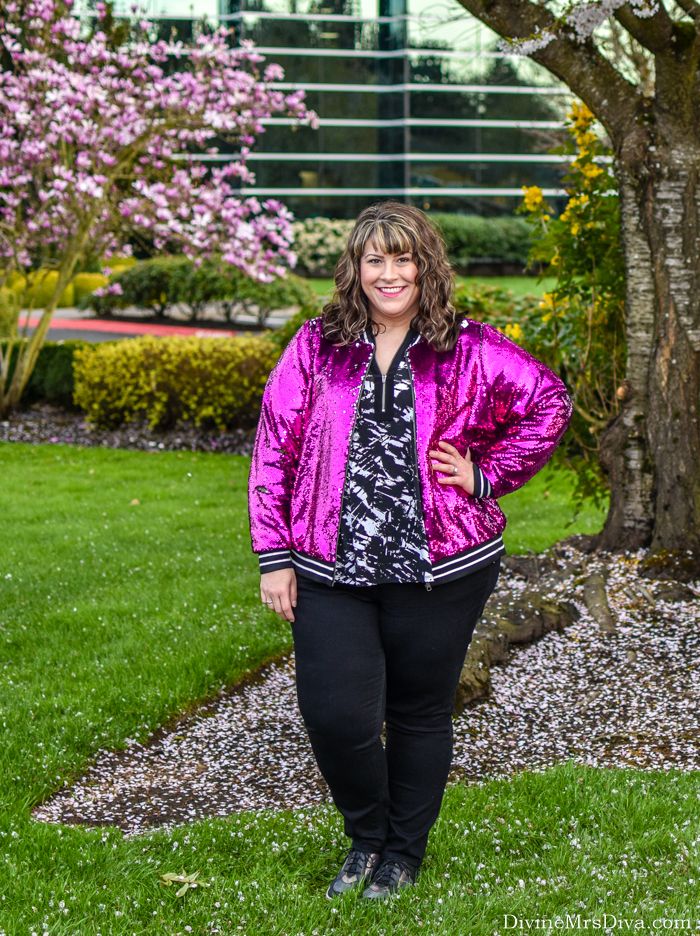 Pink & Silver Reversible Sequin Bomber Jacket
- Torrid (also in
black & gold
)
Brushstroke Shirt - Avenue (
similar
,
similar
,
similar
,
similar
)
Genius Fit Black Skinny Jeans - Lane Bryant (
similar
,
similar
,
similar
,
similar
)
Black Lemont Leather Walking Shoe
- Comfortiva via
Zulily
(also on sale at
Comfortiva
)
Do you believe in daytime sequins? Where would you wear this jacket? What would you style it with? How do you feel about comedians using fat jokes? And lastly, who is your favorite drag queen? Chat with me!