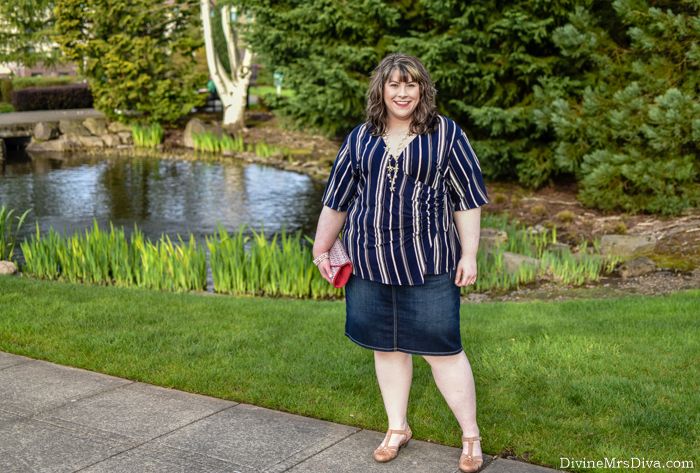 There's still no sign of spring here, other than some blooming flowers and trees. It is so cold and rainy, cloudy and dreary. This is all normal for the Pacific Northwest, but I am ready for shorts and sandals/capris weather. I'm ready to not be freezing and to not have to worry about the rain messing up my hair or dampening an adventure out of the house. Sean and I are planning a little vacation for our 10 year anniversary. I cannot tell you enough how ready I am for that! In theory, the weather should be gorgeous for where and when we are going. *fingers crossed*
(
Update: As this post is being published, the weather is lovely and sunny. I just found out it is going to be sunny or partly sunny for the next 10 days. Progress!
)
Until then, I have been working around the weather and taking advantage of sun when I can. Last week we had two random days of sun, so we made a beeline for local parks and shot a variety of looks I needed for upcoming posts and a secret project I can't disclose yet. One of the things I can share is this look featuring Kiyonna's
Stella Cinch Top
. I haven't tried this silhouette from Kiyonna before, so I was excited when they sent this top for me to try out. Read on for all the details...


- Kiyonna gifted me the top for this post. All opinions presented are my own and without influence. This post contains affiliate links and I will be compensated if you make a purchase after clicking on my links. -
Before we get started, I am 5'9", typically wear a 22/24, wear a 40B bra, a size 11 wide shoe, and my measurements are 52/49/58.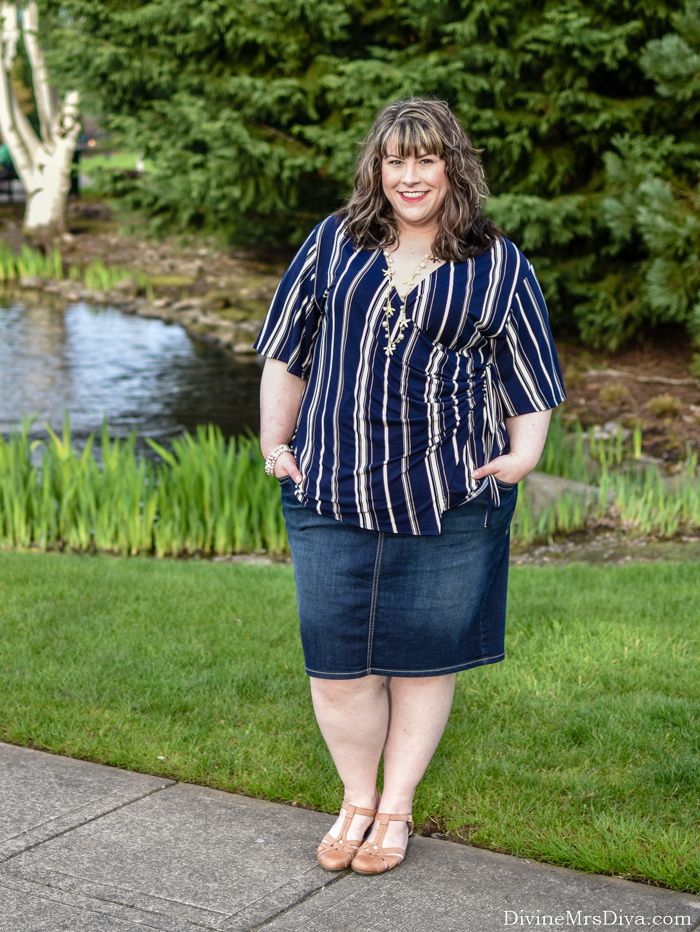 The
Stella Cinch Top
is a faux-wrap style top with so much potential. It can easily be casual or dressy, work attire or vacation-ready. The poly/spandex knit is so, so soft! This is one of the softest tops I've ever owned. It is so comfortable to wear and feels great against the skin. I'm wearing a 3X and find it fits pretty true to size, especially in the tummy and hips. The bust is a little bit big on me (
which is my norm as I have a smaller bust
) and, as I've studied the photos to get this post done, I noticed the shoulder seams are a bit farther down my arm than I would like. It does look this way on the website model as well, so I think it is just how it is made versus it being too large on top. This element wasn't really noticeable in person, I just happened to see it as I went through my umpteen photos.
Since this top is a more fitted style I was worried about the 3X being a little too fitted in the tummy and hips. However, it isn't too fitted at all. I almost think I could size down one for a better fit in the bust, but it might be a smidge too fitted in the tummy/hips for my taste in a 2X.
I'm wearing the Stella in the Navy Mocha Stripe, which is a navy background with ivory and beige stripes. It also comes in
a pretty floral print
, while the same style is also available in
a few solid colors
(slightly different fabric though).The V-neckline isn't too low or revealing and is easy to move around for your comfort. Plus, you could also layer with a cami if need be. I absolutely love the elbow-length sleeves. They aren't quite wide enough to be called flutter, but they do have a generous fit. I particularly love this fit because I have larger upper arms and often have a hard time with sleeves fitting me as I would like.
The faux wrap element has a side cinch with ties to personalize the fit. The bottom of this cinched area is sewn to the shirt and anchored in well. From there, you can cinch it tight or move the fabric up higher for more room. It is easy to tie and stays in place well.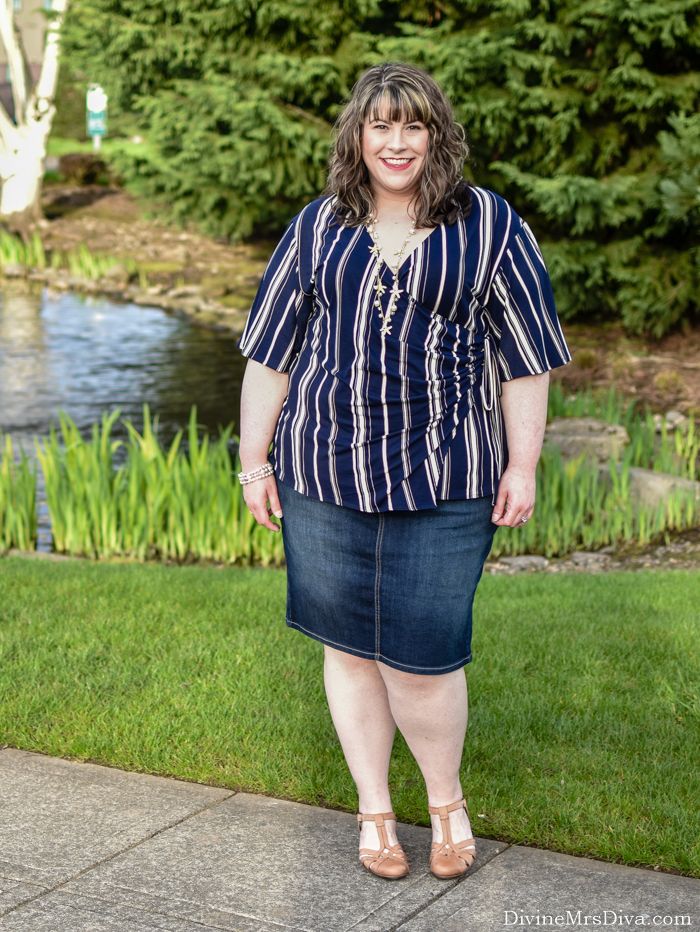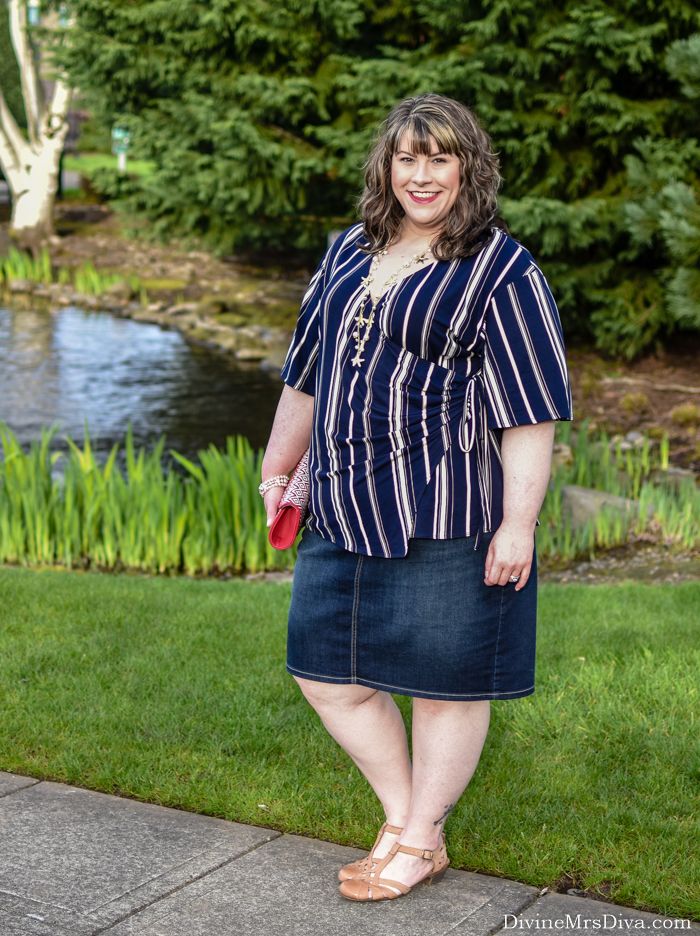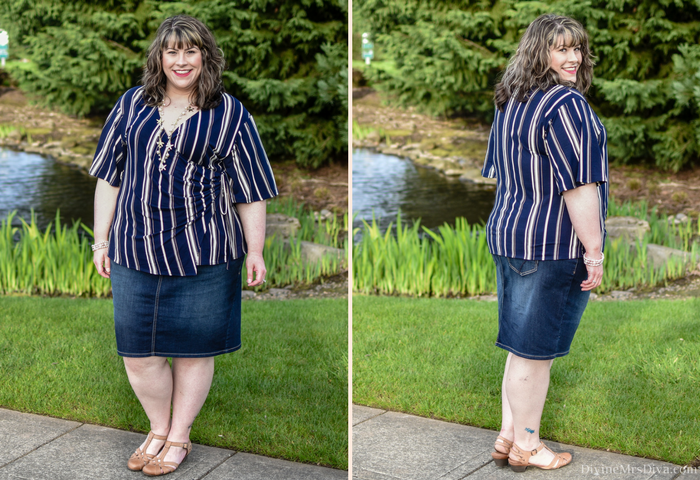 I paired this top with a dark wash denim pencil skirt, pearly necklace and bracelet, and my new
Cobb Hill Aubrey T-straps
. The shoes were a random eBay find and a massive deal at $20 (
regularly $100
)! They had very minimal wear and look brand new. I was so excited to find them! For a pop of color and more stripes, I opted for my coral clutch. I think it made the look a little more nautical, which I quite enjoy.
I was really quite impressed with the fit of this top, and the fabric is so soft!! Because it isn't ultra-defining my waist, I think wearing it with the boxier pencil skirt made the proportions look a little off at times. I think this top will be fabulous with jeans, so I am looking forward to styling it more ways as time goes by.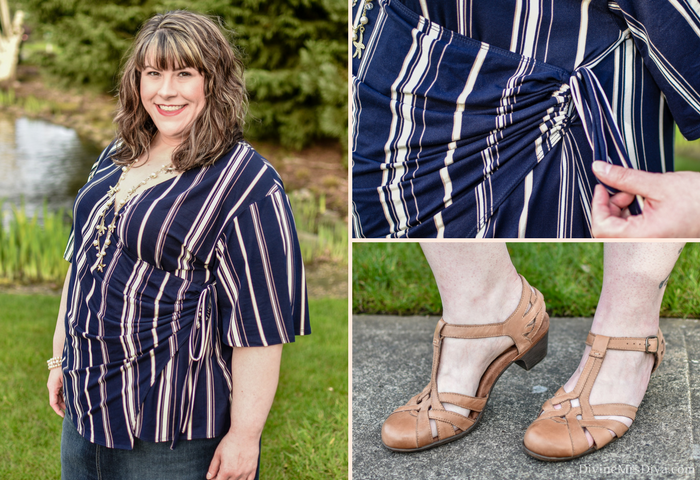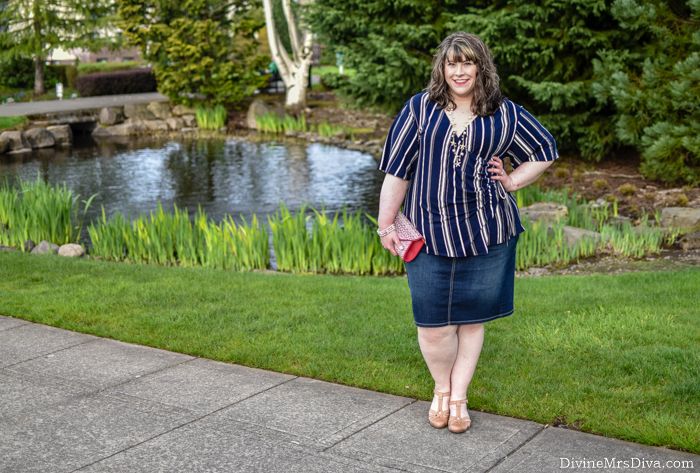 Stella Cinch Top
- c/o Kiyonna
Denim Pencil Skirt - Lane Bryant (
similar
,
similar
,
similar
)
Cobb Hill Aubrey T-Strap
in Khaki - Rockport via eBay
Sabine Envelope Clutch - Charming Charlie (
similar
,
similar
,
similar
)
Pearl and Starfish Necklace - Charming Charlie (
similar
,
similar
,
similar
)
Pearl Bracelet - DIY (
I made it for my wedding
)
Lipstick is Colourpop Lux Lipstick in
Ghosted
Have you tried the cinch-style top from Kiyonna before? What new arrivals are you feeling? I just bought the new striped Promenade Top because I love that style, and particularly love it in prints.