I was back at
KATU Afternoon Live
this week to discuss ways to combat chafing of various kinds. Most of my suggestions have thigh friction in mind, also called "chub rub", but I do address some other friction solutions as well.
I chose this topic because the weather is heating up and I find it hard to really trust the various reviews of anti-chafing products all over the Internet. I have my tried-and-true solutions, but I also wanted to challenge myself to try some other products and test them out. This was a really fun process for me.

- I bought all the items in this post. All opinions presented are my own and without influence. This post contains affiliate links and I will be compensated if you make a purchase after clicking on my links. -
Before we get started, I am 5'9", typically wear a 22/24, wear a 40B bra, a size 11 wide shoe, and my measurements are 52/49/58.
Below, I am laying out the products I talked about in the video - where you can find them, how much they cost, and any other relevant information. I really hope you find this run-down helpful. Don't let the pain of chafing keep you from wearing what you want!
Mid-Thigh Shorts
Under this particular category, I am talking about my favorite
undershort from Zerdocean
. I am not counting shapewear in this category because I believe that is a whole different animal. I have tried so many different undershorts from numerous brands. I've even worn workout compression short leggings for the task. But most of these products are made of nylon or polyester with spandex, which isn't the most breathable fabric. Before I found Zerdocean, I was really on a quest to find the most budget-friendly, lightweight, knit short I could find in my size. I particularly wanted something lace-trimmed because I mostly wear things like this with dresses and skirts. I happened upon this Amazon find during my quest, and am so glad I did!
Available in sizes 1X to 4X (I wear a 22/24 and a 3X in these shorts. I find that they are generously cut and could even fit a size up.)
$12.99 and available at Amazon
Soft, stretchy modal knit fabric; lightweight and extremely comfortable; elastic-waistband; stretchy lace trim
Also available in no lace trim; also capris, leggings, and joggers
Variety of neutral colors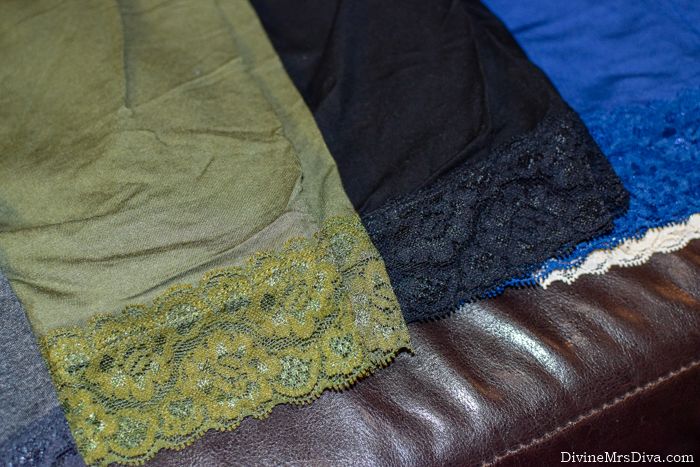 Bandelettes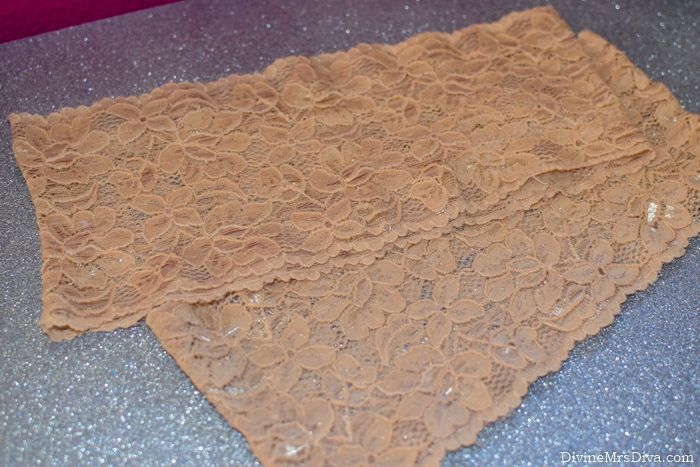 Bandelettes
are basically stretchy bands of fabric that go around your thigh to act as a physical barrier. They just happen to also look pretty and sexy at the same time. Bandelettes look like the top of some really fancy, sexy hosiery. The lace is very soft, with silicone bands inside that keep them in place. I've tested these out in hot, humid temperatures as well as cold. I've owned mine for a few years now. Bandelettes stay in place. While the feeling of them may take some getting used to if you aren't used to wearing something like that on your legs, they are comfortable and don't feel too tight. During that initial wear, you may think they are moving or falling down. They are not. Eventually, you start to forget they are there.
Available in sizes A through F, covering thigh measurements 21 inches to 32 inches. (My thighs are 34 inches, but I wear a size E in the Bandelettes in which 29-30 inches is the chart size. And I often think I could size down one.)
$17 to $22 and available on the Bandelette website or Amazon
Soft, stretchy lace fabric (nylon/spandex) with slip-resistant silicone
Also available in solid fabric, lace patterns, and with ribbon embellishments
Variety of neutral colors
Does not make rubbing sounds as you walk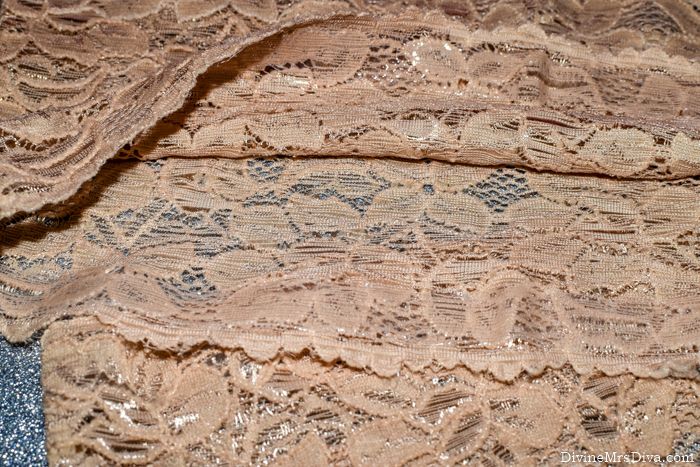 Anti-Chafe Topical Products
I tried four different topical solutions for chafing - three roll-on stick types and one powder. None of them performed exactly alike. My opinion of these roll-on products is very different from most reviews I have seen online, especially in terms of lasting power and texture. To test these products, I tried each one individually for roughly three hours each. I wore a dress and did some house work, worked out on the elliptical, and then did some walking in place at different speeds. Then I would sit down in a chair for a little while and also move around in it. I was not in a hot or humid environment, so I do not know how they would perform under those circumstances. I also am not fond of slickness, wetness, or some weird texture on my skin. I don't even like to be sweaty, much less oily. All of these affect my opinion of these products, so keep that in mind as you read my reviews.
Chafezone Anti-Chafe Balm Stick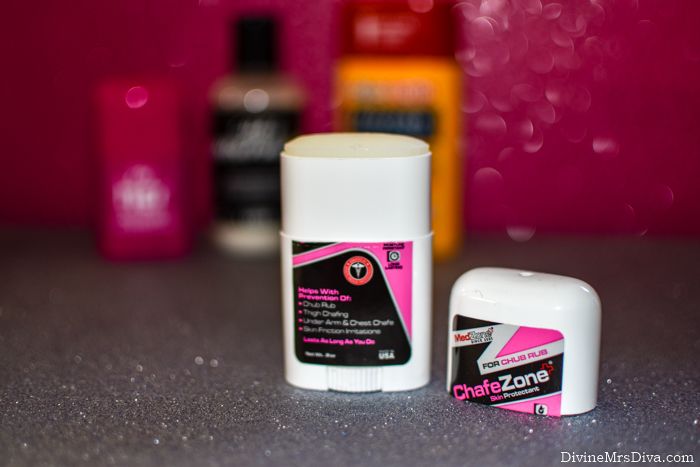 I've seen
ChafeZone
advertised in FabUPlus Magazine and talked about by plus size bloggers and the like. I figured now was a great time to try it. I found this one to be the best of the topical products in terms of its lasting power and doing its job by preventing chafing. However, it feels extremely oily. This helps in giving enough slip to prevent friction, but it just feels wet and gross walking around with oily thighs. For me, wearing this in a humid climate where I am sweating would just make me feel really gross and in need of a shower. I needed to reapply the product once an hour. In most of the online reviews, people claimed they didn't need to reapply for 6 to 8 hours. I imagine if you were at a desk job all day you might not need to reapply, but if you are walking around for hours in any capacity, you will need to reapply often. As oily as it is, I didn't see any damage to my dress fabric. Despite the outcomes for each product, I can tell you my thighs have been wonderfully moisturized since using them.
Comes in travel size 0.8 oz and regular 1.5 oz containers
$8.99 on Amazon
Smells vaguely like peppermint when opened, but no scent detectable when applied
Marketed specifically to plus size folks to combat Chub Rub
Great for invisible protection
Moisture-resistant
Longest lasting but will still need to be reapplied throughout the day if you are walking a lot
Either you hate the texture and feeling of it, or you can get used to it
Does contain parabens
Bodyglide For Her Anti-Chafe Balm
I have heard lots of good reviews on the
Bodyglide
products. Runners use it, for Pete's sake! I found it to be more balmy than oily. It felt smooth and a little sticky before it warmed up to my skin and had more slip. It is not scented at all. I did find this needed to be reapplied at least once, if not twice, every hour. It almost felt like I needed to reapply as soon as I started walking a lot. I think it would be best for minimal rubbing, for people whose thighs don't touch too much.
Comes in travel size 0.8 oz and regular 1.5 oz containers
No scent
Allergen-free and plant based ingredients
More-balmy feeling than oily; not as slippery as Chafezone, but does have more slip as it warms to your skin
Has to be applied once or twice every hour as long as you are moving around a lot
Best for minimal rubbing
Gold Bond Friction Defense
The Gold Bond performed a lot like the Bodyglide. They both have similar balmy textures and felt very similar on the skin. Lasting power and effectiveness (that is to say, non-effectiveness because the slip was minimal and it needed to be reapplied often) were the same. I do think I like this one better than the Bodyglide because it had a little more smoothness to it. It was more comfortable to wear.
Comes in a 1.5 oz container
No scent
Plant based ingredients
Balmy not oily feeling
Needs to be reapplied quite often (once to twice an hour)
Best for minimal rubbing
Lush Silky Underwear Dusting Powder
This powder smells very nice - like vanilla - to me, and has a really smooth and silky texture. For an even application, this applied best with a large powder puff or powder brush. If you don't mind getting your hands dirty, you can just pour some powder in your hand and rub it around. It felt really good as long as a decent application was on my thighs. I found I had to reapply this at least once every half hour in order for it to feel super smooth and silky with movement. I think this product is best if you have minimal rubbing, and best for things like shoe friction and bra friction when the weather heats up.
2.1 oz container
$11 on LUSH website and in store; $22 on Amazon
Jasmine and vetiver scent smells more like vanilla to me
Cornstarch and kaolin base to absorb moisture, with tiny shavings of cocoa butter to nourish skin
Best applied with a large powder puff or fluffy makeup brush for most even application
Felt very smooth and silky on the skin
Needs to be reapplied at least twice an hour or more
Best for minimal rubbing or for shoe friction or bra friction
Do you have any other anti-chafing products to add to the list? What have you tried, with good or bad results? I'd love to know your thoughts and experiences.