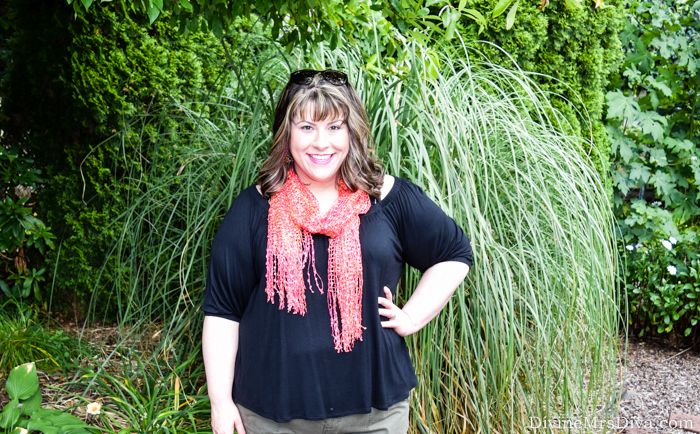 We haven't had the most summer-like weather lately. It's mostly been cloudy and raining off and on, which I am totally fine with. I like sunny days that are breezy and fine, but I don't like hot, stifling, sweaty days. Today, and for the foreseeable future (
aka the 10 day forecast
), the weather is warming up. I'm ready to face it in shorts and knit and sandals. Today's post contains some recent purchases styled together for a look that is summer and vacation ready.

I am wearing the Smocked Cold Shoulder Top from Torrid in a size 3. I find that it fits true to size. It is a little shorter in the front, which can be a little annoying, but overall I really like this top. I haven't owned a shirt in this particular style before, so I was pleased with the look and fit. One of the straps is a little off at the front, so it doesn't follow my bra strap perfectly. This really bothered me at first, but I don't care too much about that now. I do love the soft knit fabric. It flows so nicely. It is a thinner fabric, but I am not wearing a cami underneath (mostly because of the neckline). The shirt isn't see-through. I also love the three-quarter sleeves because I haven't seen a lot of that sleeve length in a cold shoulder top. I bought this top back in February in preparation for summer, so it is no longer available. However, these off-the-shoulder styles are very on trend right now. You can find them just about anywhere.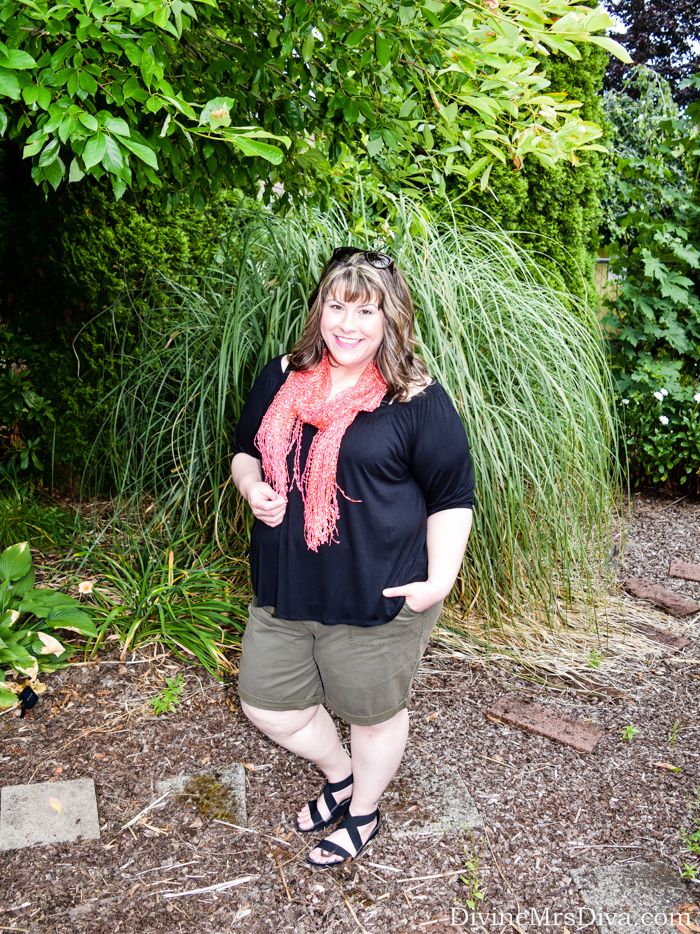 The Washed Bermuda Shorts were featured in my
At Home Fitting Room post
recently. I wanted to branch out and get some more shorts after having worn my dark wash denim shorts for the last two years. The dark wash shorts are the only shorts I have owned since middle school. I love them and have worn them a lot, so I felt it was time to get some more. I ended up purchasing a light wash denim and these olive Bermuda shorts. I find the Bermuda length styles are great for me because they go to right above my knee. I am a little more covered and feel more comfortable in them than shorter styles. These olive shorts are very soft and stretchy. They are actually more loose than the denim shorts, so I do have to pull them down now and then. I find they can bunch up a little at the tops of my thighs when I move around a lot. My shirts are usually a little longer, so it isn't a big deal. However, with this top being a little shorter in front, I found that I needed to be a little more conscious about pulling the shorts down.
I was going for cooling, laid-back, and simple with this look. I used this bright crocheted-scarf instead of a necklace. The scarf isn't meant to be warm, just decorative. I liked that it added some color to very neutral shades. The black sandals feel a little less sporty and a bit more fashionable, but this is a look that would certainly go with flats, sandals, or sneakers. I am also wearing brightly polka-dotted feather hoop earrings, but my hair is covering them in most photos. They just added a little more color and tied into the scarf as well.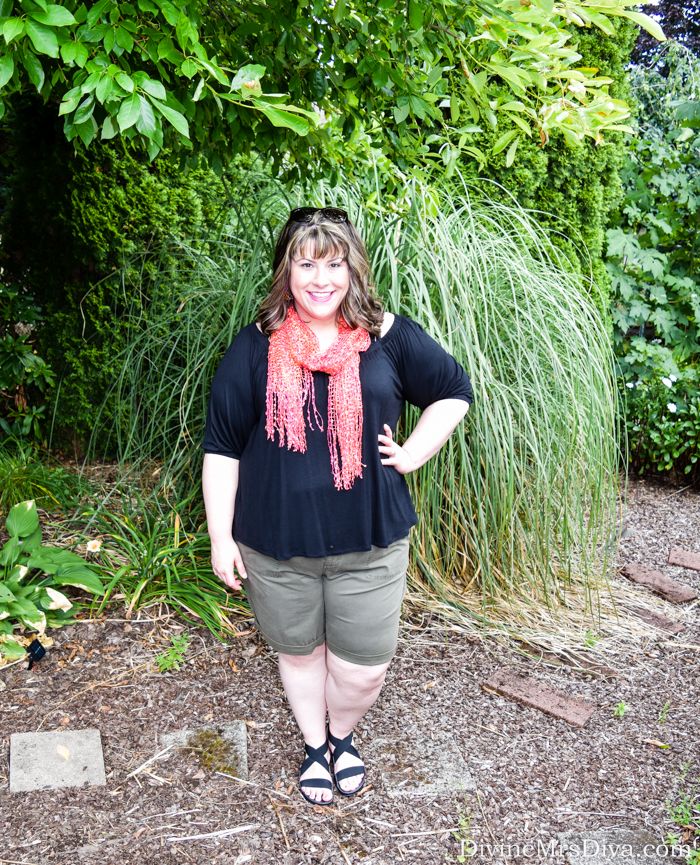 Smocked Cold Shoulder Top - Torrid (
similar
,
similar
,
similar
)
Washed Bermuda Short - Lane Bryant (
similar
)
Anna Ankle Strap Sandal
- Crocs
Scarf - Gift (
similar
,
similar
,
similar
)
We took this photoshoot opportunity to get Finn in some more photos with us!
How are all of you fashionably coping with the warm weather? Do you have a favorite shorts style or brand?