It has been quite a while since I posted an
Ipsy
review. Mainly, time gets away from me because I like to try all the products first. Before I know it, I am way behind on posting about recent bags and that just snowballs. So now, I am going to do two bags in one post, whether I have used all the products or not. Hopefully, I can get backlogged posts done because I like the idea of cleaning out my stock of photos I have taken of all my bags/boxes. We shall see.
If you are unfamiliar with Ipsy, it is a monthly subscription service. For $10 a month, you get a cute reusable bag and five samples o
f
various products that have been chosen to fit the monthly theme and your beauty profile.
Ipsy
tends to carry more drugstore brands, with high-end brands mixed in here and there. In comparison,
Birchbox
tends to focus on higher end brands. Both of these boxes have a mix of skincare, haircare, makeup, fragrance, and nail polish. I also started getting the
Sephora Play
box, which also has a mix of products (mostly makeup) and focuses on the higher end brands that Sephora carries.

- This is not a sponsored post. I pay for my own Ipsy/Birchbox/Sephora Play! subscriptions. All opinions are 100% my own.-
Ipsy - May 2016: Destination Chic
Eva NYC Hungry Hair Oil Treatment -
I am already a fan of Eva NYC. I use the
Up All Night Volumizing Spray
and
Speed It Up Blow Dry Spray
quite frequently. This was a brand I found out about through Ipsy, so I like when I get to try more products from the brand. The Hungry Hair Oil nourishes, hydrates, and smooths to help strengthen hair and shield it from heat damage. My hair dries out easily so hair oils are helpful to me as a treatment for keeping the frizz at bay. I quite like this one, plus it has a warm vanilla musk scent. Aside from checking out their
website
, it looks like their products are available at JCPenney, Target, Ulta, and Kohl's. A 3.4 oz full size is about $19.
BellaPierre Cosmetics Nude Gel Lip Liner Pencil -
I have a few products from BellaPierre that I have tried through Ipsy. Overall, I like the brand because the products seem to be highly pigmented and perform well. They are a natural, mineral makeup company. This lip pencil is great! It is waterproof and dries down to stay put for long wear. The color I received, Nude, is a warm rosy brown. This pencil is formulated with natural waxes, pure minerals, and antioxidants, and is also hypoallergenic. 0.06 oz is $18. (Swatch below)
Slmissglam Small Contour W07 Brush -
This isn't the most high quality brush I have received through Ipsy, but I do like it. The bristles are soft and it does a good job at lightly and evenly distributing the color. I use it as a highlighting brush right now because it seems to be the perfect size for cheekbones and such. It seems like this particular brush is only included in a full set on their website. And honestly, the website is a headache. On its own, it probably retails for $16.50.
The Organic Pharmacy Antioxidant Lip Balm -
I was not aware of this brand until I received this sample. I love their philosophy of using homeopathic principles and pharmaceutical grade organic herbal extracts for their line of makeup, skincare, healthcare, etc. Because this is a higher quality brand without a bunch of crappy ingredients, it is on the more expensive side. It also seems to only be available online and through higher end department stores. The balm itself is a thicker formula, but applies smooth and feels light on the lips. It is not sticky at all and smells and tastes like lemon sugar cookies. You can check out their
website
for more info. A full size of the lip balm (
which I received in this bag!
) is 7ml and retails for $21.50. (Swatch below)
Smashbox Cosmetics X-Rated Mascara -
I'm so not really into receiving mascara samples. MOST of them migrate and give me racoon eyes in a short amount of time. I have to use tubing mascaras or the Benefit Roller Lash mascara. Everything else does not hold up for me. So ho hum, this is mascara from Smashbox. It is fine, but it obviously isn't a favorite. A full-size tube is $22.
Ipsy - June 2016: Rebel Rebel
Crown Brush 3 Tone Bronzer -
I haven't been too impressed with Crown Brush cosmetics, though I do like the brushes. The makeup is hit or miss for me. This trio of bronzer, blush, and highlighter actually have a pretty good color payoff and aren't too chalky. The blush itself is too light for me, but the highlighter is good. I cannot find this item on the website, so I have no idea how much it retails for. (Swatch below)
Urban Decay Eyeshadow in Lounge -
Urban Decay is awesome. I was hoping to get the other featured color, Fireball, as I wasn't sure how much I would like this one. It actually isn't as dark as I thought it would be. The duochrome shift goes from a coppery brown to a green. Urban Decay is a quality product and this one was not heavy on the fallout on my skin, even though it was a bit powdery in the pan. $19 for a full-size. (Swatch below)
Formula X Nail Polish in Wingwoman -
I can't find this color online, though there is one that looks like it at Sephora. This is a bright, true red. I've been moving over to Zoya since it is a polish made without the Big-5 chemicals, so getting more nail polish does not please me. Formula X states they are made without parabens, sulfates, and phthalates, but it still contains other toxins like formaldehyde resin and camphor. Just FYI. A full-size 0.4 oz retails for $10.50. (Swatch below)
Marc Anthony Dream Waves Beach Spray -
This product smells coconuty and beachy! It claims to boost waves, add body and volume, and protect hair from the sun. I think it does a great job and is a budget-friendly option for beach spray. A 4.2 ox full-size bottle retails for $8.99.
Be A Bombshell Cosmetics Pout Potion in Secret -
This color is a little light for me, but the formula is very nice. It looks like it is going to be goopy, but it glides on very soft and smooth. It reminds me of some of the NYX lip products in that way. The wear is a decent amount of time, with a good amount of shine. A full-size is $6. (Swatch below)
Points Rewards
I decided to use some of my rewards points (earned by reviewing the products on the Ipsy website) when they had some organic and natural lip products available.
Trust Fund Beauty Lipgasm Lipstick in On Trend -
This company makes vegan and cruelty free products and are also paraben-free and GMO-free. It looks like they specialize in nail and lip products. I hadn't heard of them before this. I tried the Lipgasm Lipstick in On Trend, which is a beautiful, bright fuchsia shade. It feels great and was pretty long-wearing once it dried down. I absolutely love the color! You can visit their website
here
, though I could only find these lipsticks available at the linked above site. A full-size retails for $22. (Swatch below)
Noyah Lip Balm in Spearmint -
Noyah makes kosher, natural, and organic ingredient lip products. They have lipsticks, glosses, and balms. I decided to pick up the balm in Spearmint. It is so smooth and feels incredibly hydrating. The spearmint scent isn't overpowering, but is very nice. It also gives my lips a little tingle for a bit after I apply. I really like it and look forward to trying out more scents/flavors. A full-size retails for $3.99.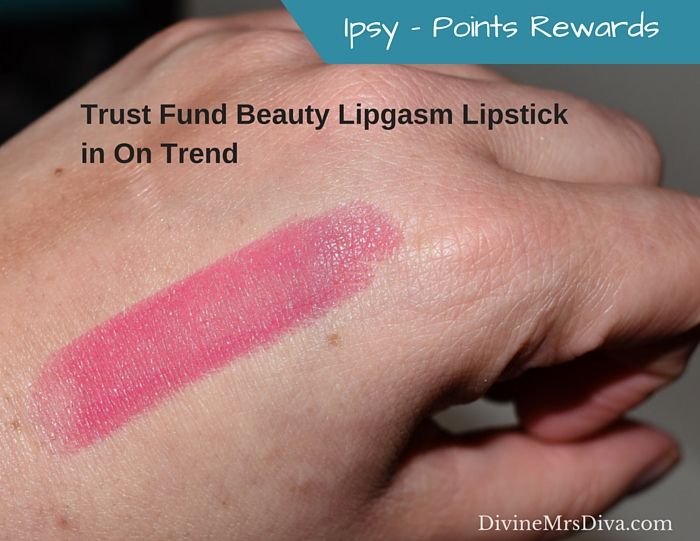 So there you go! Do any of you get Ipsy? Did you get similar products? Do you have recommendations on products I should try? Let me know!