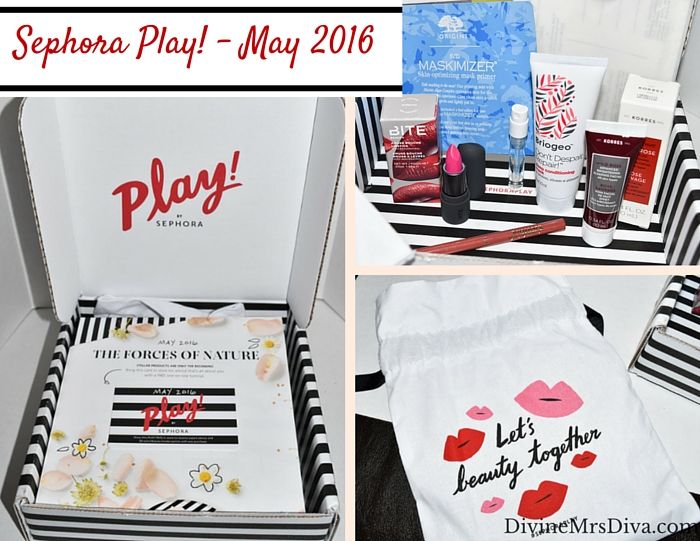 Y'all know by now that I am a makeup/beauty product junkie. I love trying new things and being aware of the newest products. Sampling products through beauty subscription boxes has led me to find some seriously great products that work well for me. But I am always curious. While I have been subscribed to
Birchbox
and
Ipsy
for years now (
and have seriously dropped the ball in posting about them on the blog like I initially intended
), I was excited when Sephora finally got me off the Wait List for their
Play! subscription box
.
Read on for details on my first box....

- This is not a sponsored or gifted post. I pay for my own subscription to the Sephora box. -
I like to use as many products as I can from my subscription boxes before I review them, hence dropping the ball on posting about Birchbox and Ipsy. Some products take me a while to get to, or I need to use them for a certain amount of time in order to give you the best info I can. I don't want to just tell you what I got with no additional info. I'm going to try to be better at getting reviews out more promptly. It is something I really want to talk about on the blog and something I am passionate about. Time just flies.
So about Sephora Play! - It is also $10 a month for five deluxe samples based on a monthly theme, plus a fragrance bonus. These samples come in a cute drawstring bag along with tips and tricks for using your new sample products. In addition, you get a little card for a free one-on-one tutorial at your local Sephora (
which, honestly, you can do any time you want without this card or a subscription
), and you also get an invite to a subscriber meet-up at participating Sephora locations. The closest meet-ups to me are in Seattle, which is three-ish hours away. I have seen a couple reviews about the meet-ups, which are basically little parties where they talk about the products you received in your box and give you beauty advice on how to use each product. The reviews for the meet-ups were all very positive, so I am bummed there isn't one closer to me.
The major difference between the Sephora box versus Birchbox or Ipsy is that the subscribers of the Sephora box all get the same products. There is no beauty survey detailing your specific needs, coloring, skin type, or the like. Everyone gets the same thing. And because it is Sephora, you are getting more high-end brands. You can
subscribe here
.
The theme for May was
The Forces of Nature
. The selection featured high performing products made with natural ingredients. Each box comes with a pull-open sheet with each sample product listed, along with little bits of info about ingredients, the brand, and tips for using the product.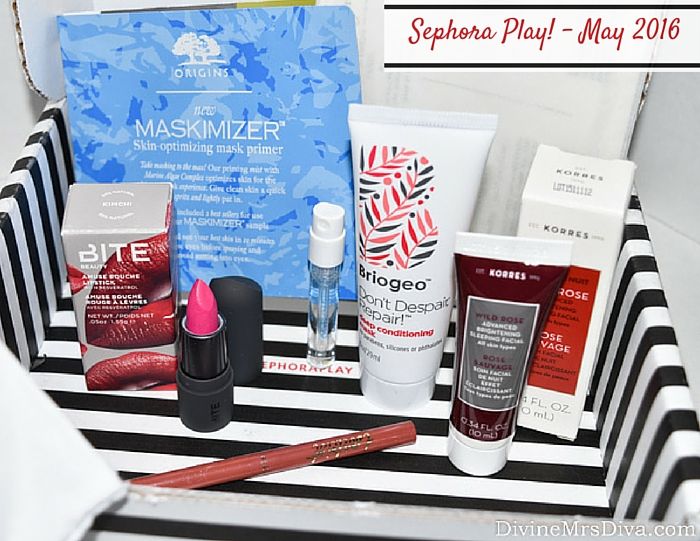 Origins Maskimizer + Drink Up and Clear Improvement Masks
-
This is a skin-optimizing pre-treatment for masking. You spray it on and let it sink in to prime and prep your skin to boost the effectiveness of whatever mask you put on afterwards. It does not contain parabens, sulfates, or phthalates. I don't feel like my sample was big enough to truly judge whether or not it helped my mask. It did make my skin feel hydrated and smooth and I do like Origins products. In addition to the
Maskimizer
($22 for 3.2oz), there were samples of two of Origins most popular masks. I usually buy the special Black Friday set of these masks every year, so they are ones I use and enjoy.
Drink Up
is a hydrating overnight mask ($26 for 3.4 oz), while
Clear Improvement
is a charcoal mask to clear pores ($26 for 3.4 oz).
Korres Wild Rose Sleeping Facial
-
This overnight mask claims to provide a solution for dullness and uneven textured skin, uneven skintone, and loss of firmness and elasticity for all skin types. It is made without parabens, sulfates, or phthalates. I don't feel like I have used it long enough to speak to all of those claims, but I can say that it does make my skin feel really soft and hydrated. In wearing it overnight, I did not wake to super greasy skin, which is a common problem for my oily skin and overnight masks. I will continue using it because I do think it has value and is helpful in amping up my skin game. lol ($48 for 1.35 oz)
Briogeo Don't Despair, Repair! Deep Conditioning Mask
-
I recently received a sample of this in a previous Birchbox and was not disappointed to get another one with Sephora. It is a weekly treatment for hydrating hair and protecting against future damage. It is made without parabens, sulfates, or phthalates.
The formula is free of silicones, DEA, and artificial dyes. It is also cruelty-free and is color-safe and safe for use on chemically-treated, relaxed, and keratin-treated hair.
It doesn't feel too heavy or thick, but does leave my hair soft and hydrated. ($36 for 8 oz)
Atelier Cologne Orange Sanguine
-
Personally, I loathe fragrance samples. The scents don't usually appeal to me in the slightest. I have a particular perfume I have worn since before I met Sean (
so over eleven years
), and I stick with it because I love it. So I was delighted that the fragrance samples in the Sephora boxes are just extras and not part of the five deluxe samples. This Atelier scent is awesome though! It is so bright with the orange citrus scent! I actually went to go find my sample to describe it to y'all. I thought I had it in the bedroom or in my purse and I cannot find it. I'm pissed. I actually LOVE this fragrance. I am sure I will come across it after this post goes live. At $120 for 3.3 oz, $70 for 1 oz, it is an expensive perfume. You can get a travel size for $25, which is probably what I will do.
Bite Beauty Amuse Bouche Lipstick in Kimchi
-
Bite Beauty is a great company with many quality products. They offer a big range of highly pigmented colors in a creamy, hydrating formula. I have a couple other Bite Beauty lipsticks and find them pretty darn long-wearing for a lipstick, and pretty darn hydrating for a long-wearing product. Kimchi is a gorgeous bright pink color that is totally the kind of color I love to wear on a daily basis. It is very similar in shade to my Revlon lip stain. They are made without parabens, sulfates, or phthalates. ($26 for 0.15 oz)
Tarte Tarteist Lip Crayon in Latergram
-
This is essentially a lip liner that you can also wear alone as a lip color. I wouldn't say that it felt particularly hydrating, but it was a matte long-wearing color that stayed put for quite some time. It is made without parabens or phthalates, and is a vegan product. I loved the shade Latergram, which is described as mauve, but I would call more of a rosy brown. It is a great nude color for me. The tiny tip of the sample is a bit daunting to apply, but otherwise I had no issues. ($18 for 0.01 oz)
Are any of you subscribed to the Sephora Play! box, or Birchbox, Ipsy, or another beauty box? Are you all interested in seeing more reviews of future Sephora boxes? Are you interested in seeing Birchbox and Ipsy reviews? I take photos of my boxes every month, even if I haven't posted them. So if the interest is there I will commit to getting a post out about them.