Sartorial Medley is back, after a three month long hiatus, with a new commitment to timely posts! If you are new to Sartorial Medley, here are the details:
It is time again for Sartorial Medley, a monthly themed fashion post hosted by myself and Aislynn of Aislynn's World. (Did you miss the previous posts? Check them out!) We welcome participation from anyone, regardless of your dress size. Email me your photo and link to your blog post - diva (at) divinemrsdiva (dot) com.
To participate, even if you don't have a blog, just Tweet/Instagram/Pinterest/etc. your photo with #SartorialMedley to be featured in the blog post. We can't wait to see you rocking your outfits! (Follow me on Twitter/Pinterest/Instagram @DivineMrsDiva.)
This month's theme is:
Fall Favorite
.
For me, this theme is all about my fall uniform or ideal go-to fall ensemble. As you know, I am crazy about my wide calf boots, having searched high and low for a long time to find some that fit me correctly. I pull them out as early as I can and wear them every chance I get. I have always had luck with boots from Avenue, though I can't say that I have tried on too many other brands. I do know that as someone with a 21-inch calf size, the stretchy and lace-up Avenue boots fit me great! My calves are now 19 inches, so I have a few more options but I still go back to Avenue. (PS - If you need a pair of boots to fit your 21-inch calves,
my lace-up pair
are too big now and I need to sell them. Email me.)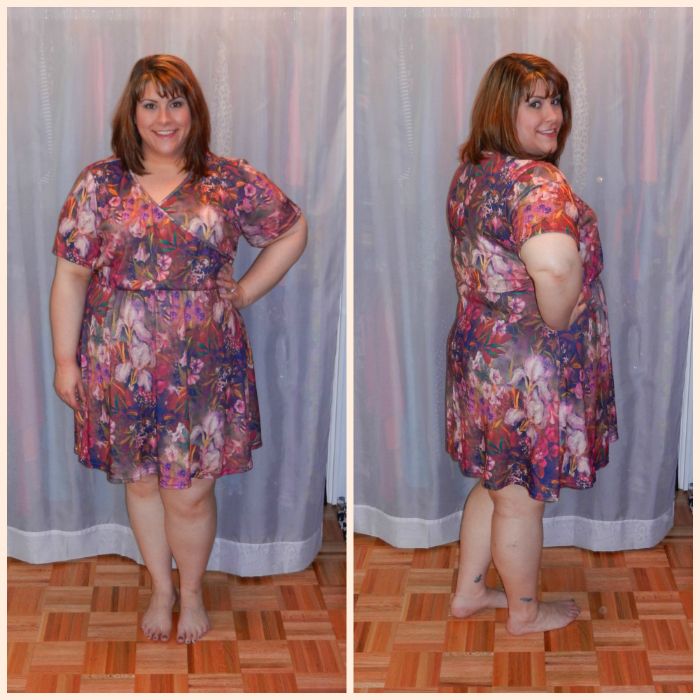 So let's build my favorite fall look! I started with this Flor skater dress via a recent Gwynnie Bee shipment. Flor is a GB house brand that is only available through the Gwynnie Bee service. While I don't feel the material is high quality (it's a polyester that seems to pill easily), I do feel that they are well made. I love the silhouettes, patterns, and colors in the Flor line. I just wish they would up their game with better fabrics. This particular dress has a crossover V-neckline and a fuller than A-line skirt. I love the style and ease of this dress. The length is a little short for me on its own, so using it in a fall look with leggings is ideal for me. The muted pinks, purples, and greens are so pretty. I really do adore the unique patterns this brand uses in their garments. (You may also remember that
this blue and green leopard look
is a Flor dress.) I am wearing this dress in a 3X. They carry up to a 5X.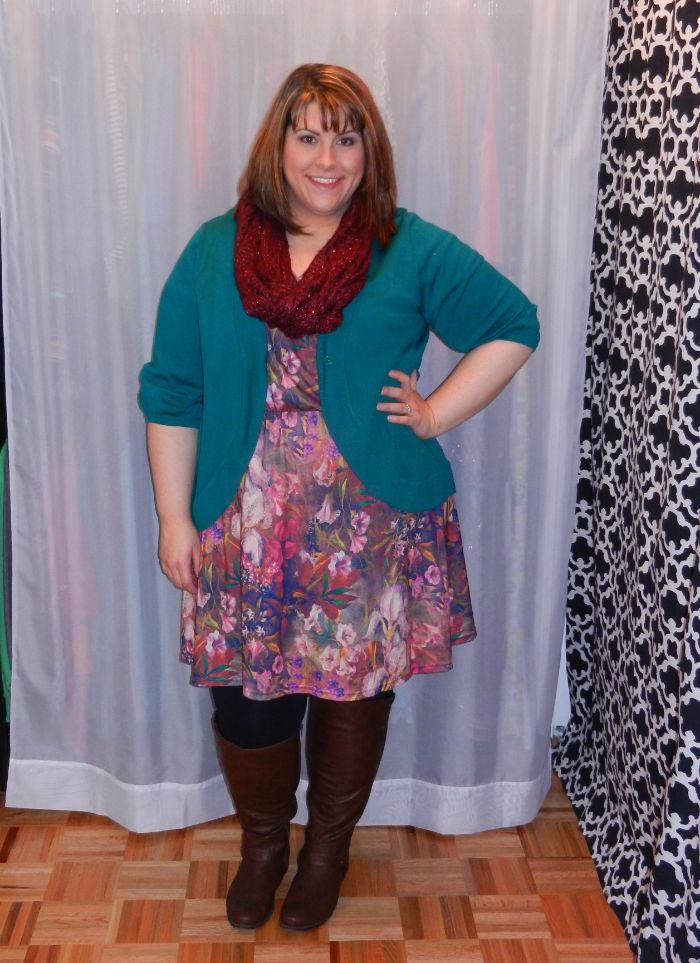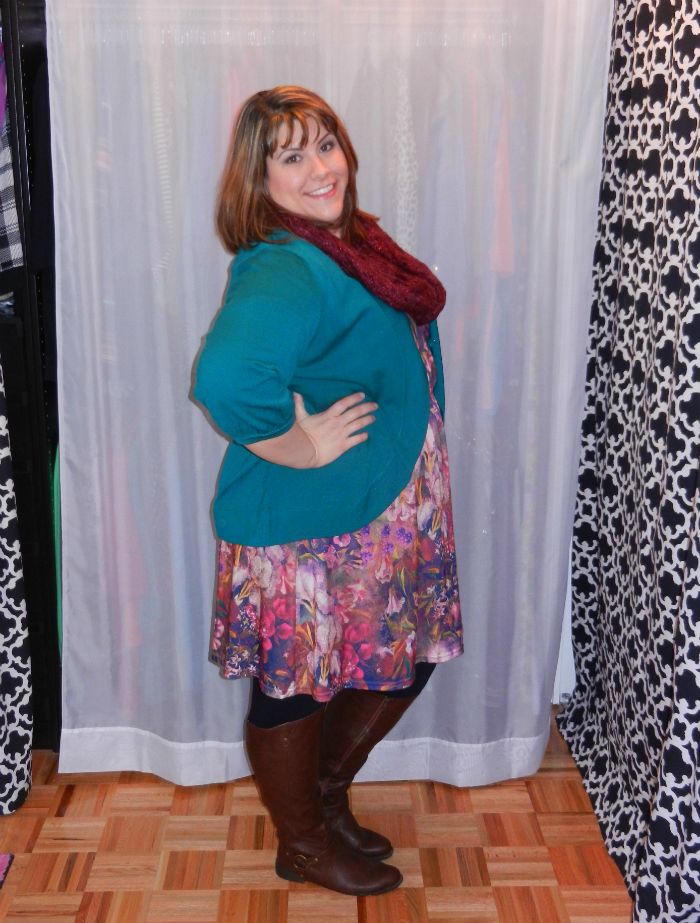 Cute dress. Leggings. Boots. Check! This sweater turned out to be the perfect shade of teal green to match the leaves in the pattern of the dress. I lucked out with that. I love the over-sized, cozy look of the outfit with the sweater that adds to that "fall" feel. Finally, I added this gorgeous pink-toned, burgundy, sequined scarf I picked up recently from Wal-Mart of all places. I don't shop there much, but the sequins caught my eye and I had to have this one. They had a TON of colors in this soft knit with mini sequins scattered throughout.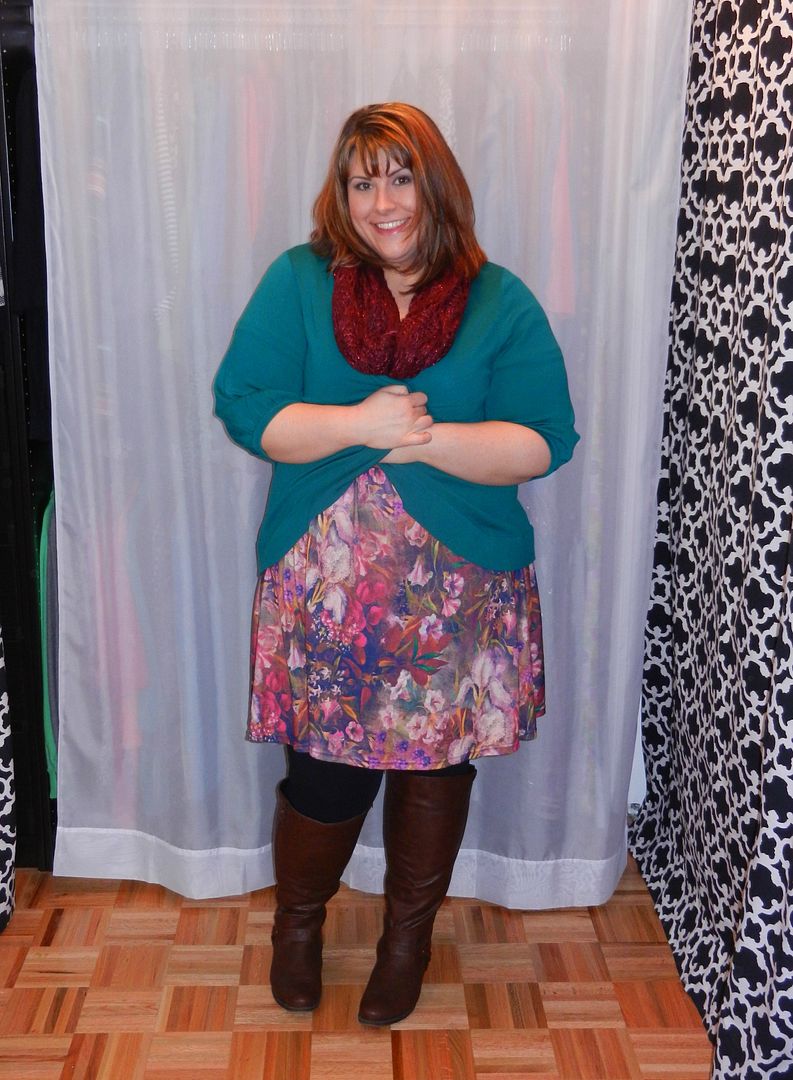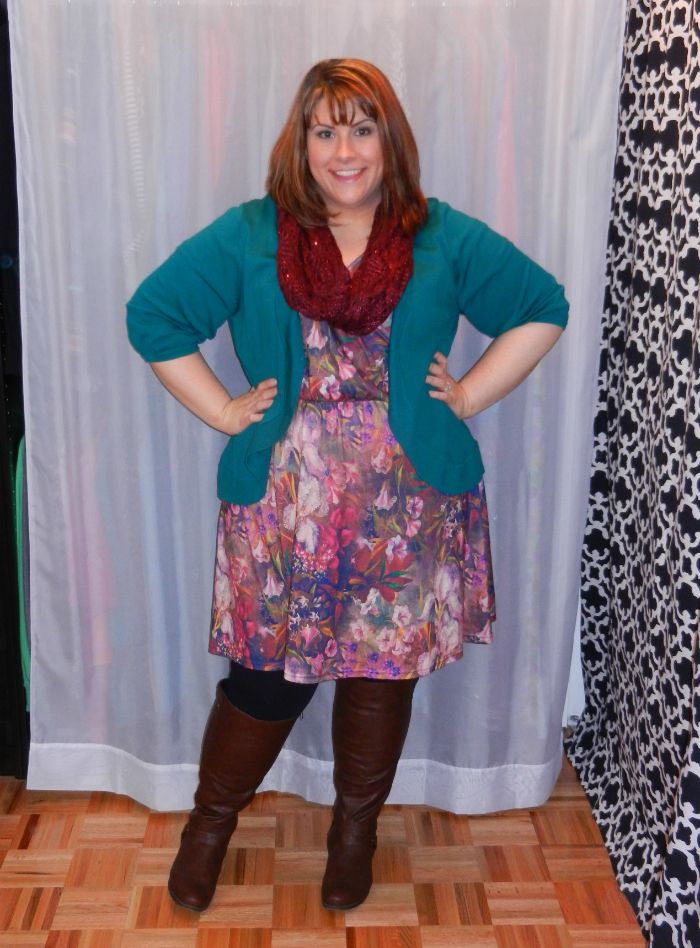 Mauve Lily Skater Dress - Flor via
Gwynnie Bee
Green Sweater - Avenue
Sequined Burgundy Scarf - Wal-Mart
Leggings - Lane Bryant
Perry Stretch Boot - Avenue (Similar
here
and
here
)
What's your favorite fall look? Tell me about it in the comments and/or show me on your blog or via social media. Remember to use #SartorialMedley!