Hey, y'all! I hope everyone had a fantastic weekend!
As Thanksgiving (and Black Friday) are fast approaching, I have been doing a lot of strolling through some of my favorite online stores to plan out a wishlist for my husband and to also plan out my Black Friday attack. I don't physically go out shopping for the post-holiday sales, oh no! I don't possess the patience for that. I much prefer meandering through the interwebs and snatching up deals or items from the comfort of my own home. It has become a fun little tradition for Sean and I.
As I build up my lists, I thought I would show you some of the things I am adding. Throughout the holiday season, I can bring you some fun little lists of items I can't wait to own! These will cover an assortment of brands and types: fashion, beauty products, home items, etc. For today, I offer a more girly fashion and beauty collection.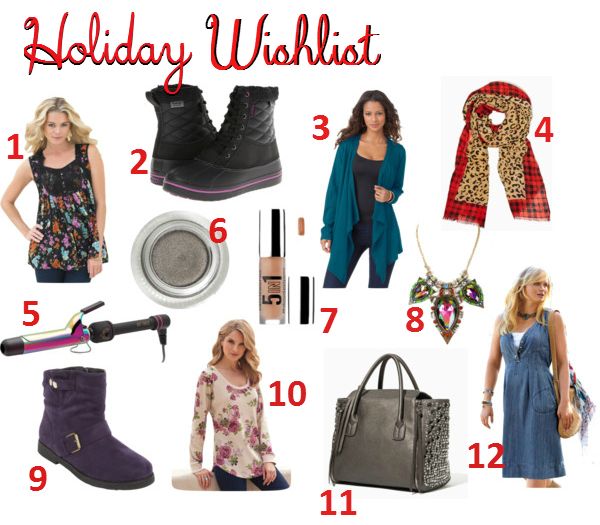 So let me give you a rundown on my choices:
- A few of the items are from plus-size retailer
Roaman's
. I am all about the easy separates; that dress will transition to spring and summer nicely. I realized this weekend that I only have one actual long-sleeved shirt, excluding cardigans, so I am also trying to be mindful about adding some warmer pieces that I can mix and match. It is COLD here! While browsing the site, I came across some Roaman's coupons (
here
) and I also found some
Woman Within coupons
(their sister-site)! Who doesn't want to save a dime or two this time of year?
- The purple booties are practical but in a great color other than black (
also from Roaman's. They have a great selection of really cute shoes and various width sizes as well
.) and could go with a lot of my current wardrobe. While the Crocs aren't the most fashionable thing, they look sturdy and practical. As you might know, it rains in Washington State a LOT and I do not own rain boots.
- For accessories I added this fun scarf and studded bag from
Charming Charlie
. On my recent vacation to Las Vegas, I hit up a Charming Charlie for the first time (
and it was WONDERFUL
!). I have since found out there are actually a few stores a half hour or so from my house, so I will be going back. The necklace is from Choies, which Cora from
Vintage or Tacky
is always talking about. I love the big, funky gemstones.
- I am such a beauty product and makeup junkie! I own about six pigments from
Makeup Geek
already. These gel liners get great reviews and can be sold out for a while. The color I chose, Rave, is a sparkling copper brown when swatched.
- I own the BareMinerals 5 in 1 shadow in a color called Divine Wine that I received in a Birchbox or Ipsy bag. It is a darker, muted brown that can be worn alone or as a base color. I think Blushing Pink would be a great brighter neutral shade for the same purpose. They are very matte and don't crease at all.
- Hot Tools makes fabulous curling irons! I own a pink-handled version of this one in a one-inch barrel. My hair is getting a little longer, so I think a 1.25 inch barrel is going to be great. It doesn't seem like a big difference, but my hairstylist uses the bigger one and the curls are noticeably different than my one inch. They lay different around my head - all in a good way.
So there you have it, a fun little wishlist just in time for the holidays to really get started. Let me know if you own any of the items and give me your thoughts!
What things are on your wishlist?