Hey, y'all!
I hope everyone had a wonderful, fun, and restful weekend! My Saturday turned out pretty awesome. The weather was way better than expected while I joined my cousins and aunts for a get together. We sat on our family friend's porch talking, laughing, eating, and drinking. It was quite a lovely afternoon. Afterwards, Sean and I looked at paint samples and made a trip to Ikea to look at a few other storage options.
Sunday was pretty low-key. I worked on computer stuff, did some house chores, and played The Last of Us with Sean. We have been waiting for that game to come out for quite a while!
It is time again for Friend Makin' Monday. If you have a blog, I would like to invite you to answer the questions as well. Leave me a comment here, so I know you are playing. Then you can also leave a comment over at All The Weigh, so other folks can check out your answers as well. It is a fun way to connect to other bloggers.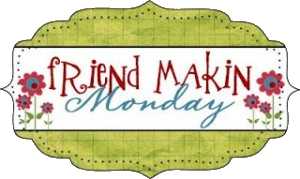 Ten Simple Questions
1. When you looked at yourself in the mirror today, what was the first thing you thought?
"Oh my! I need to brush my hair!" lol It was a curly, crazy mess.

2. Do you prefer to pay for things with cash or plastic?
I prefer to use my debit card. It is just easier than worrying about how much cash I am carrying with me.

3. What is one word that you use too often?
hahaha Well, I probably say the "F word" a lot. I have a potty mouth. I think I say "awesome" too much lately, and often work the word "chihuahua" into every song I sing. lol

4. Who is the last person outside of your family who said "I love you" to you?
Oh gosh....okay, my husband, my sister, and my cousins have all said it to me lately. Maybe it was my good friend from high school when she emailed me last week.

5. When was the last time you wrote a letter to someone and mailed it?
I sent my stepdad a Father's Day card a couple weekends ago. I need to write letters to my grandmas and send them pictures.

6. Have you ever been called upon for jury duty?
Yes, more than I care to remember.

7. How many keys are on your key ring?
Two, I think. House keys and mailbox keys.

8. List two characteristics that you want to change about yourself.
I wish I was a more laid-back type of person. I'm very anxious and on edge about a lot of things (and other things not so much), but I worry a lot and overanalyze a lot. So those things I would love to change.

9. Do you bring your own shampoo and conditioner when you travel, or do you use what the hotel provides?
I always bring my own because hotel shampoos and conditioners are normally VERY drying and damaging to my hair. I can feel the difference immediately and I hate it. But I always take the little hotel things back with me. lol I have a big basket full of shampoos, conditioners, lotions, body washes, and soaps.

10. What is your birthstone? Do you like it?
It is an emerald. I absolutely love them!
I can't wait to see your answers to this week's questions! Link up with
Kenlie
and let me know you are taking part! Have a Happy Monday!