Continuing with my Tale of House Hunting:
If you missed the beginning of the story, you can find it in
Part One.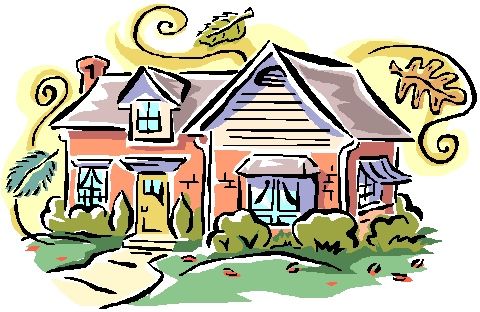 When we left off, Sean and I finally chose our agent. I would say that we are socially awkward creatures, so the idea of talking to some stranger was incredibly difficult for us. I am guessing normal people just do it. We think about it for weeks and overanalyze and then make a decision. I feel good about the decisions I/we have made, so I guess it works for us.
As with most things
we
I tend to freak out about, everything ended up being fine. The agents were nice. The one we chose was easy to talk to. When we met with her, it was at a house she wanted us to take a look at that she thought met our criteria. At this point, we had been receiving reports from her for a few days about houses on the market. It was nice to finally get in a house to look around; we felt rather productive that day. The yard of this house was spectacular - large and immaculately landscaped. However, the inside left something to be desired. It was just all over too small. We were able to chat with the agent about what we liked and didn't like about it to help her in her quest to find us the right place.
She was leaving that day for a week-long vacation, but continued to send us listings of places we might want to look at. (
This was even before we chose her to be our agent. We liked how much effort she was putting into helping us.
) Half way through the week, we finally sent her an email and told her we wanted to work with her. From there we compiled a long list of places we were interested in based on the listings she would send us, and the places we would find online through our own searches. Thank goodness for
Google Maps
because we were able to check out the exact location, neighborhood, yard size, etc. based on the maps. We got rid of any houses too far outside of the area we wanted to be in, too close together in a neighborhood, anything with too small of a yard, any house that shared a driveway with other houses, etc. etc.
We easily scrolled through over a hundred homes and whittled the list down to six that we felt met our criteria.
That Monday, we met up with our agent to go look at the six houses on our list. It was four hours of fun. I really enjoyed finally getting out there and fleshing out the details of what I really loved and what I really disliked about the homes we saw. From those six, two stood out as possibilities. One for being a lot of square feet for the price and a decent yard, but the kitchen was really small. The other was smaller overall then we wanted, but the layout was really open. It was in a great location with a great deck and pretty little yard. We found out that it already had an offer on it though, so we kept moving along.
I promise I'm getting close to the good part.
The very next day, Sean decided he wanted to get another opinion on the larger house he liked, so we planned on taking a trip to look at it again with his mom in tow. We made plans with our agent to check out a few more houses on Thursday evening. On Wednesday, she emailed saying she just found a house that came on the market an hour earlier and thought it would be a perfect fit for us. She was on her way to look at it and would give us any additional information. We checked out some pictures of it and agreed to see it.
Thursday arrived. We visited the previously seen house with my mother-in-law, checked out a larger house that reminded me of my Southern roots (
but it needed a LOT of work. The previous inhabitants did a lot of damage to it as far as wear and tear and not taking care of things. And the downstairs bathroom smelled like cat pee. And the kitchen smelled like old fish. But the GIANT walk-in closet was pretty awesome. It had great potential, but we aren't rich enough to fix it up
.), and then we headed to this new listing that our agent was pretty darn excited about.
And it was pretty great. So great, in fact, that we put in an offer. And the offer was accepted. And it turns out we're buying a house! lol I'll get a post up tomorrow showing you what it looks like because I can't wait to share the excitement with you!