Hey, y'all!
It has been a busy and nerve-wrecking weekend. I worked on some projects and we spent a lot of time biting our nails and waiting for some important news. I'll have more info later this week. (I know. I hate vague crap like that too, but I want to be able to write everything out and post it together.)
I need to get to bed, so I am going to get right to this week's Q & A (aka Friend Makin' Monday.)
It is time again for Friend Makin' Monday. If you have a blog, I would like to invite you to answer the questions as well. Leave me a comment here, so I know you are playing. Then you can also leave a comment over at All The Weigh, so other folks can check out your answers as well. It is a fun way to connect to other bloggers.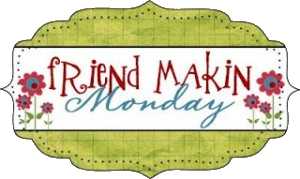 Just Wondering
1. Do you wear glasses and/or contacts?
I do have glasses, but don't wear them too often. I need them to see far away, so at the movies or playing video games or driving around is when I require them.

2. Do you have summer vacation plans? If so, where are you going?
In less than a month, I am heading out to see two NKOTB concerts (one is in Canada)! I am really excited because I have been a New Kids fan for 25 years and like to see them every chance I get. We are really focused on buying a house this summer, so no other plans have been made. Maybe next summer?
3. What is your favorite food to eat for breakfast?
What I actually eat is Greek yogurt with lots of berries and a bit of granola. What I LOVE for breakfast are biscuits and gravy (white gravy, tomato gravy, cocoa gravy!), chicken fried steak, omelets, hashbrowns, etc. etc. I love breakfast food!
4. Do you enjoy window shopping?
It usually makes me mad if I don't have money to purchase something. I like the experience of trying things on and touching the objects and smelling the lotions and all that jazz.
5. What is your favorite candle scent?
I just bought the Gelato candle from Bath and Body Works. It smells like a watermelon/strawberry hard candy.

6. If you had to choose between going to a zoo or an aquarium, which one would you pick?
I enjoy the zoo because of all the varieties of animals to watch, but I hate when it gets too hot and I hate how so many kids are at the zoo. No one teaches their kids manners anymore. It bothers me. The aquarium usually has less kids and I am fascinated by the sea life, but we don't have a good aquarium nearby.
7. How many times do you plan to exercise this week?
lol I always plan to, it just doesn't always work out that way. We shall see.
8. Do you speak another language fluently?
Unfortunately, no. I was good at Spanish in high school, but stopped practicing it after that so my knowledge on the subject has declined.
9. What are you currently reading?
I am currently reading
Attempting Normal
by Marc Maron.
10. What are you looking forward to most in the coming week?
Spilling the good news, planning, finishing some projects, seeing some movies, and maybe cleaning out my dressing room.
Now it is your turn! You may answer here in the comments or on your blog. Please remember to link up with Kenlie and let me know you are participating as well. I hope you all have a FABULOUS week!