Another busy weekend has come to an end. My husband kicked off Saturday by getting up super early so he and his friend could help my mother-in-law take yard debris to the recycle place (or wherever it goes....I have no idea). Then we were off to my cousin's daughter's very first birthday party. She was rather dainty with her smash cake. lol After that it was off to my haircut, and then we spent two and a half hours driving by a list of houses we are interested in.
Sunday was my mother-in-law's birthday. We went out to brunch, saw Now You See Me, went to an Open House, and drove by more houses. Today, we actually get to go inside some of those houses to determine how much we like them. *fingers crossed*
It is time again for Friend Makin' Monday. If you have a blog, I would like to invite you to answer the questions as well. Leave me a comment here, so I know you are playing. Then you can also leave a comment over at All The Weigh, so other folks can check out your answers as well. It is a fun way to connect to other bloggers.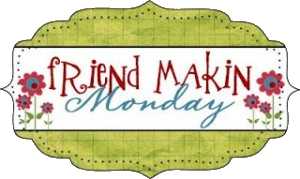 How Do You Celebrate?
1. When is your birthday?
May 12. :-)
2. Do you like to celebrate it or do you prefer to keep it quiet?
My dad died right before my 18th birthday, so celebrating my birthday has become very important to me. It takes my mind off of the crappy stuff and lends some fun to an otherwise horrible string of days. I wear my tiara and have as much fun as I possibly can. Some years are bigger celebrations than others, but I always love to do something special.
3. Have you ever had a surprise party?
Yes. My 16th birthday was celebrated with a surprise party at school that my best friend Derek set up for me. And for my 30th, my husband and awesome friend Nigel set all that up. They got me really good because I had no idea anything was happening!
4. What sign are you? Does it represent you well?
I'm a Taurus and feel that I am true to my sign. I am dependable, steady, loyal and devoted, love stability, am stubborn, and enjoy the finer things in life. I'm a Taurus through and through.
5. Do you tell the truth about your age?
Usually it isn't a huge deal. I'm 33 and I am okay with that. I'm happy with the wisdom my 33 years have given me. But I like to joke I am 29 or so every year.
6. Share your best birthday memory.
I've had a lot of memorable birthdays. The surprise party for my 30th sticks out because I was speechless. And my friend Norm even drove up for the day. My 31st was spent seeing Neil deGrasse Tyson speak at the University of Washington in Seattle. On my 25th birthday, my cousins and aunt came to my job to bestow me with balloons, a tiara, a wand, and dumped glitter all over me. lol My 21st birthday weekend was spent at Universal Studios in California, hanging out with my friend Shala. For my 22nd, my friend Summer came down from Seattle and spent the weekend with me. Etc, etc, etc.
My SURPRISE 30th!
7. Share a few items that could be on your birthday wishlist.
I received some awesome gifts this year, but I am still in the market for a sewing machine and chubby girl art.
8. What is your favorite kind of cake?
German chocolate cake or lemon cake with coconut
9. If you could be anywhere on your next birthday, where would you be?
I like spending my birthday with my friends, but I think traveling somewhere might be a fun way to spend it sometime. I'd want to go to Ireland, Greece, Hawaii, NYC, London, Georgia to visit my sisters, or maybe on a cruise.
10. Do you make a wish when you blow out the candles?
Absolutely.
Don't forget to answer the questions here or on your blog. Also, remember to link up with Kenlie. I hope you all have an amazing week! Happy Monday!