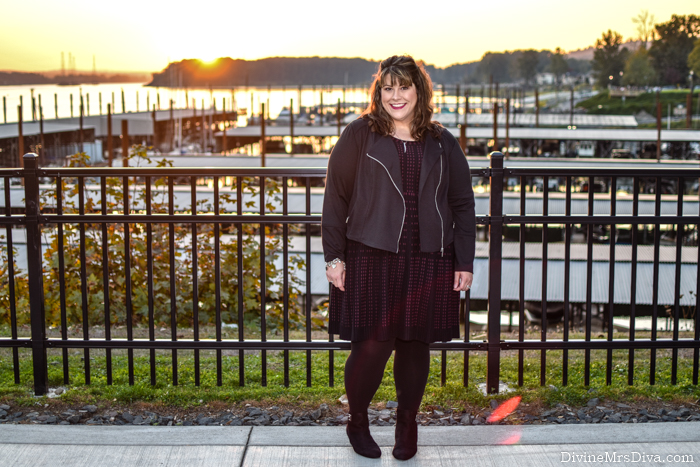 * This post is sponsored by Catherines. It features gifted items that I selected.
While many people think of spring as a rebirth and new start, I find that fall makes me feel like hitting the refresh button. The transition from summer to fall feels more like a new beginning to me as we venture into colder weather, the holidays, and moving into a new year. So I take this time to push myself out of my comfort zone, to try new things, and regroup my mindset in preparation for the coming months.
When Catherines reached out to me about a collaboration, I was really excited. I've previously worked with Catherines as a
Style Ambassador
and during their
Denim Debut
and
Art of the Mix
campaigns. I found some great go-to pieces that I continue to purchase from them - no-wire bras, girlfriend jeans, Bermuda shorts, maxi dresses - just to name a few. So in choosing a look to review on the blog today, I decided to branch out of my comfort zone in honor of fall. And boy, am I glad I did!



- Catherines gifted me the items in this post. All opinions presented are my own and without influence. This post contains affiliate links and I will be compensated if you make a purchase after clicking on my links. -
Before we get started, I am 5'9", typically wear a 22/24, wear a 40B bra, a size 11 wide shoe, and my measurements are 52/49/58.
Sweater dresses and I haven't always seen eye to eye. I decided it was time to get reacquainted, so I chose the
Ribbed Dot Fit and Flare Dress
. The fabric is a cotton/rayon/nylon sweater material that is incredibly soft, with a great weight and stretch to it. It is also machine washable! It isn't super heavy, bulky, or stifling, but does have a enough weight that it hangs well on the body. The ribbed knit adds some great texture, along with the fun pink dotted pattern. (The pink is a great fuchsia shade!) I'm wearing a 2X, which is Catherines' 22/24. I found the fit to be spot on! When I initially tried the dress on the sleeves were a bit tight, but they were perfectly comfortable when I got all dressed up in my outfit. That being said, this dress still holds its shape exceptionally well and the sleeves were still fitted to my arm and not stretched out at the end of the day.
I love that the scoop neck is neither too high nor too low. Goldilocks would approve! I generally lean towards a V-neck because I like that open lightness near my face. I think this scoop is a great combo of open but covered, helping keep my chest warm on these chilly days. Also, can we have a round of applause for elbow-length sleeves? Oh, how I adore thee! I wish more plus size clothing had this sleeve length. The hemline is 42" long and hits right above the knee on my 5'9" frame. This is a great length for pairing it with anything from knee high boots to work-appropriate pumps. The classic fit and flare silhouette also makes me so happy. It is a great shape that works on so many different bodies.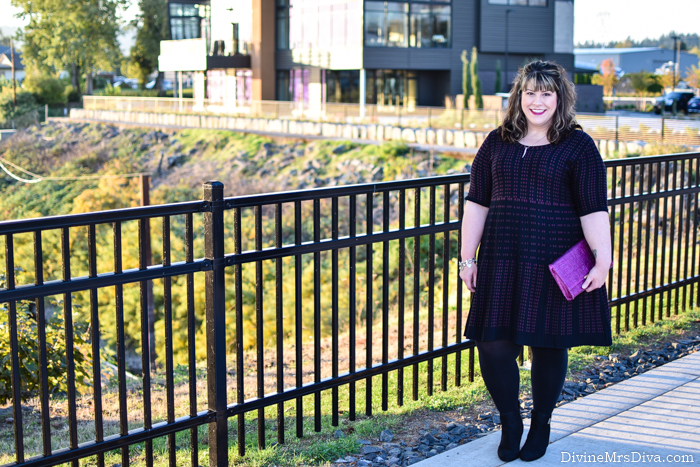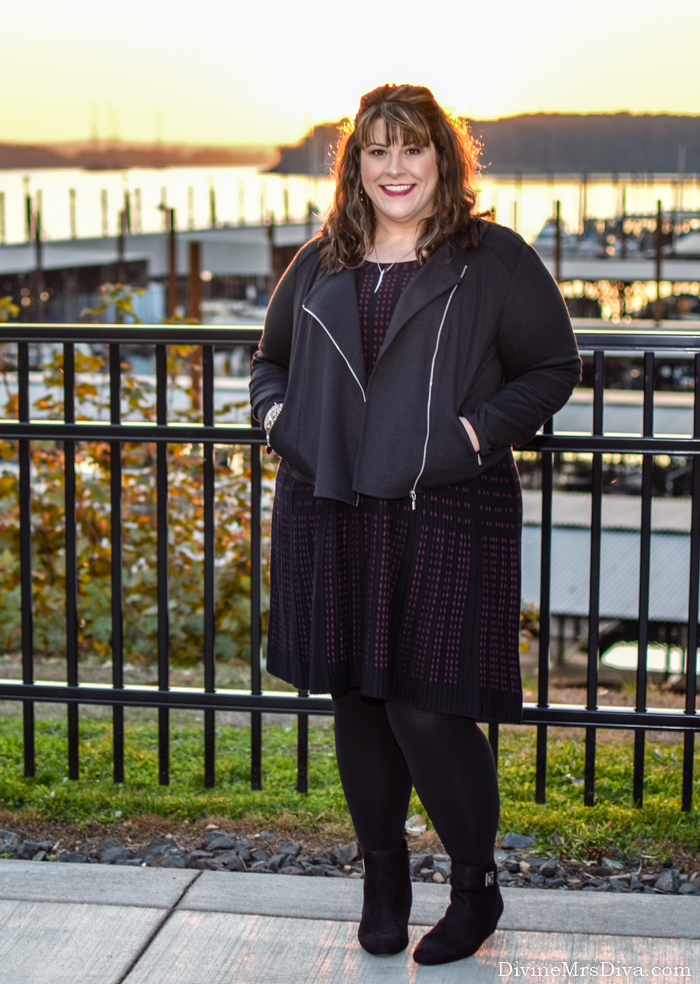 I paired the sweater dress with the
Curvy Collection Moto Jacket
, also in a 2X. There is always something so effortless and chic about a moto-style jacket. Since I much prefer knit to leather, I was really excited to pop this on when it arrived. The soft knit material is made of a poly/rayon/spandex blend, so it is stretchy and comfortable and also machine washable. The material is lightweight enough that it's easy to wear and move around in, but still keeps you sufficiently warm. After the sun set over this pretty park, I was a bit chilly whilst having my jacket off. Putting it on allowed me to stay perfectly warm and cozy though. I'm very susceptible to heat
and
cold without my thyroid, so it is great to find a piece that keeps me at a good temperature. The cropped length is perfect for pairing with dresses, but will also look great with jeans and a tee or a skirted look. And bonus points that it does zip up completely without being too tight. I've already been planning other outfits around it for future fall posts.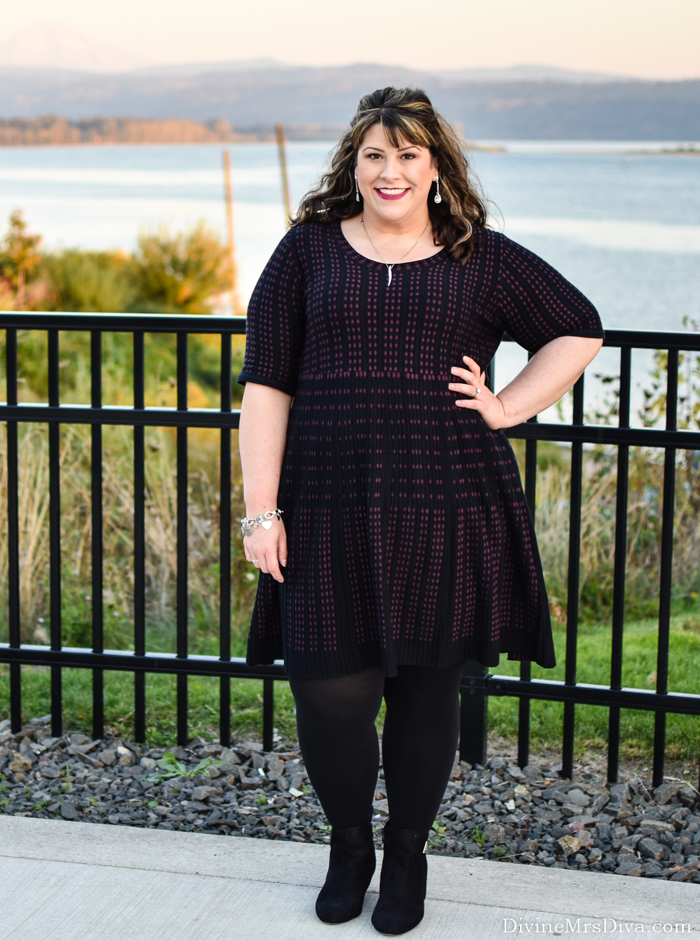 In addition to these two amazing pieces, I picked up the
New Super Opaque Tights
and
Good Soles Wedge Bootie
. The tights are probably the most comfortable and amazing pair of tights I have ever owned. I generally steer clear of tights and opt for pants in the cold months, so this was another step out of my comfort zone. These tights clearly came to change my mind. I got them in a 3X-4X because my hips and thighs are larger. I probably would have been fine sizing down, but these were still incredibly comfortable and well-fitted. The nylon fabric is so soft. The tights were easy to pull on, incredibly opaque, and stayed in place all day long. I didn't have to fidget with them at all for the entire day, which made me feel more confident and sassy.
Likewise, the Wedge Bootie was also a wonderful surprise in terms of fit and comfort. I went with my usual size 11W. The booties fit well both width-wise and ankle-wise, with room to spare. There wasn't so much room that it was hard to walk though. I actually felt very supported and secure in them. Sean and I walked all over the park and down to the dock to take photos before heading to dinner. At the end of the night, I did not have any discomfort. At only 1.5", the wedge heel is a nice little lift to look sophisticated but not so high that I'm going to hurt myself. I think this also lends to the comfort of the shoe because you aren't balancing on the ball of your foot.
I adore this whole look and definitely look forward to wearing it more often this fall/winter, as well as mixing pieces with other items in my wardrobe. Catherines remains a viable option for fashionable pieces with comfort and a good fit.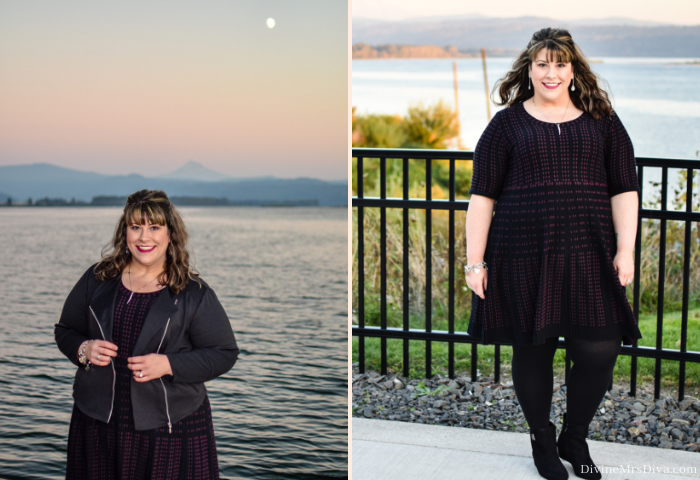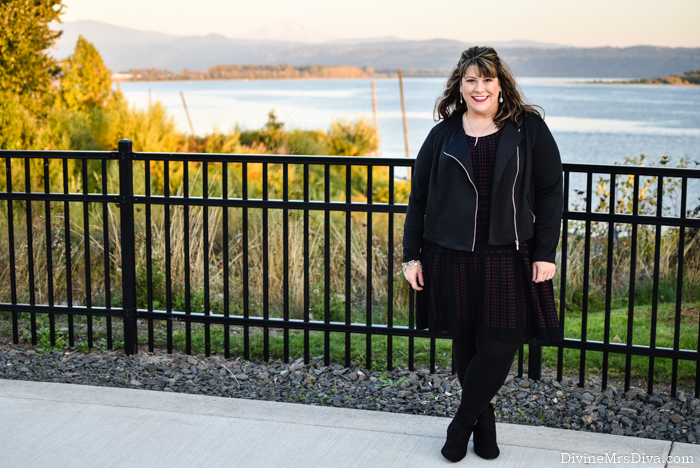 Ribbed Dot Fit & Flare Dress
- c/o Catherines
Curvy Collection Moto Jacket
- c/o Catherines
New Super Opaque Tights
- c/o Catherines
Good Soles Wedge Bootie
- c/o Catherines
Teardrop Dangle Earrings & Heart Charm Bracelet - Lane Bryant (
similar
)
Curved Pendant Necklace - Swarovski (gift from my mom-in-law from her trip to Germany)
Boardwalk Style Fuchsia Large Straw Clutch - via Zulily (
similar
,
similar
,
similar
)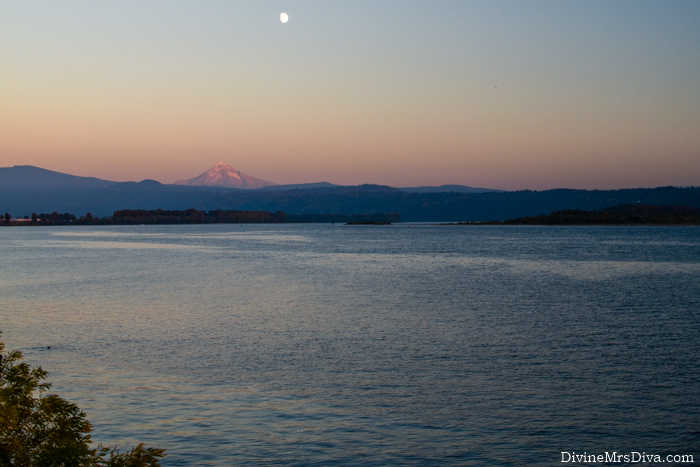 The moon over Mt. Hood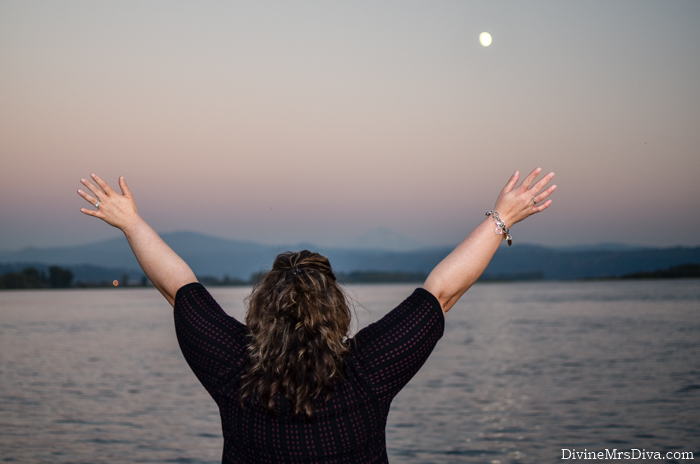 I've been adding to my photo series called "Celebration" that I started this year. I take photos in this pose at scenic locations that I travel to.
Do you have a winter style of clothing you feel is out of your comfort zone? If you could push yourself to wear one item or do one activity, what would that be? Let's chat!