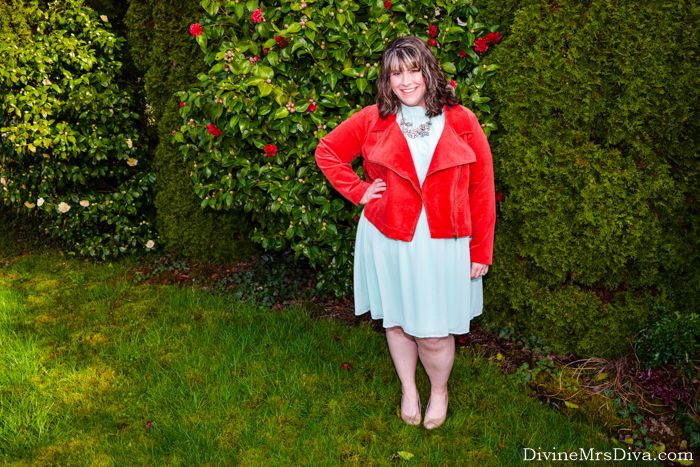 Every once in a while (like maybe twice a year?),
ModCloth
has a Stylish Surprise sale. During this limited quantity sale, they offer dresses for $20, apparel/separates for $15, shoes for $10, and jewelry for $5. As the name implies, it is a mystery what you will receive. Taking that risk can make me anxious, so I understand if it isn't your thing. The 3X and 4X sizes sell out really fast, so if you want to get in on the next sale make sure you are following me on
my Facebook page
for a head's up!
In today's post, I'm going over the three items I bought in my most recent Stylish Surprise order. You don't receive items that are meant to be a whole outfit, but I lucked out and thought my items made a cute ensemble.

- I bought these items myself. All opinions presented are my own and without influence. This post contains affiliate links and I will be compensated if you make a purchase after clicking on my links. -
Before we get started, I am a newer fan of
ModCloth
. I
bought a cardigan from them last year
and loved it so much I now have two more colors of that cardigan, plus various tanks and some other Stylish Surprise goodies. I was always unsure about sizing and quality, so I it took me a while to take that step in ordering. So far, I have been really happy with everything I have ordered. I generally wear a 3X in ModCloth items. A 4X is way too big in the bust for me.
There has been a lot of hullabaloo about the brand lately because they were bought by a company that is owned by Wal-Mart. While I also detest Wal-Mart, I don't want them to keep me from cute clothes. I am on Team Wait-and-See in regards to hoping this transaction doesn't change ModCloth in any way. I feel they provide lots of cute, fun clothing options and would hate to see a decline in the brand.
Okay, with all that out of the way: Remember
my measurements are 52/49/58. I am 5'9" and wear a 22/24 or 3X in most garments
. Let's get to it!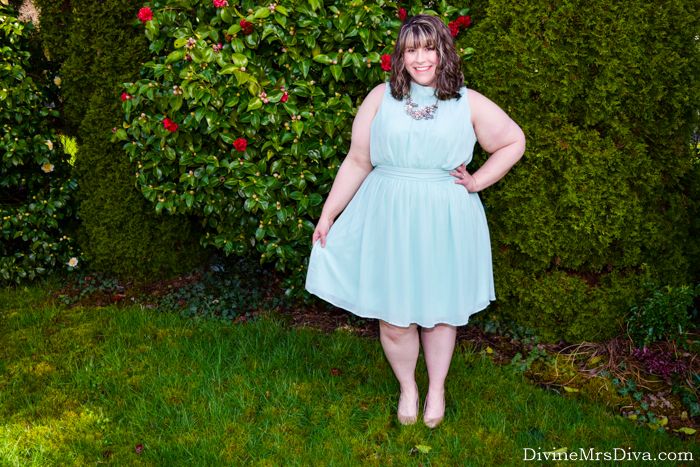 Ordering a dress from
ModCloth
during the Stylish Surprise is probably the most anxious thing for me because I worry about it being my style or too short. Those are common issues I have with lots of dresses, so buying one sight unseen is definitely a gamble. Of course, this is also part of the fun of Stylish Surprise. This time around I received the
Sample 3370 Dress
in Mint in a 3X. This style is available in Navy in sizes XS through 4X. At $74.99 regular price, $20 is definitely a great deal. This would be a great bridesmaid dress or wedding guest dress if you have one coming up this summer.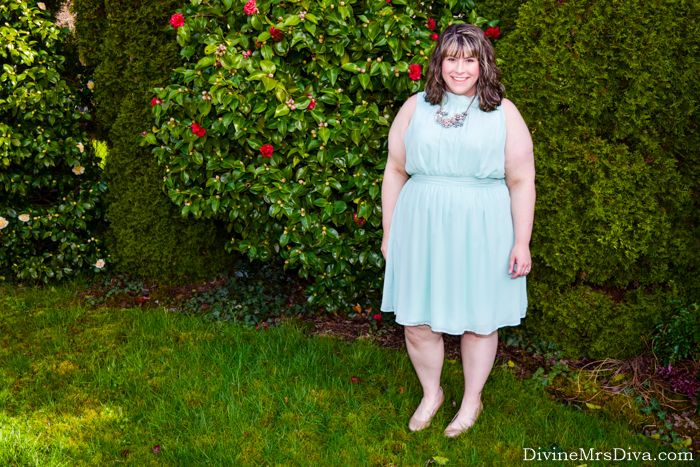 I would not have chosen this dress for myself because it is dressier than my lifestyle, pastel, and has a high neckline. That being said, I was really happy with how it looked on me. I don't feel that it is too short, but it is slightly shorter than what I normally go for. Fit-wise, it isn't terrible but it could be better. There is a zipper on the side to make it easy to get in and out of. Being able to wear the waist higher and blouse the top portion of the dress looks really cute on me and makes the dress more comfortable to wear. I did find the waist to be a bit small and very tight. It isn't a complete deal-breaker and has a lot to do with the non-stretch fabric. I only noticed my fat roll being noticeable in the close-up photo below where I had to hold my arms up out of the way. Otherwise, the blousing of the top helps accommodate the roll, which is really just rebelling from being cinched in. haha The fabric covering the zipper does stand out a bit because of the tightness of the dress, but I don't know that too many people would notice that straight away.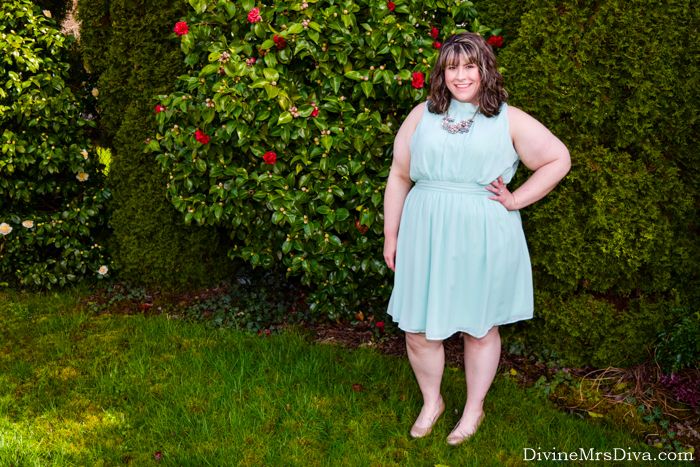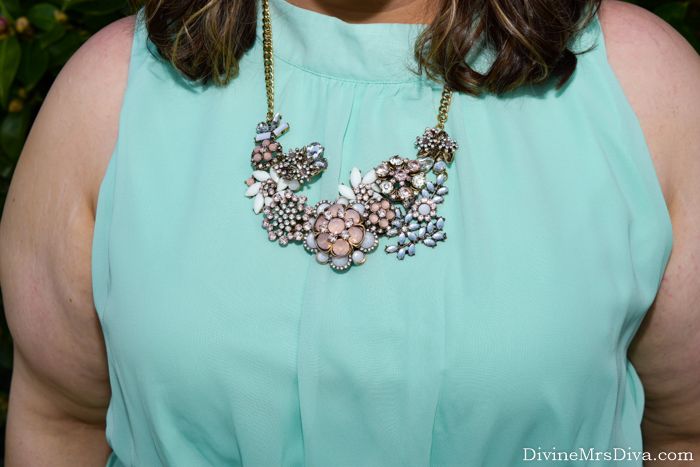 The
Vow To Wow Necklace in Light Pink
happens to match the dress perfectly! I love statement necklaces like this, but probably wouldn't have chosen this pastel color combo to go with my wardrobe. That being said, it is really pretty and I look forward to incorporating it into future outfits. I like the different textures and 3D-ness of the necklace. These features paired with the varying colors of clear, pink, white, and periwinkle make the necklace very fun and more interesting. It isn't super heavy, though I did need to add an extender for it to hang where I wanted it to. The necklace is $34.99 regular price, but most of the colors offered are on sale for $10.99. I was able to get this necklace for $5 during the Stylish Surprise, which is a very good deal. The other colors include grey, light red/fuchsia, turquoise/yellow, and purple.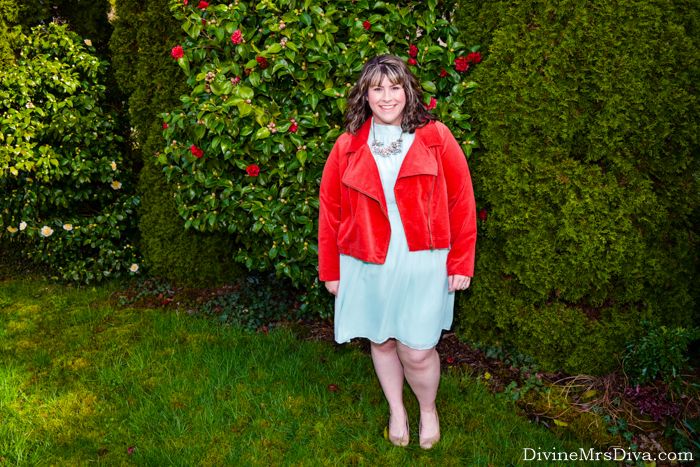 The
Full Steam Trailhead Jacket
is a corduroy rust-red/orange moto-style jacket with a navy crane-patterned lining. It looked out of place amongst the pastel pieces, but I decided to wear them together for that '70s color combo. I think they look cute as a pair. I also received this jacket in a 3X and feel that it is pretty generously cut. This is another item I wouldn't have chosen for myself because I don't often wear a jacket or need something like this, but I really like it. The bright orange-red color is great and unlike other items I own. While the silhouette is a bit boxy and the sleeves are a tad long, I still think it is a pretty good fit (and more lightweight, which is perfect for me). It isn't so short that it looks too cropped for my height and the sleeves fit my large upper arms. It zips with room to spare. And I love the big lapels! I'm happy to have this in my arsenal and look forward to styling it different ways. Originally $89.99, I bought this jacket for $15. It is still available in sizes XXS, S, and M and is on sale for $26.99.
Overall, I am really happy with this round of Stylish Surprise. Next time I will probably stick with apparel and jewelry because I feel like those have been the most successful options for me.
Have you participated in Stylish Surprise? Were you happy with what you received? What are your thoughts on ModCloth?