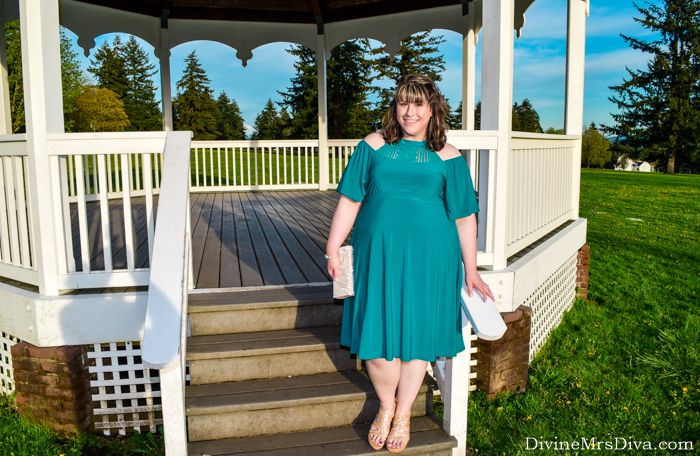 Spring is finally here! Little buds are popping up on the trees in our yard, though it is still cold and rainy. I will be so happy to welcome sun and breeze! Wearing jeans and jackets feels so heavy and cumbersome since returning from Hawaii in January. I want sundresses and maxi skirts and shorts and light tops.
Along with better weather, spring and summer bring prime wedding season; and today's outfit is a perfect wedding guest or event dress. Even if you just want to look hot for date night or feel amazing for no particular occasion at all, I highly recommend Kiyonna's
Elise Flutter Dress
. Read on for my review and all the details!
And through May 1st,
Kiyonna is offering $15 off your order of $75 or more
using the code TAXTREAT.


- Kiyonna gifted me the dress for this post. All opinions presented are my own and without influence. This post contains affiliate links and I will be compensated if you make a purchase after clicking on my links. -
I typically wear a size 22/24 or 3X, and my measurements are 52/49/58. I am 5'9" and wear a 40B bra.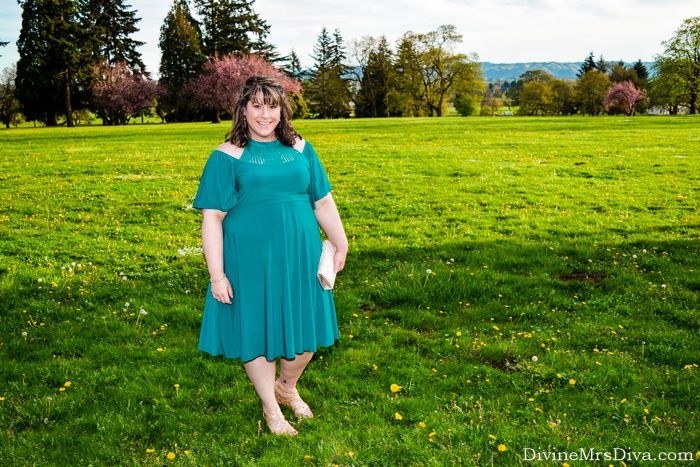 As soon as I saw the
Elise Flutter Dress
in Glistening Jade, I was swooning! Since
trying a halter neckline last year
, I have been open to trying them in more styles. It was a silhouette I always told myself I couldn't pull off. When I proved myself wrong, it opened up a whole new world! Now that I have found
an amazing strapless bra
, I don't have any excuses not to wear a halter or strapless style. Add in the fit-and-flare silhouette and flutter sleeves and you have yourself a winner in my book. The Elise comes in red and jade and is available in sizes 0X to 5X (which translates to 10/12 to 30/32).
The poly/spandex fabric is lightweight and moves with your body in such a lovely way. It is a comfortable, stretchy material to wear, so it won't bog you down in the heat of the summer. The dress is also lined and did not need ironing, even right out if the package. I chose not to wear shapewear with this dress. I honestly don't really think it needs it. It was really windy when I took photos, so at times the wind would blow the dress against me and you could see a Visible Belly Outline. It just comes down to your comfort and preference on that. If you do want to wear shapewear, I would suggest looking for ones that hook to your bra that provide versatility in being able to wear it with items with or without straps (
like the Spanx Extra Firm Control Oncore High-Waist Brief or Slim Cognito Shaping Mid-Thigh Bodysuit, which is what I have
). In photographing the dress, it was difficult to get its true color with my ever-changing lighting situation. With non-direct light, the website photo is accurate with it being an emerald shade. But in direct light it is a slightly lighter tone of emerald and can sometimes appear a pretty teal shade. It certainly doesn't take away from the loveliness of the dress, but I did want you to be aware just the same.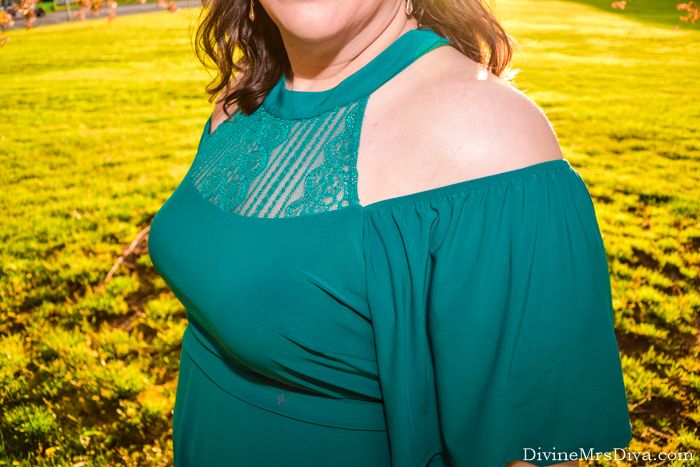 The hem of the dress hits me right below the knee, which is my preferred length. I am wearing
the dress
in a 3X and find it fits true to size. The bust, in particular, fit me perfectly. Most of the credit goes to the amazing designer, but I have to give the bra some credit too. A good fitting strapless bra is a life-changer! The neckline is made of the same stretchy fabric, so there was no issue pulling the dress over my head. The lace across the chest is not itchy and has gorgeous shimmery gold threads in it. We tried to get some photos of it glistening in the sunlight, but it still doesn't do it justice. I didn't know it had shimmer threads until I put it on, so I was even more enamored with it after that. You know how I love my sparkle!!
The bust fits great but doesn't feel tight or like it is pulling. This is truly a comfortable dress to wear. I adore the length of the flutter sleeves! They hit right above the elbow and provide great coverage, but still add to the beautiful femininity of the dress and give your arms the benefit of the breeze on your skin. I love the way a flutter sleeve moves with you. There is something about the drape of the sleeve and movement of it that makes me feel like a pretty, pretty princess. The top part of the sleeves have elastic that allows you to move the sleeve up or down, depending on your preference. I've been loving and appreciating my shoulders more lately and find baring them in this way makes me feel pretty and soft and feminine and sexy. The back of the dress has a T-back strap that connects the neckline to the body of the dress. I am pretty sensitive about things around my neck since having thyroid surgery, but this did not pull at my neck or bug me at all. The dress itself is more lightweight, so this should not be an issue.
Obviously, I love this dress. It makes me feel amazing - feminine and sexy and beautiful. It makes me want to dance and run through a field of flowers and get really flirty with my husband (
not that I need a reason for that last one
).
Elise
has so many wonderful features, like the a-line skirt, lacy halter neckline, flutter sleeves, and jewel-toned color. I look forward to wearing it for my birthday dinner next month, and whatever other events I'm invited too!! 😀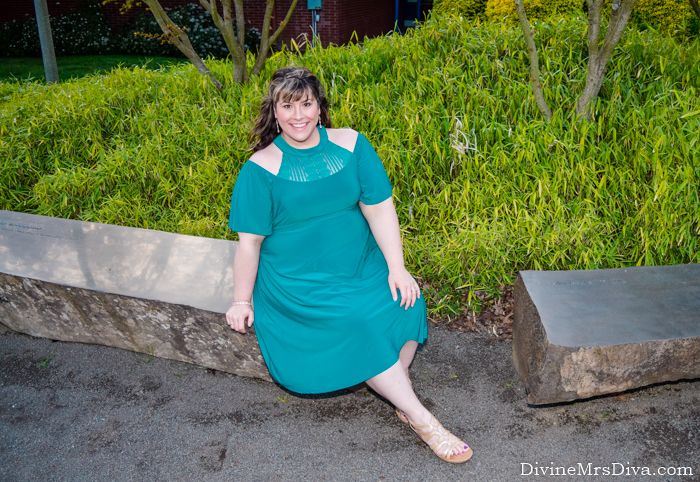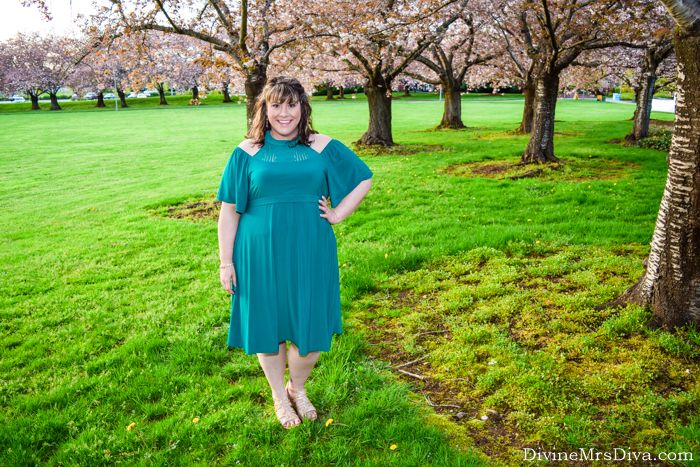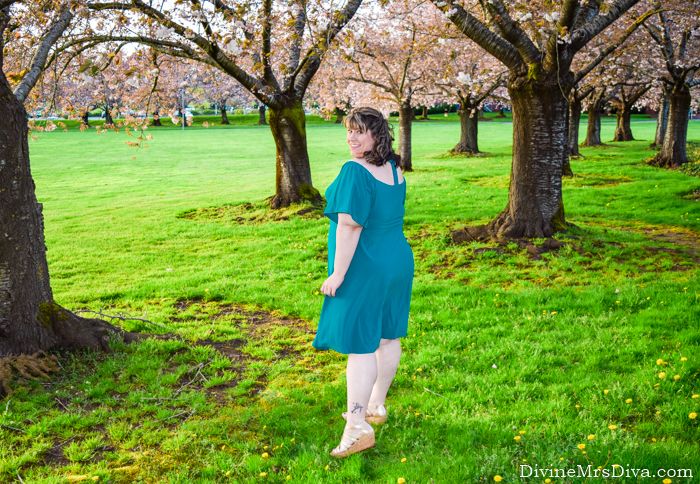 For accessorizing, I went sparkly and fancy. The rose gold accessories I have had for a while, but I loved that warm hue paired with the teal/green of the dress. I photographed this dress on the only sunny day we have had as of late, so the jewels caught the light nicely. These sparkling champagne gold Comfortiva wedges are new to my wardrobe. This is the first time I have worn them out since finding them on clearance at JCPenney. Comfortiva is the same brand as the oxfords you have seen here on the blog this fall and winter. I bought the 11M and find they fit really well. A zipper in the back and little elastic panels at the ankle make them easy to get on and off and insure they stay in place. Another great thing about them is how sturdy they feel. They are solid and don't make me feel wobbly at all. I haven't worn heels or wedges out since I hurt my ankle last May (
also doing a Kiyonna shoot before my anniversary dinner!
), so it was nice to feel stable. Rounding out the accessories is my beaded ivory and pale pink clutch. I found this clutch at Target back in 2008 and used it has my purse for my wedding/reception. Bringing it back out brought happy little flashbacks of wedding fun!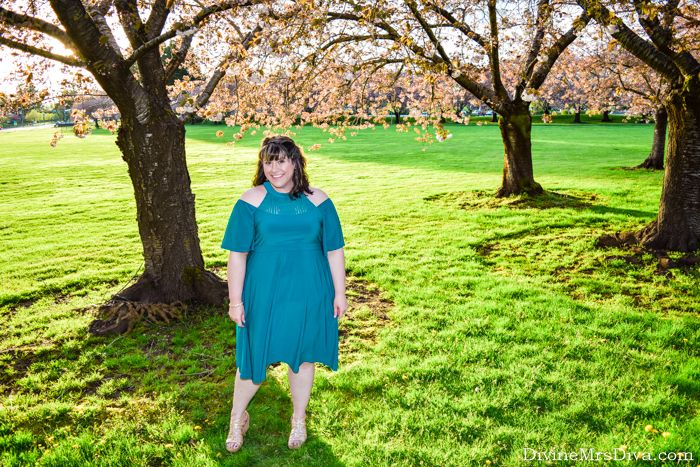 Elise Flutter Dress
in Glistening Jade- c/o Kiyonna
Push-Up Strapless Microfiber & Lace Bra
- Torrid
Comfortiva Redmond Wedge Sandal - JCPenney (available at
6pm
&
Amazon
)
Beaded Clutch - Target (circa 2008) (
similar
,
similar
,
similar
)
Putting on the Glitz Rose Gold Bracelet
- InPink
Givenchy Rose Gold Drop Earrings - Burlington Coat Factory (
similar
,
similar
,
similar
)
Rose Gold Barrettes - DIY
Lipstick:
Ultra Matte Lip in Solow
by Colourpop
Pedicure color:
Millie
by Zoya
Naturally, when I saw some standing stones I had to go touch them. haha Sean and I enjoyed the wonderful weather so much. I look forward to getting some more sunshine when it is supposed to be nice - next month.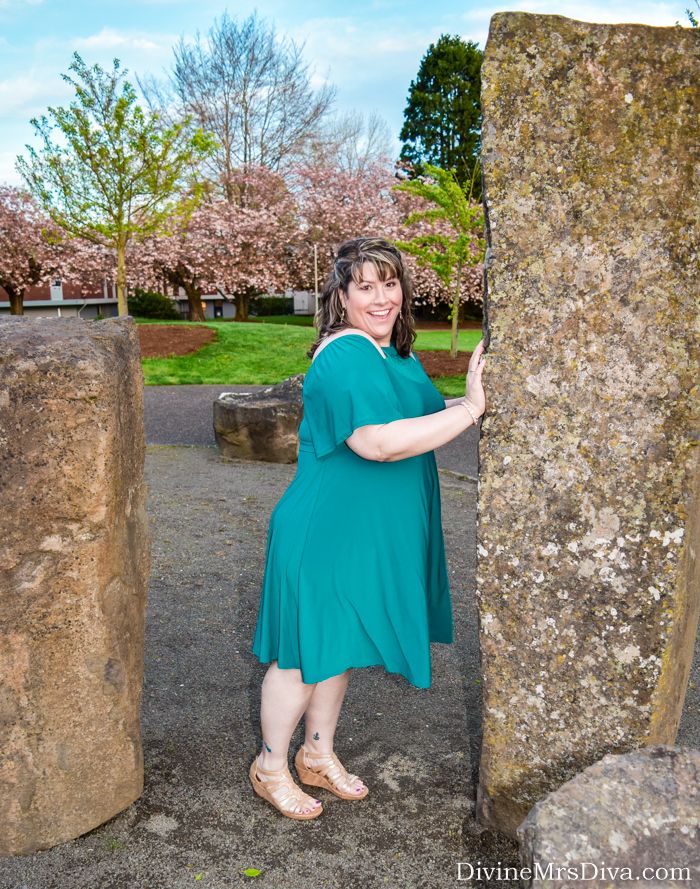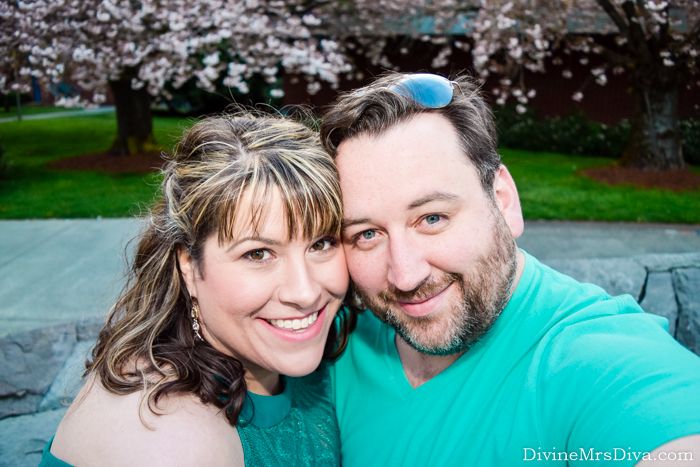 Does the Elise call to you? Do you have favorites amongst Kiyonna's new arrivals? What elements of a dress make you feel amazing? Don't forget to use the code TAXTREAT for $15 off your order of $75 or more through May 1, 2017.