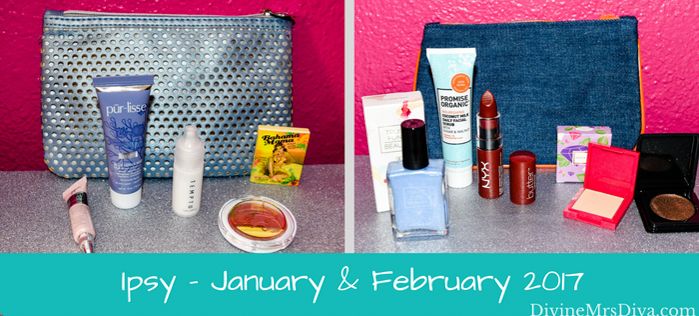 If you are unfamiliar with Ipsy, it is a monthly subscription service. For $10 a month, you get a cute reusable bag and five samples of various products that have been chosen to fit the monthly theme and your beauty profile. Ipsy tends to carry more drugstore brands and makeup, with high-end brands mixed in here and there. They usually have a good mix of makeup, skincare, and haircare, with the occasional nail polish.
In comparison, Birchbox ($10 a month) tends to focus on higher-end brands, with more skin and haircare items. Birchbox also includes makeup, fragrance, and nail polish. They have a couple really great house brands that they include in samples.
I also get the Sephora Play box ($10 a month), which has a mix of products (mostly makeup) and focuses on the higher end brands that Sephora carries. I love all of the boxes and enjoy trying out the products that each supply to my junkie needs. If you want to subscribe to one and are unsure of which to choose, let me know what you want most and I can help you choose the best one for you.

- This is not a sponsored post. I pay for my own Ipsy/Birchbox/Sephora Play! subscriptions. All opinions presented are my own and without influence. This post contains affiliate links and I will be compensated if you make a purchase after clicking on my links.-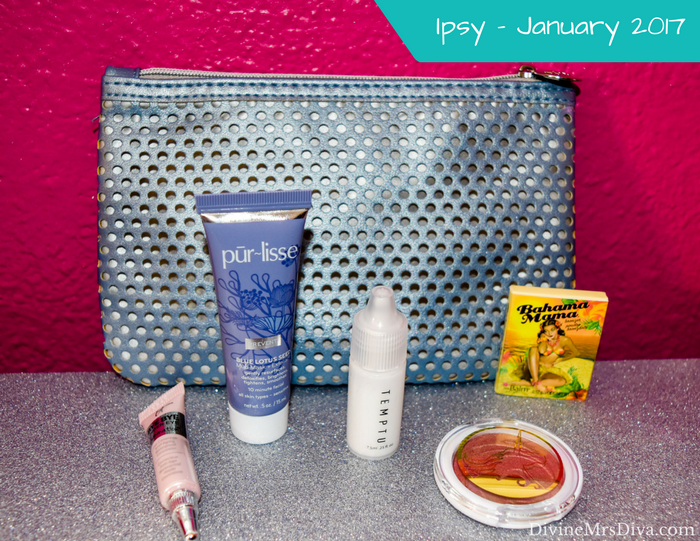 Ipsy - January 2017: Metropolis
pur~lisse Blue Lotus Seed 5-in-1 Mud Mask + Exfoliant
-
($52 for 2.5 oz)
I haven't used this product a lot, but my goodness I want to! It has a very light, clean scent. The color is off-white in a really creamy texture. As you rub it on your skin, you feel the very fine exfoliation. It feels so good! You leave the mask on for 10 to 15 minutes and then rinse. My skin feels SO SOFT after! I want to keep an eye on this and get it when it is on sale.
The ingredients include blue lotus seeds, bamboo, white clay, ginger, mushroom extract. white tea, and rice bran water. The brand doesn't have parabens, petrochemicals, synthetic color/fragrance, GMOs, sulfates, or phthalates in their products.
Temptu Base Smooth & Matte Primer
-
($35 for full-size)
I have a few samples from this brand and like them a lot overall. This company has been around since 1981 and also puts out an airbrush gun for applying makeup. I haven't used this primer enough to tell you definitively that it is awesome. It has been getting lost in the shuffle of the different primers I am testing out. But I can tell you it makes my skin very smooth and helps to hide imperfections with that "blurring" effect. It dries down clear and non-tacky and feels really silky on. I am looking forward to testing it out some more. It is oil-free and paraben-free. (
Swatch below
)
Pacifica Blushious in Wildrose
-
($12 for 0.05 oz)
Pacifica is a brand made of sustainable, vegan, gluten-free, and cruelty-free products. They can be a bit hit-or-miss for me. The Pacifica product I love the best is their Ruby Guava perfume, though that isn't long-lasting either. My issue with Pacifica cosmetics, while pretty, are that they are just not pigmented or long-wearing enough for me to find them worthwhile. The blush looks so pretty and shimmery in the pan, but it was so transparent and lackluster when swatching. If you have really, really fair skin, this may be great for you. I just wasn't happy with it at all. (
Swatch below
)
theBalm Cosmetics Bahama Mama
-
($20 for 0.25 oz; Available at Kohl's, Nordstrom, and
theBalm.com
)
This sample wasn't a new-to-me product because I use Bahama Mama as my every day contour powder. I love that it doesn't have orange undertones or that ashy brown color that makes me look dirty. It is just a perfectly warm-toned matte brown that is pigmented, easily blended, and buildable. You can also use this powder as a bronzer, eye shadow, or brow filler. The formula is talc-free, oil-free, paraben-free, and non comedogenic. The full size has a little mirror in it as well. The heavy duty cardboard packaging holds together with magnets. I have never had an issue with it coming open in travel. (
Swatch below
)
It Cosmetics Bye Bye Under Eye Illumination Anti-Aging Concealer in Medium -
($24 for 0.28 oz)
It Cosmetics is one of my top go-to concealers (and foundations), so this is another one I already owned. The Medium shade is actually a little dark for my under eye area, so I use this on the rest of my face for concealing. The Illumination products from the brand have a subtle radiance that helps diffuse blemishes and problem areas. The product is full-coverage, anti-aging, and waterproof. And yes, it is totally waterproof because I wore it when I went snorkeling in Hawaii. Makeup on point, even under water. haha
The texture of the product can be problematic for those not used to it. It is a thicker product where a little goes a long way. I used a damp sponge to apply and blend and haven't had any issues. If it is a new texture to you, you may just need to practice a few times. It is made without parabens, sulfates, phthalates, talc, oil, or fragrance. This is also a cruelty-free product. (
Swatch below
)
Ipsy - February 2017: Much Love
Trust Fund Beauty Nail Polish in I Give Good Tweet
-
($12 for 0.57 oz)
Trust Find Beauty is a brand that is vegan, cruelty-free, paraben-free, and GMO-free. They carry lip and nail products, with the nail polishes being 10-free (meaning they are free of 10 of the most toxic nail polish ingredients). In comparison, popular nail polish company Zoya is 5-free.
I received the color I Give Good Tweet, which is described as a robin's egg blue. It is gorgeously shimmery and goes on very smooth. I have a few Trust Fund beauty nail polishes now and like them a lot. (
Swatch below
)
NYX Professional Makeup Butter Lipstick in Lifeguard
-
($5.99 for 0.16 oz)
NYX Butter Lipstick is really smooth and satiny. It feels really good on the lips. This particular color is described by some as a deep magenta, but I think it is more of a classic red. It is a really pretty color, but not one I wear very often. For the price though, NYX offers a good range of products that work well. (
Swatch below
)
Promise Organic Nourishing Coconut Milk Daily Facial Scrub with Walnuts and Sugar
-
($9.99 for 3 oz)
This aloe-based formula of natural and organic ingredients includes organic honey, organic sugar, and organic walnuts to maximize exfoliation. It is safe for sensitive skin and pH balanced. It smells amazing in a coconut-y, sunscreen-and-the-beach kind of way. It cleanses well and leaves my skin feeling soft, but I do wish the granules were more fine. I want more scrubbing action in finer granules for my face. I typically use this on my chest where the skin isn't as sensitive and use a finer exfoliant on my face.
Winky Lux Diamond Complexion Powder in Medium
-
($20 for a full size; available in four shades)
This lightweight powder apparently contains crushed diamonds to illuminate skin and blur imperfections. I haven't experimented with it too much because the color is too yellow for my skin. The powder feels very smooth and silky, but when swatched it is very chalky and powdery-looking which turns me off immediately. I am holding it to the standard of an Hourglass powder (I LOVE!), so I am also greatly biased on that front. It is cruelty-free and paraben-free. (
Swatch below
)
Hikari Cosmetics Cream Pigment Eye Shadow in Latte
-
($13 for full-size; Available in 12 colors)
On their website, Latte is described as "brown with shimmer" which I think does it a huge disservice. This color is a gorgeous metallic bronze. It looks and feels like more of a traditional eye shadow than a cream pigment, but is smooth and silky to the touch. This product is super pigmented but can be applied a bit more sheer if desired. It is easily and quickly buildable to an intense metallic opaque. I'm jonesin for the colors Mink and Honeydew, even though more eye shadows are the last thing I need. (
Swatch below
)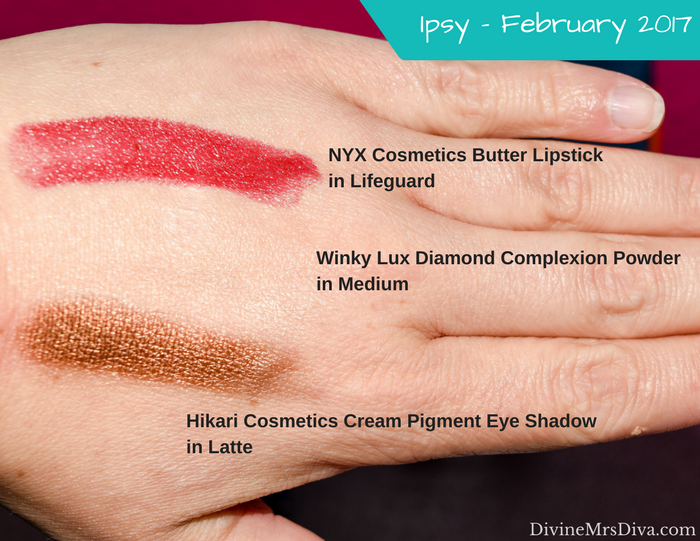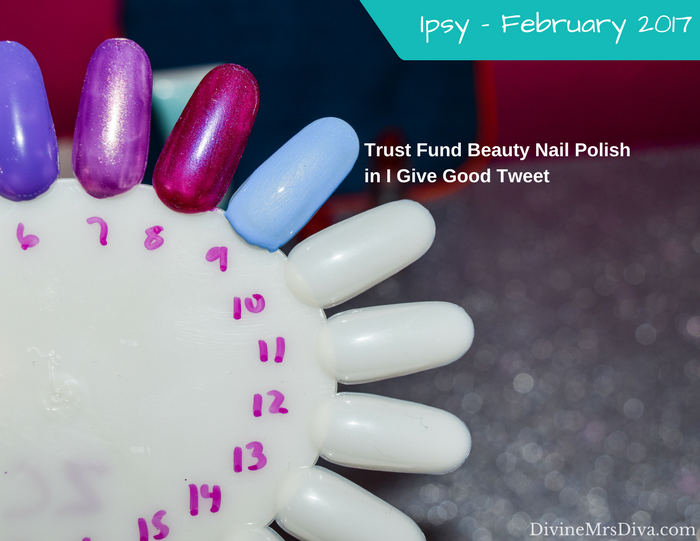 Ipsy Rewards Bonus
One thing I dislike about Ipsy is that they don't update their Rewards section that often, and when they do items sell out fast. You earn rewards in your Ipsy account by doing quick reviews of the products you receive in your bag or if people sign up through your referral link. I have thousands of points, but rarely see anything come up in the Rewards section that I want to use them on. Within a one week period of time, they had some really great rewards that I quickly snatched up. This month I will talk about a few of those. In my next Ipsy post I will discuss the rest.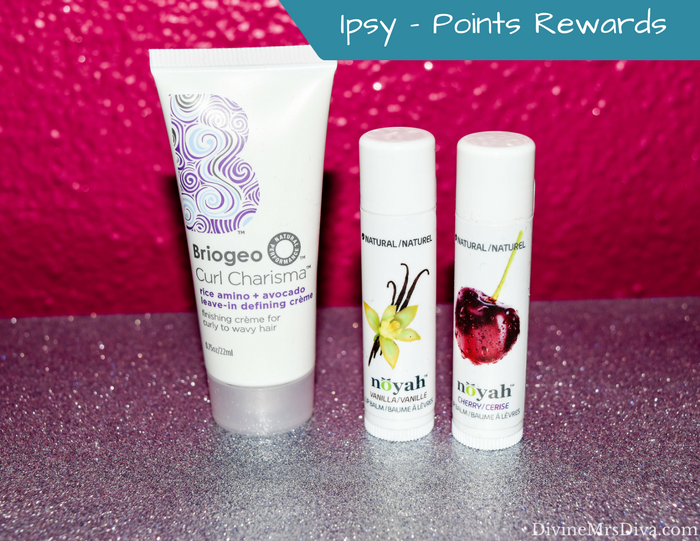 Noyah Natural Lip Balms in Cherry and Vanilla
-
($3.99 for 0.15 oz)
Noyah is another natural product company I became aware of through Ipsy. They have a range of lipsticks, lip glosses, and lip balms. These lip balms are normal balm size and smell really great. I am still using my mint one and love that the scent/flavor is not fake at all. They contain all natural ingredients and are super smooth. These balms keep my lips nicely hydrated. Plus, they are very inexpensive!
Briogeo Curl Charisma Rice Amino + Avocado Leave-In Defining Creme
-
(Full size is $20 for 6 oz)
I am always testing out new curly hair products just in case something is better than
what I currently use
. I wouldn't say that this is better, but it is a great product for fighting frizz and moisturizing your curls. It makes my hair soft and shiny with a bit of texture and doesn't contain parabens, sulfates, or phthalates. It is also free of silicone, DEA, gluten, and artificial dyes. It is cruelty-free and safe for color-treated, chemically-treated, relaxed, or keratin-treated hair.


And there you have it! What did you get in your Ipsy bag? Have you tried any of these products? I would love to hear your thoughts!