Hello everyone! I hope you all had a glorious weekend filled with fun!
Mine was spent cleaning and checking things off the To Do List. We began the weekend by organizing the garage (i.e. packing the Goodwill stuff into the car, putting away trash and cardboard, organizing and putting away the Christmas boxes, and going through miscellaneous boxes we packed in the rush of the move). We also changed the big light fixture in the entryway from an outdated 1980s fixture, to a nice cylinder one we found on clearance for $35 (regular $160). I also managed to vacuum and steam mop a majority of the house, as well as start on laundry.
On Sunday we continued laundry, vacuuming, mopping, dusting, dishes, etc. Sean spent most of the day in the attic installing my shower light and our bathroom exhaust fans. Those 1980s relics are gone now too! All of this cleaning and project-finishing was a last ditch effort to get things done before I start radiation this week.
I went into the doctor to get a thyrogen shot this morning and will do the same tomorrow. Thyrogen mimics your body's natural thyroid-stimulating hormone. This will allow my leftover thyroid cells to take in the radioactive iodine I will be taking on Wednesday. I'll be in isolation for about a week and then have minimal contact with people for another week or two at least. I'll know more on Wednesday and do a post about it all as soon as I can.
So we got a lot done this weekend and I am just trying to remain calm and finish any side projects and cleaning in this last day and a half. Now on to some fun stuff!
It is time again for Friend Makin' Monday. If you have a blog, I would like to invite you to answer the questions as well. Leave me a comment here, so I know you are playing. Then you can also leave a comment over at Losing Weight and Having Fun, so other folks can check out your answers as well. It is a fun way to connect to other bloggers.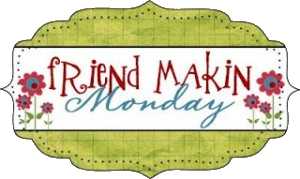 1. Where was the last place you went on vacation to?
The last time we had a true vacation was about five and a half years ago when we went to Hawaii for our honeymoon. It was wonderful and we long to go back. There have been a lot of stressful things going on since then so, once this radiation mess is behind me, we plan on going on a vacation!

2. Do you have any plans for a vacation this year?
We fully intend to go on a vacation this year. We need it. To where? I have no clue. We have a long list of places we want to visit.

3. If money was no option, where would you dream vacation be?
If money was no option, I would want to do a European vacation and go all over. But if I had to pick one place, it would be Ireland.

4. What is your favorite vacation spot that you have visited?
Maui and Victoria, B.C are among my favorites.

5. Have you ever had a staycation?
Yes, in the way that I had days off and didn't get to go anywhere fun. Usually those aren't really vacations, they are more like longer days to get chores done.

6. Are you a lie on the beach person or a go out and explore person?
Maybe both, although I don't like to be in direct sunlight for too long. I am not a lay-out-and-tan kind of person. I do enjoy exploring and seeing new things, trying new foods, and doing fun activities. I suppose my favorite things in Maui were the activities we did, like going up to Haleakala and doing a whale-watching excursion.

7. When you fly do you have a favorite airline?
I don't have a favorite airline because I hate flying and airplanes. It all frightens the crap out of me.

8. Have you ever had a 'vacation from hell' ?
Well, it wasn't technically a vacation, but I was moving from WA State to Boston, MA. My friend Norm (aka Michelle) was traveling with me to stay at our destination for a couple of weeks as I was moving in with our mutual friends. I was moving across the country to the great chagrin of my mom and stepdad, who were positive I was going to fail at anything I decided to do. I had made all the moving arrangements without their knowledge because I knew how much they would disapprove. Anyway, I had $300 to my name the day I moved, Norm in tow. Some friends of mine drove us up to Seattle and dropped us off at the airport.
The first problem was that the red-eye flight was five or so hours late, so Norm and I slept in the airport chairs waiting for our flight. From Seattle to Chicago we went, obviously arriving in Chicago Midway very late. We were told to go to the ticket counter and get our luggage so they could re-route it on time to our final destination. We waited in line for about an hour to get our luggage and change our tickets, only to be told they didn't have time to look through everyone's luggage to find ours and it would make it to where it was going anyway. There were no other flights to Boston (or they were all full), so the airport put us, along with about six other passengers needing to get on the same flight, into a limousine and sent us to Chicago O'Hare to catch a flight that was leaving in about an hour or so.
It was high traffic time, so we were waiting in traffic for at least 45 minutes and got to the airport a lot later than anticipated. We were all told to run to the boarding gate because the flight was waiting on us. So here I am with a backpack that weighs at least 60 pounds because I was moving, having an asthma attack as I try to run as fast as I can to the gate. Which, by the way, was at the very end of the airport terminal. It was horrendous.
So on to Boston we go. At least we thought enough ahead of time to call our friend who was picking us up at the airport and warn her we would be very, very late. Once in Boston, we were told our luggage would be delayed, but to just wait an hour or so for it to come in on another flight. So we waited.....and waited.....and waited.....for almost three hours. By this time I think we had both been up for twenty-four hours and were beyond exhausted and cranky. When our luggage never arrived, we filed claims with the airport and hoped our luggage would show up.
Norm's came about a week later, halfway into her trip. I had two suitcases. One of them arrived a couple weeks later and the other didn't show up for another couple months. People had been through it and my stuff was all jumbled up, not packed secure like I had taken the time to do. One of my nail polishes had broken because of this and leaked on some of my clothes. During that time period, I used my only money to buy toiletries I needed, underwear, socks, tops, and work clothes so I could find a job.
It was awful.

9. Have you ever had an airline lose your luggage?
See above.

10. Do you send postcards to friends and family when you go on vacation?
Not usually. I normally don't have postage or a way of finding any and stay busy enough that I forget.
Have a great week!