Hey y'all!!
I had a busy, but super fun weekend! We headed to the Portland Seafood and Wine Festival on Saturday with my mother-in-law and some friends. We had so much fun tasting all the things! I tried crab tamales, clam chowder, a mini shrimp melt, and scallops with curry and pesto rice. They were all so good! We also tried lots of wines from lots of vendors and bought a few bottles for future enjoyment.
Sunday was a little more low key. Sean ran some errands before the Super Bowl. We did a few house chores and then made snacks for the game. The rest of the day was pretty lazy.
It is time again for Friend Makin' Monday. If you have a blog, I would like to invite you to answer the questions as well. Leave me a comment here, so I know you are playing. Then you can also leave a comment over at All The Weigh, so other folks can check out your answers as well. It is a fun way to connect to other bloggers.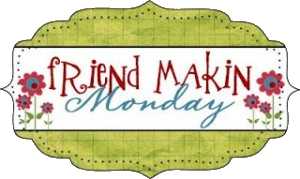 1. Did you watch the Super Bowl? If so, what was your favorite part?
I sort of watched it. Mostly I was on my iPad doing stuff, so I would occasionally ask my husband what happened.
2. What is the weather like where you live?
It looks like this week will be partly cloudy with highs in the upper 30s and lows in the teens. I just don't really want it to snow.

3. When is your birthday?
May 12th
4. Do you prefer sparkling water or flat water?
I typically just drink flat water, but when I need something jazzy for my taste buds I rely on sparkling water. I love the Mixed Berry flavor from Trader Joe's.
5. How many hours did you sleep last night?
About 8 hours.
6. What is your favorite day of the week?
Saturday because I get to hang out with the husband, We typically run errands or do something else fun or, if nothing is planned, we hang out at home and get some projects done (or play video games).
7. If you had to choose between riding a bike or swimming, which would you choose?
I've always loved swimming.
8. How often do you eat red meat?
Not very often. I think I will have some tonight because I have some ground beef in the freezer and we haven't been to the store. Otherwise, we have it maybe twice a month at most.
9. What time did you wake up this morning?
10AM. I need a better sleep schedule I suppose. I set my alarm for 7. lol
10. Do you have any goals for the week?
Hmmm Get up earlier, exercise more, work on blog posts, and clean house. I still have to put the Christmas stuff away. lol
There you go! Happy Monday! I hope y'all have a great week!