Sorry for the lack of posts yet again last week. It's the same old, same old excuse from me lately - getting the house in order. We hosted Bunco on Saturday, so we were busy from sunrise to long past sunset every day working on all the last minute projects. The To Do List is nowhere near complete, but I think the house was in good enough shape for my Bunco friends to see it. Unpacked boxes are down to a couple boxes of pillows and blankets and about seven boxes of framed photos and artwork, plus whatever boxes I have left up in the craft room. It is getting there.
Our housewarming party is another couple of weeks away, so we will be able to mix in house chores with fun things and relaxation. Truthfully, we are burnt out on house stuff right now. I look forward to some days of no housework where I can catch up on blogs, work on some craft projects, and read from the pile of books waiting for me.
It is time again for Friend Makin' Monday. If you have a blog, I would like to invite you to answer the questions as well. Leave me a comment here, so I know you are playing. Then you can also leave a comment over at All The Weigh, so other folks can check out your answers as well. It is a fun way to connect to other bloggers.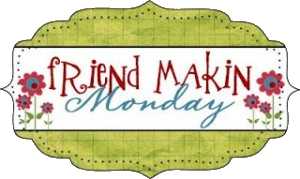 This or That?
1. Meat and potatoes or pasta?
It would depend on my mood. I try not to eat too much meat, so I would probably opt for pasta with spinach, mushrooms, tomatoes, onions, and shrimp.
2. Do you prefer Apple or Android?
I have a Samsung Galaxy S2, which I like just fine. It does all the things I need my phone to do, except have a physical keyboard. At home, I use my iPad mini and love it also. I'm not super picky about my phone since I work at home. I do wish we got more coverage in our area though.
3. Do you kiss and tell, or do you keep it private?
I keep it private. If I was just casually dating people, I'd probably share tidbits with my close friends. But to me, it is something entirely different when you have a husband. I don't really feel comfortable sharing information willy nilly.

4. If you had to choose one, would you choose Facebook or Twitter?
I tend to be on Facebook more for personal use and Twitter for more blog stuffs. If I had to just choose one, I'd probably have to go with Facebook.

5. Christmas or Valentine's Day?
Christmas because it is also my husband's birthday. So I like to go all out and wrap extra presents for him in birthday wrap and put up banners and eat cake. lol Plus, I like giving presents to people and getting presents too. I enjoy the family gatherings and tasty food and apple cider.

6. If you joined a band, would you prefer to do vocals or play an instrument?
I'd be on vocals or I'd play drums. I always wanted to learn how to drum.

7. Hot weather or cold weather?
Cold weather. I would MUCH rather be too cold than too hot. The heat makes me supremely cranky. Fall is my favorite time of year because I enjoy the cooler breezes. Unfortunately, in the Pacific Northwest it is mainly just rain, which I am not fond of all the damn time....but whatever.
8. Calorie counting or tracking points?
Neither. I don't have time to obsess about things that make me feel like shit about myself. That is why the dieting industry makes so much money. They are constantly telling you that you are never good enough, but only 5% of people on an actual diet keep the weight off. Therefore, I focus on eating as healthy as I can, making healthy choices, and incorporating activity into my life. Some days I suck at it and some days I don't.
9. Yoga or kickboxing?
People around me tend to like yoga, but I don't really get it yet. I enjoy Pilates and more dance-oriented workouts.

10. East Coast or West Coast?
I'm an east coast girl living on the west coast. I definitely miss the east. Sometimes the laid back vibe on the west coast is annoying.
Now it's your turn to answer this week's questions! Link up with Kenlie, leave me a comment, and share! Have a Happy Monday!!