I'm finally back with an outfit post for y'all! We hosted Bunco this past weekend, which always means a week of cleaning and reorganizing and doing all the house chores we should have been doing and working on all along. Sean and his mom worked on the overgrown yard while I worked on the inside of the house. Then we decided to make an Ikea run and get extra storage for the office. That resulted in me spending a week sorting through boxes from when we moved five years ago, moving furniture around, deep cleaning, and getting rid of stuff. I'm still not totally done yet, but I made good progress.
So now things are sort of back to normal, minus this mid-week holiday that throws the whole week into this weird, segmented, I-can't-get-motivated type of situation. Despite all the cleaning and running around we've been doing, all I have wanted to do is either curl up on the bed and cry or sit in a chair and read and nap. All of which I have not had time to do in the slightest.
But I have this great dress I really want to tell you about, so here we are. I wore this dress on my
latest KATU Afternoon Live segment
, and multiple times since then. I absolutely love it! Read all the details on this dress, which is on sale for 30% off right now!

- I bought the items in this post. All opinions presented are my own and without influence. This post contains affiliate links and I will be compensated if you make a purchase after clicking on my links. -
Before we get started, I am 5'9", typically wear a 22/24, wear a 40B bra, a size 11 wide shoe, and my measurements are 52/49/58.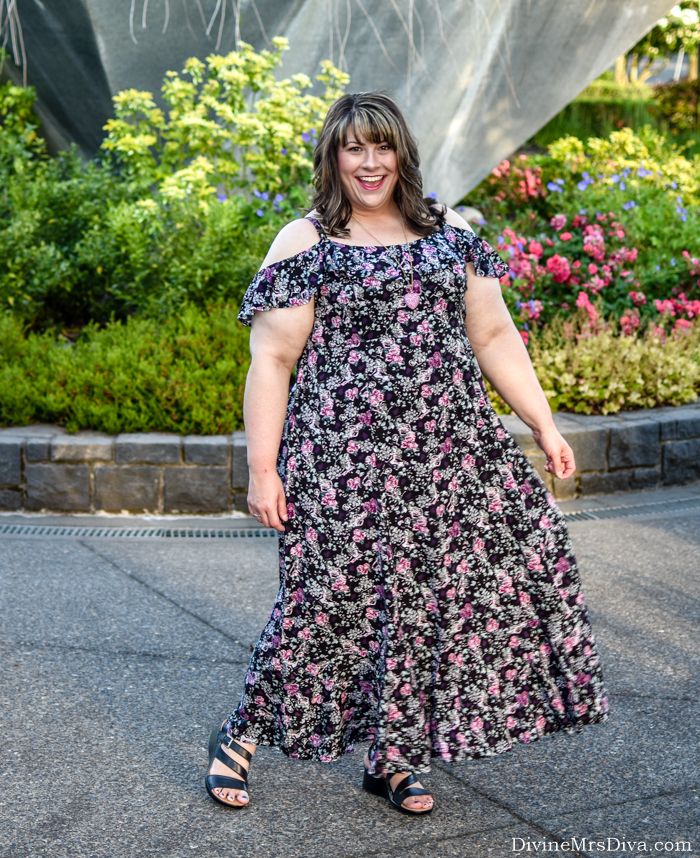 I am wearing the
Disney Sleeping Beauty Floral Maxi Dress
in a size 24. I find it fits pretty true to size, though the silhouette makes it a little more fitted in the tummy/hip area. It isn't too tight on me. I do have wiggle room and it doesn't cling, but it is just a closer fit than I am used to in a maxi. I think that also has to do with the fabric. The rayon is lightweight and cool, it flows and moves well, doesn't stretch, but it is a thinner fabric than a knit or poly blend (which generally skims over tummy rolls better than a lightweight rayon). Still, I never felt self-conscious about the silhouette and never felt it was really clinging to rolls or anything like that. The website says it is partially lined, but it is not. The fabric is thick enough to not be see-through, so you wouldn't even need a slip with this one. This fabric also requires some ironing or steaming, though I found it did not wrinkle excessively as I wore it. In fact, after the initial wear, I didn't even really need to steam it before I wore it again. There was minimal wrinkling and not any really visible unless you were looking for it. I also take more care than most to keep wrinkles away (
because I'm high maintenance lol
), so this may vary by user.
The dress comes in a regular length (58") and short length (55"). 58 inches has been a pretty good length for me in other maxi dresses, long enough that it goes to the top of my feet but doesn't drag the ground. The length on this maxi, however, is more ankle length. It does measure 58" from the shoulder strap to the hem, but I wish it was a little bit longer for my personal preference. There is a hidden zipper with a hook-and-eye closure in the back. It also has a hidden bit of elastic in the waist to give a bit of the fit-and-flare action.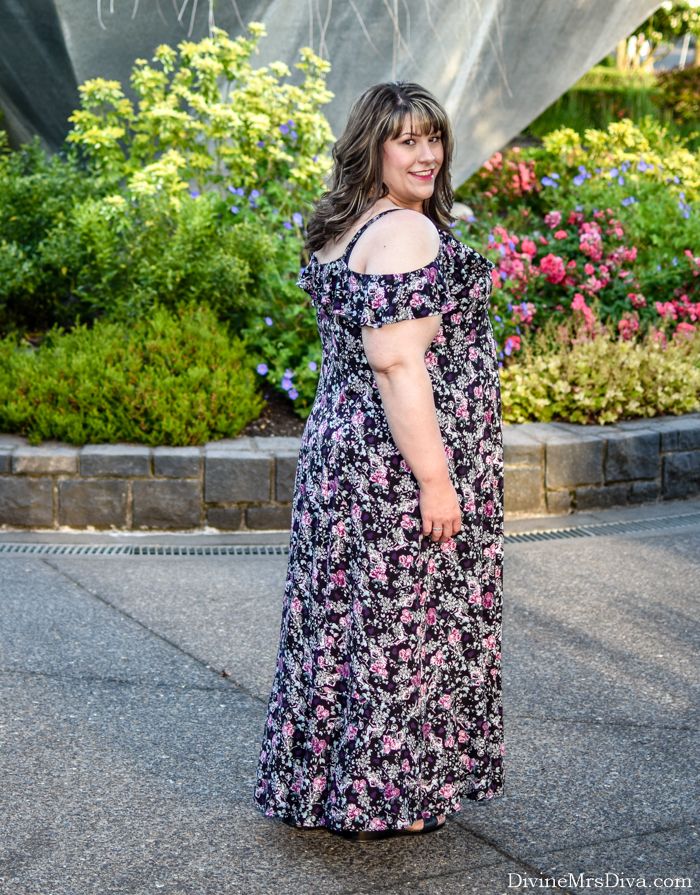 I decided to wear this dress on the show because it was a prime example of what I was talking about -baring your arms with a bit of coverage. Off-the-shoulder styles like this are my absolute favorite. I love the feminine, romantic look of the bare shoulders with a ruffle that drapes. It makes me feel pretty and princess-like. The straps on this dress are adjustable. I did need to shorten them because I have a smaller bust. Speaking of, the bust on this dress fits me SO WELL. I was actually surprised it fit me as well as it did while still having enough room in the tummy and hips.
A couple of things I didn't really notice until I got the dress in the mail: They call it a "tiered hem", which is a wide ruffle at the bottom of the dress. It looks really cute and gives even more of a feminine, flouncy feel to the dress. I also hadn't really noticed the subtle Sleeping Beauty print. I just saw the floral, color combination, and ruffle off-the-shoulder silhouette and immediately wanted it. The way they worked Sleeping Beauty and the spindle into the design is really well done. In fact, no one even notices Beauty and the spindle unless I point it out to them. I really appreciate the subtly of the print and hidden-in-plain-sight design of it. I love this dress and have gotten so many compliments on it when I wear it out. It is definitely a design I hope they carry in other prints. *fingers crossed*
I kept my accessories simple with black wedges and a sparkly rhinestone heart necklace. I recently received these badass sunglasses from a friend, so I added those to the accessories while we were shooting outside. I went ahead and curled my hair with the curling iron for my TV spot because I wanted to see what that hairstyle looked like on television. By the time we got to shoot the outfit, my hair had fallen substantially, which is also why I decided to nix the idea of doing it this way for my reunion. I need to harness the humidity to work for me and my natural curls instead of working against it.
Disney Sleeping Beauty Floral Maxi Dress
- Torrid
Purple Rhinestone Heart Necklace - Charming Charlie
B.O.C. Alma Wedge Sandal
- DSW
Pearl Rim Cat Eye Sunglasses
- Express (they were a birthday gift)
We took photos in a pretty little area in an office park. The lighting was gorgeous, so I thought I'd show you a few more photos from the day.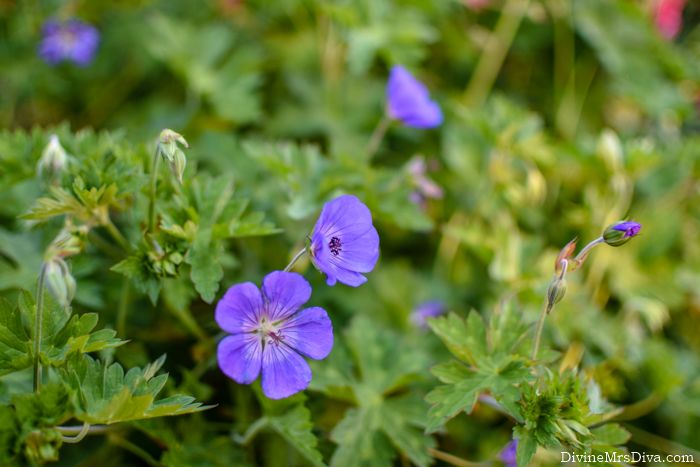 Do you have a favorite piece from one of Torrid's collections? Do you have a favorite fandom you wish they would make an inspired collection in celebration of?