I have been busy with life lately, running around or running myself exhausted. I posted over on
social media
that I'm trying to combat my own personal limitations on what I can do versus what I want to do. Sometimes that just means giving myself permission to not do as much and not push myself as hard. And sometimes I am just exhausted and in pain and don't feel like doing much of anything anyway. It is really important that we all stop being so hard on ourselves, and learn to cut ourselves some slack when things get hectic.
But, on a good day, I wore this awesome summer outfit I am about to share with you. (
What a segue, am I right?!? haha
) The top is new to both you and I, with other pieces being common items I don in the summer. I am also introducing you to my new luxurious Coach bag friend and telling you how I scored it for $50!

- I bought the items in this post. All opinions presented are my own and without influence. This post contains affiliate links and I will be compensated if you make a purchase after clicking on my links. -
Before we get started, I am 5'9", typically wear a 22/24, wear a 40B bra, a size 11 wide shoe, and my measurements are 52/49/58.
The
Super Soft Black Beautiful Classic Fit Tee
from Torrid was something I knew I wanted immediately. I loved the cold-shoulder style and slogan, thinking it was a pretty awesome tee for these super hot days. I was unsure about how it was going to fit and hang on my body, but I went ahead and purchased a size 3. This is my typical Torrid size, though I do tend to buy the tees or more fitted items in a size 4. I am happy to report that the 3 is perfect. While it isn't a swing style top, it does have a more generous cut in the hips and tummy. The thick straps mean you can wear any old bra underneath, plus you get the temperature control of the cut-outs and coverage in the flutter sleeves.
The fabric of this tee is a really soft knit. It is lightweight, but not see-through. The length is longer than a lot of their regular tees, so I like that about it too. While I do wish it was in a brighter color (this says it is black, but I would call it a charcoal grey), I love the contrast of the shimmery letters against the darker background. It is definitely a style of tee I would buy in more colors and graphics. I've been popping this one on over and over again this summer.
And typically, the way I have been wearing it is seen here - shorts, sandals or slip-on sneakers, and a crossbody bag. It's easy. It's cool. It's fuss-free. On this day, I went out for lunch, pedicures, and shopping with my cousin. We had a lovely girls' day out, but I still made it home in time to take some photos!
I've seen a lot of bloggers posting about their luxury bags lately. That wouldn't be so bad, but they are telling people they can get a steal of a deal on bags for $300+, which is still a price I will never pay for a purse. So I'm hear to tell you that you can find great deals on luxury bags without paying hundreds of dollars. This is not a sponsored post, but my attempt to counterbalance the absurdity I've been seeing lately.
On a whim, I decided to look up this previous Coach collection of bags that I loved, the Poppy Collection. They don't seem to make them as shimmery and sparkly anymore, which breaks my little crow heart. I own the gold sister to this bag, which you have seen on the blog before. Goldie was an anniversary present from Sean on our way back from a road trip to Seattle a few years ago. She was on clearance for $100, which was a super deal. While you can certainly search on thrift sites like
Poshmark
and
ThredUp
- even your local consignment shops - I find that eBay has the better deals on more expensive handbags. Obviously, you will want to do some research and search multiple sites for what you are looking for before you make a purchase. I also check the seller's reviews, look at photos and measurements, and even ask the seller questions if possible. It is incredibly helpful to look at the different options and listings and make a wish list for looking at your choices. This also helps to keep tabs on your priorities, checking frequently to see if the price has changed in any way.
I happened to luck out when I found Starshine during my eBay search. It was $50 with free shipping! I skimmed the info about condition and looked at some photos before I went ahead and snatched it up. It was new without tags, but still had the plastic, looped tag holder on it when I received it. The shoulder straps were too short for me. I prefer a crossbody bag anyway. Using my previously mentioned trick of buying a purse strap on Amazon, I went ahead and ordered this
rainbow strap
. I like the fun, color, and pop it adds to this bag that is already making its own statement.
So, if you want a bag that is new and specific and brand new, you certainly will probably need to pay more to get what you want. But if you are open to waiting, making a wish list and checking it often, and doing searches now and then for what you want, I highly recommend saving the extra money and finding those amazing deals on resale sites.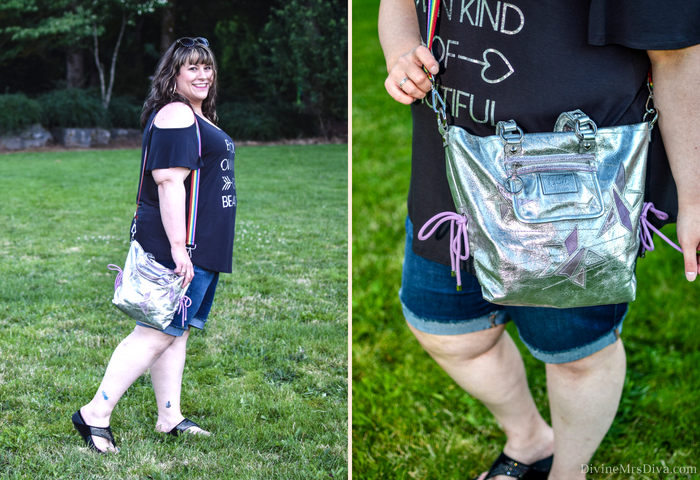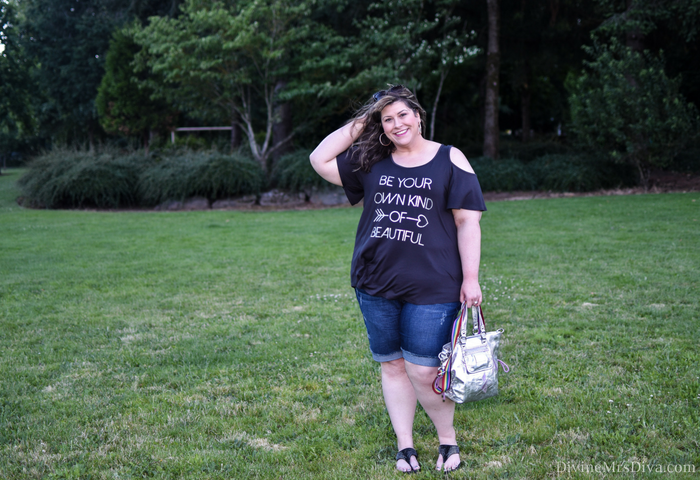 Super Soft Black Beautiful Classic Fit Tee
- Torrid
Destructed Bermuda Shorts - Melissa McCarthy Seven7 (
similar
,
similar
,
similar
)
Flare Thong Sandal
- FitFlops
Coach Poppy Metallic Tote - eBay
Replacement Rainbow Crossbody Strap
- Amazon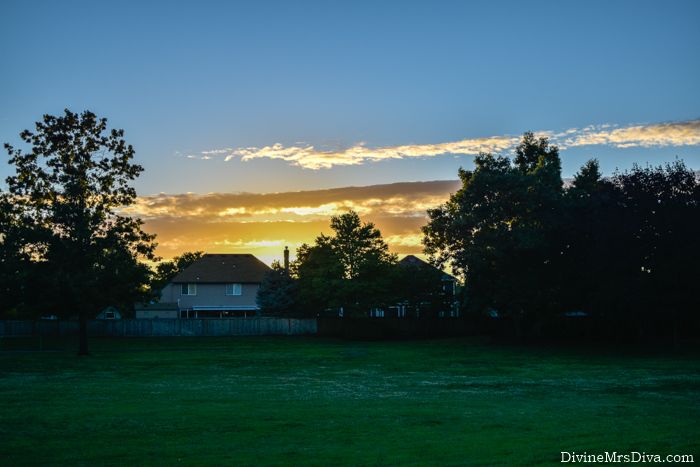 Do you have a favorite luxury bag brand? Where do you like to make purchases like that? Do you enjoy perusing resale sites?