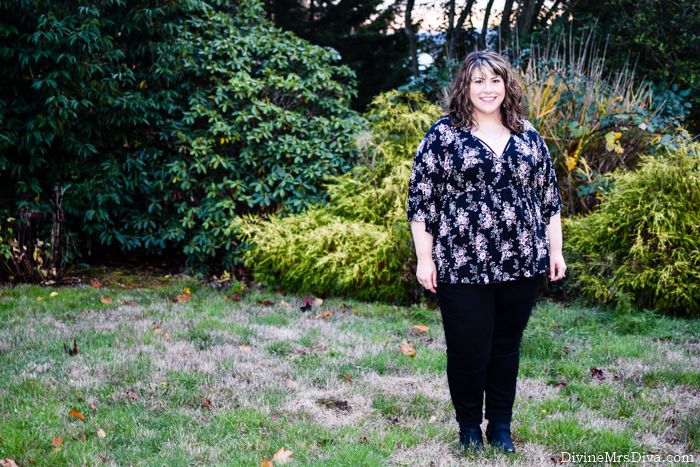 I hope you all had a wonderful Thanksgiving and great week. Sean and I went over to his mom's house for dinner, boys in tow. It was a nice, quiet night with way too much food for the three of us. But the leftovers were super tasty!
Today's blog post is all about the outfit I wore for Friendsgiving. A few of the pieces are totally new to me, which means I am happy to share new reviews with all of you!

- I bought all the items in this post. All opinions presented are my own and without influence. This post contains affiliate links and I will be compensated if you make a purchase after clicking on my links. -


Before we get started, I am 5'9", typically wear a 22/24, wear a 40B bra, and my measurements are 52/49/58.
If you have been a long-time blog reader, you know I am not much of a black clothing girl. I live for color! Lately, I have purchased a handful of black pieces - jeans and a few tops. I don't know if this is influenced by the dreary weather and depression. I think the more likely scenario is that I wore my black
Kelsey Flounce Top
so much this summer (
because it is one of the few solid black tops I own
) and my brain keeps being drawn to black tops to add some selection to that part of my wardrobe.
Either way, shopping is therapy and there are lots of choices for cute black tops.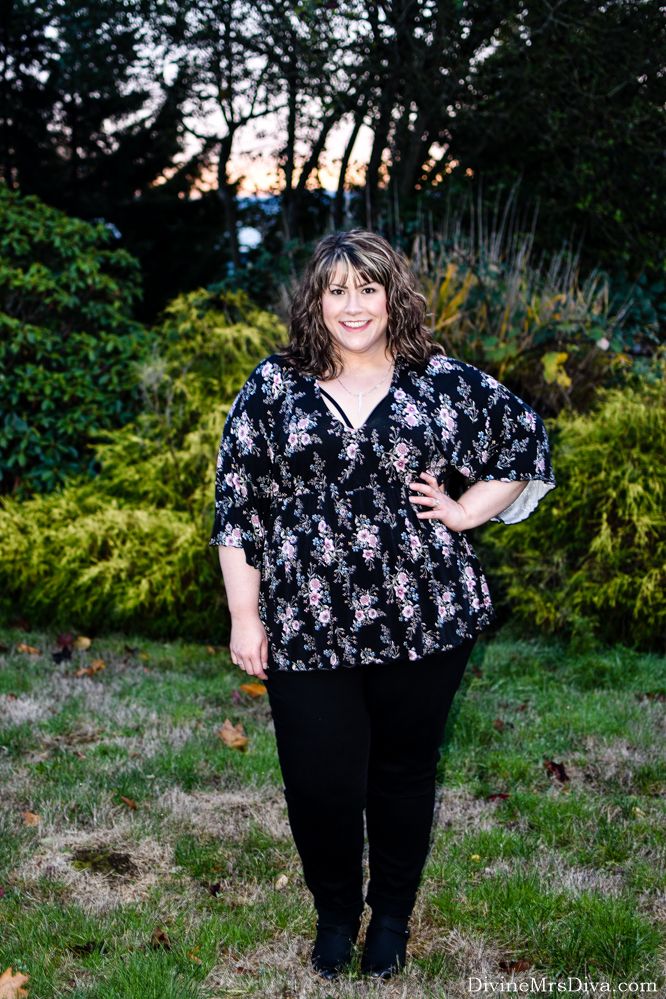 I was drawn to the
Floral Print Kimono Sleeve Babydoll Tee
for lots of reasons. I like the v-neckline, empire waist, three-quarter kimono sleeves, and delicate pink floral pattern. While the empire waist and v-neck are things I am always drawn to, I like that the top has elements not commonly found in my wardrobe. I love the look of big dramatic bell sleeves, but long sleeves and sleeves that get in the way are a source of stress for me. And while I normally go for brighter colors and pattens, this top was black and had a very soft print color combo. Because the fabric is a rayon/spandex, which is so easy and comfortable to wear, I decided to snatch it up. Most of the other styles similar to this are made with a Georgette fabric that has no stretch, or are made of a ribbed knit in a solid color.
I'm wearing this top in a size 3 and find it fits true to size. It is lightweight, stretchy, and comfortable enough for multiple seasons. I do wish the underside of the print was something other than white, but it isn't a big issue to me. The elastic waist isn't too tight or too loose. It sits comfortably and holds the top in place at the waist. I did not have to fidget with it at all. The skirted portion of the top is roomy and skims the body well. I feel like prints camouflage tummy roll lines well, but this one isn't clingy at all.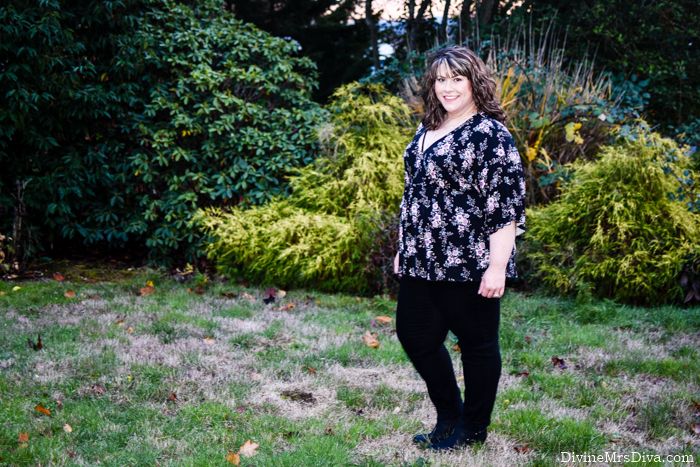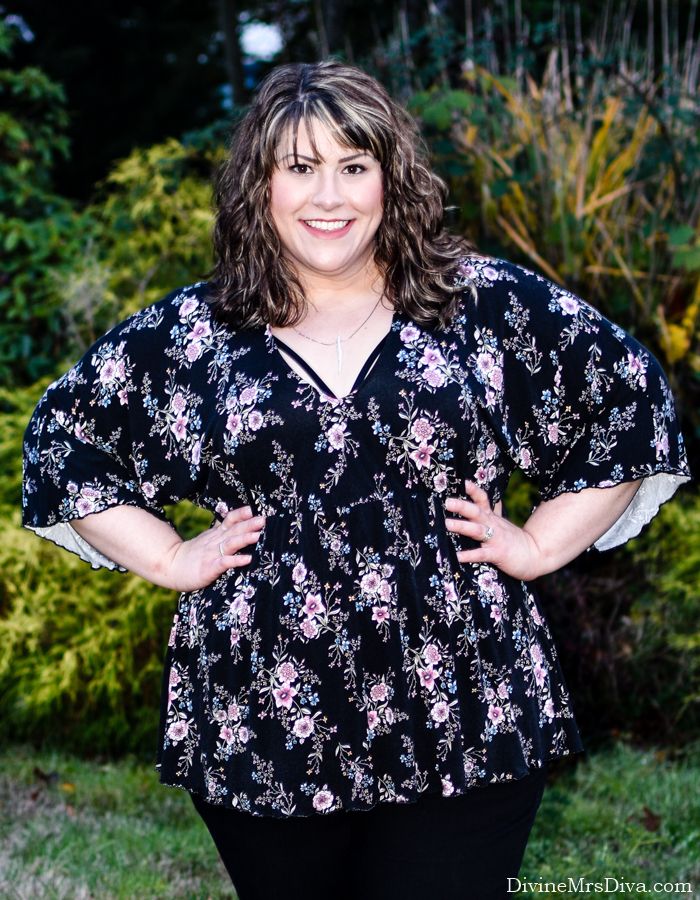 In wanting to add a little sex appeal to the ensemble, I added the
strappy bralette
underneath (but over my regular bra) to let the straps peek out from the v-neck. It is flirty and fun and added a little something extra. I wear Torrid bralettes in a size 2 and love them all. I have quite the collection now.
I paired the top with my trusty black skinny jeans from Lane Bryant. I have had these at least a couple years now. It doesn't look like Lane Bryant carries their Genius Fit line any more, and I haven't tried the Super Stretch line myself. I did have to cuff the bottoms of these jeans in order to have them land at the top of my
new booties
. I really wanted a slightly heeled bootie to pair with various ensembles. I found these on Zulily for $26. They are by a brand called Dunes, which was totally new to me. Dunes had good reviews, so I went ahead and bought the size 11 Wides. They fit well and are actually pretty comfortable for an evening of wear. I wouldn't wear them for extended walking or a full day of running around, but they were great for a little bit of walking and an evening of mingling with friends. I love the low heel and strap detail. For a fraction of the price of the more comfortable brands I love (Comfortiva and Cobb Hill), they suit my purposes and get the job done.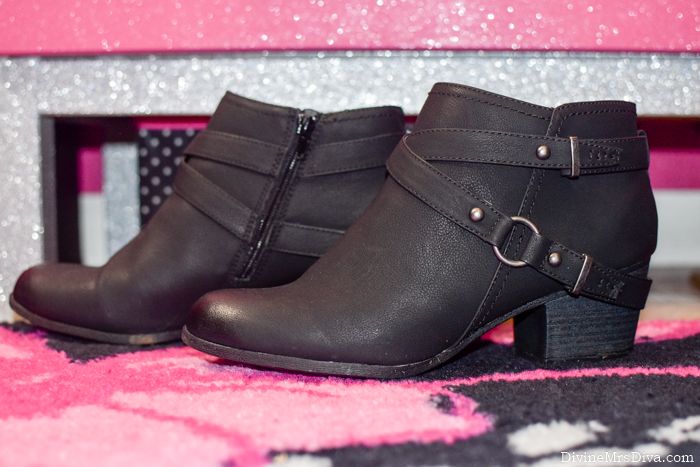 I was really happy with this overall look. It was definitely outside of my usual look, but had elements that are very me. I felt very comfortable and pretty, while still pushing the boundaries of what I would normally wear.
Floral Print Kimono Sleeve Babydoll Tee
- Torrid
Black Genius Fit Skinny Jeans - Lane Bryant (
similar
,
similar
)
Black Patty Booties
- Dunes via
Zulily
Floral Lace Strappy Bralette
- Torrid
Swarovski Aline Pendant Necklace - Gift from my mom-in-law (
similar
)
Is there a color you shy away from wearing, or one you have gone all in on? When was the last time you pushed yourself to try something different? How did you feel afterwards?