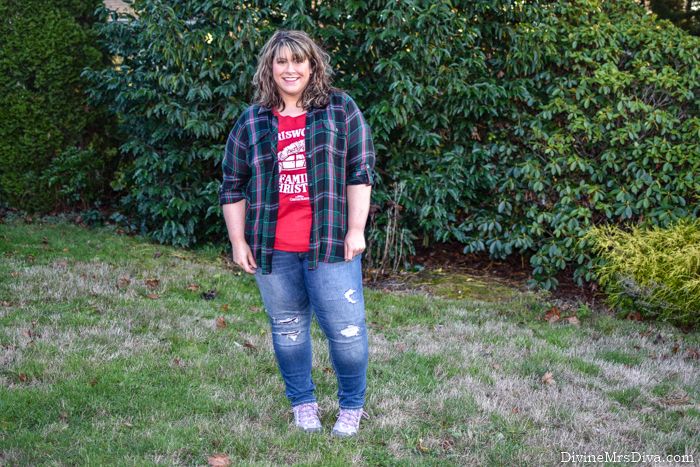 Happy Holidays!!
One of our yearly traditions is to meet up at the
Festival of Trees
with our friend Nigel. This year we were joined by his boyfriend and had a great time looking at all the decorated trees and wreaths, and critiquing them as if we were a Simon Cowell-type judge.
We had a really busy morning running to the
Pet Portraits with Santa event
(
photos below
) put on by the local humane society, where we adopted both Finn and Dobby. Then we hit up the Festival of Trees and ran errands. I wanted to be comfy and Christmasy, so I'm sharing and reviewing my casual "running around" outfit for such an occasion.

- I bought the items in this post. All opinions presented are my own and without influence. This post contains affiliate links and I will be compensated if you make a purchase after clicking on my links. -
Before we get started, I am 5'9", typically wear a 22/24, wear a 40B bra, and my measurements are 52/49/58.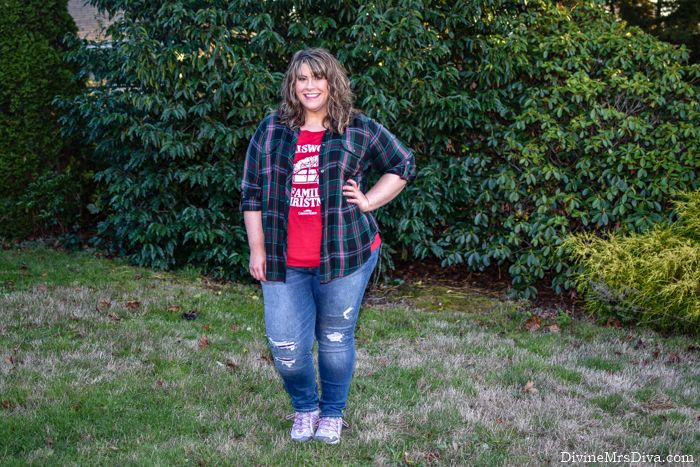 National Lampoon's Christmas Vacation
is my favorite Christmas movie, so when I saw this tee from Torrid I had to snatch it up immediately! (
Sorry, it is all sold out online. :-(
) Sean always puts the movie on while we decorate the tree because I'm that annoying person that recites every line of it as we watch it. Tees like this are usually only a straight size thing, so seeing it in my size was so exciting! For sizing reference, I bought a 4 so I would have some more wiggle room, but I need to hem about three or four inches from the bottom. I didn't have time to hem this shirt yet, so I folded it up and used safety pins to keep it at a good length. Maybe over the Christmas break I will be able to hem my umpteen graphic tees that are waiting for me!
Because it is chillier than t-shirt weather, I decided to layer with my new plaid shirt. In fact, it was hella windy when I took these photos. These were also taken before my stylist had to chop over an inch off my bangs. They grow
so fast
!! I've been looking for a darker plaid and love the lines of red, blue, and green running through this one. It can go with a lot in my closet. This
Boutique+ plaid shirt
was something I stumbled upon during a quick trip to JCPenney. The fabric is a soft rayon, so it is more lightweight than a typical flannel shirt. I haven't had to iron the back after every wear, though if you roll the sleeves up you will need to iron them when you wear them down. I'm wearing a 3X and find it fits pretty darn perfect. I can button it up and still have room to move around. It isn't clingy or gaping anywhere. I wish it came in even more patterns and color combos because I would definitely buy more. There are three other options and all are limited in sizing 0X through 3X.
I paired the top combo with my trusty Ava and Viv jeans and Reebok hiking shoes for maximum comfort.
Boutique + Long Sleeve Plaid Button-Front Shirt
- JCPenney
Griswold Family Christmas Tee - Torrid (no longer available)
Ava and Viv Skinny Jeans - Target (
similar
,
similar
,
similar
)
Trail Grip 4.0 - Reebok (
similar
)
And now our Santa photos and tree photos from the Festival of Trees!
The Santa photos help raise money for the humane society and give us another photo-taking opportunity with the boys. Dobby was actually the one that was freaked out the most. We were surprised because we thought it would be Finn.
Festival of Trees has decorated trees and gifts donated to auction off to raise money for the Providence Child Center that provides health care for children. Because it is always the first weekend of December, it becomes our kick-off event to really get in a holiday mood. There are usually some really creative trees, so I was kind of bummed there were so many more traditional-looking trees this year. But it is still fun to look at all the glittering, immaculately decorated trees. We had a great time!