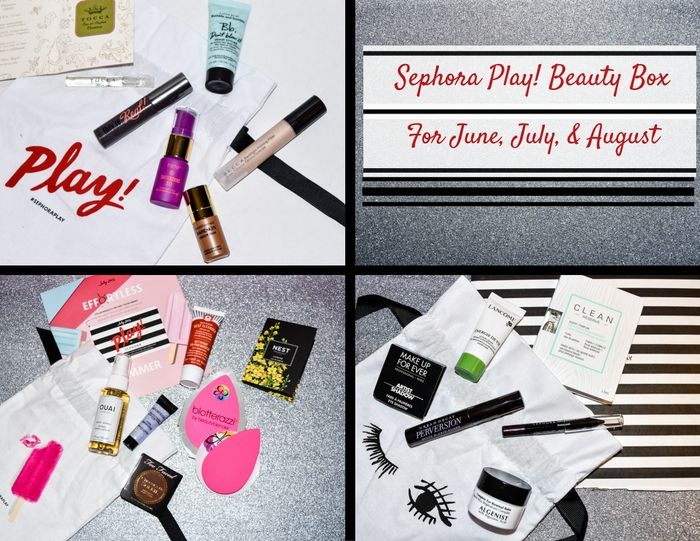 Hello, my friends! Today I'm bringing you a review and look at my summer Sephora Play! boxes.
Sephora Play!
is another monthly subscription box with five samples of makeup, skincare, and/or haircare, and a fragrance sample. The box is $10 a month. The products are all items that Sephora carries, so they are easy to shop for if you decide you want a full-size product. You can check out my first box from May
here
.
They currently have an on-going off again, on again Wait List. You join the Wait List with your email address and will be notified via email when the list is open and you can sign up. I have been really happy with this subscription so far. Although I love each subscription I get for various reasons, right now I think Sephora is my favorite out of the three I am subscribed to (
Birchbox
,
Ipsy
,
Sephora
).
Let's get to reviewing!

- This is not a sponsored post. I pay for my own Ipsy/Birchbox/Sephora Play! subscriptions. All opinions are 100% my own.-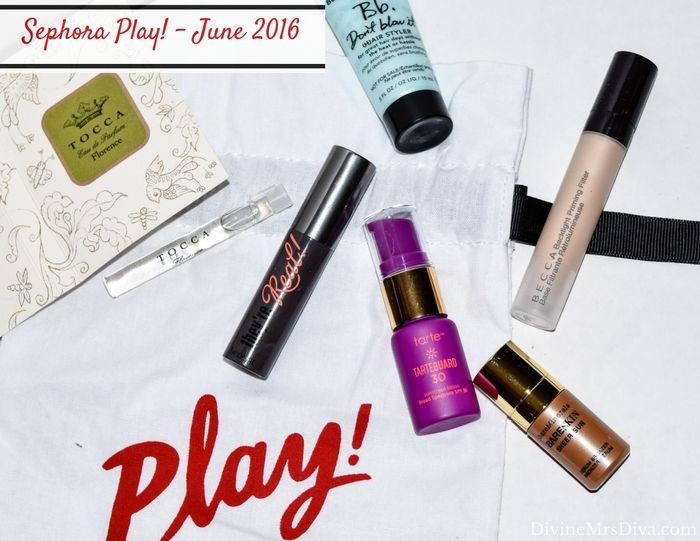 June 2016 - The Minimalists
BECCA Backlight Priming Filter
If you are obsessed with the glowing skin properties from
Hourglass Ambient Lighting Powders
(MY FAVES!), then you will love the "glow from within" look this primer helps you achieve. It gives my skin a lovely glow and dewy finish without being over the top or too sparkly or shimmery. The luminescent affect helps to blur imperfections along with giving you a radiant glow. It doesn't highlight my pores or do anything nefarious. I haven't worn it with makeup for an all day event, but it worked well for up to six hours before I cleaned my face. At $38 for 1 oz, it is on the more expensive end of primers, but a little usually goes a long way. I have also used this in certain areas of my face (cheekbones, bridge of nose) and then used my regular primer on the rest of my face. (
Swatch below
)
BareMinerals bareSkin Sheer Sun Serum Bronzer
This is a bronzer in a liquid serum form. You can use it as a bronzer in the usual places or you can mix it into your foundation or moisturizer for a sun-kissed dose of warmth. I like the liquid formula because it can blend a bit more naturally than a powder formula, but it may take a few tries to get the right amount. It seems really dark out of the package, but it blends out well. It is $28 for 1 oz. A little goes a long way with this product, so it will last you a while. (
Swatch below
)
Bumble and Bumble Don't Blow It
I've been hoarding the remainder of my sample because I love this stuff! It is a hair cream that enhances the texture and body of your hair for "the perfect air-dried style". I have used this alone and added to my usual routine of leave-in conditioner, hydrating curl cream, and volumizer. It does an incredible job of giving air-dried hair texture, hold, and volume. It isn't greasy and doesn't seem to weight my hair down. My curls looked great. Once my hair was dry, I would brush it out for beachy waves. I will be buying a full-size before I go to Hawaii because I don't plan on doing much with my hair while I am there. You can get a 2 oz for $15 or 5 oz for $31.
Tarteguard 30 Sunscreen Lotion Broad Spectrum SPF 30
I wanted to wear this a lot more before I gave you a definite review, but I have worn it a handful of times and liked it. It is a Broad Spectrum sunscreen (
It blocks both UVA and UVB rays
) with no parabens or phthalates, is dermatologist-tested, vegan, and hypoallergenic. It is also a non-chemical sunscreen with ingredients that help to protect, moisturize, brighten and combat signs of aging. You can buy 0.4 oz for $12 or 1.7 oz for $32.
Benefit They're Real! Lengthening & Volumizing Mascara
Y'all know how I feel about mascara samples. They're Real! is actually a great mascara that gives great length, if not also volume. I definitely see the lengthening properties above all. However, it does smudge out on me within a few hours or if I cry/get my face wet. I get similar results with no smudging from
Benefit's Roller Lash mascara
, which has been my go-to for over a year now. They're Real! comes in black, brown, and blue. A Standard size (0.3 oz) is $24, while a travel size in black (0.14 oz) is $12.
TOCCA Florence
I am generally firmly against fragrance samples, but I have been impressed with the ones in my Sephora Play! box thus far. I have become a huge fan of the Atelier line. This TOCCA fragrance may not quite be "me", but it is a pretty scent. It smells like honeysuckle at first and then goes into a light floral bouquet. It doesn't smell too sweet or fake, so that is also nice. A standard size is available for $68 for 1.7 oz or travel sizes of 0.33 oz rollerball for $22 and 0.68 spray for $34.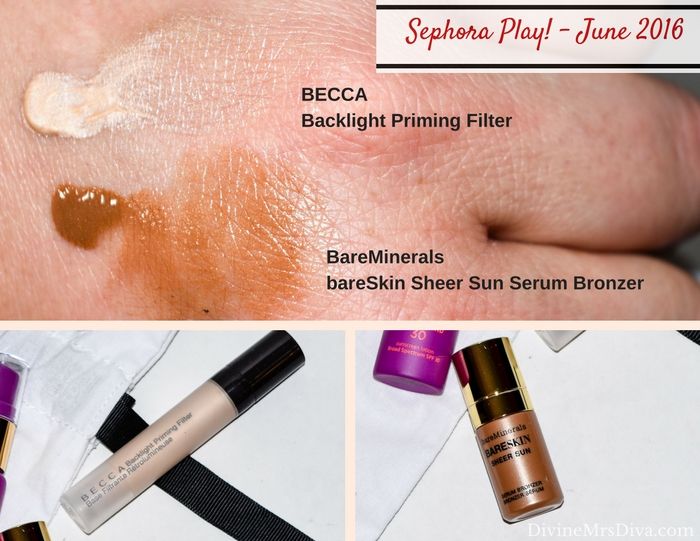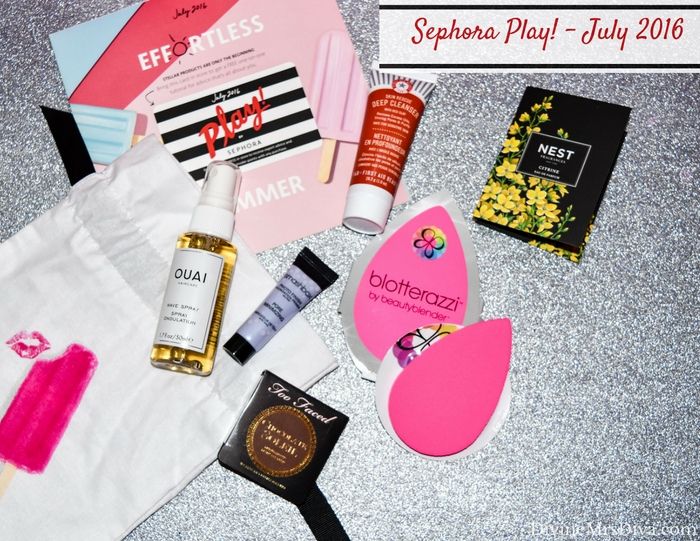 July 2016 - Effortless Summer
Too Faced Soleil Matte Bronzer in Chocolate
I already owned another mini of this same bronzer from a kit I bought. I don't think I liked it much before, but I have been using my sample since I got it. It smells like chocolate, yum. It is matte, so no shimmer or sparkle. I feel like the color isn't very pigmented though, which isn't a bad thing. It has a very subtle color that is buildable. It also doesn't seem to be too orange tinted. If you have fair skin, I think this is a great bronzer to try because it does go on a lot lighter than you might think. My other go-to bronzers are Too Faced Park Ave Princess and theBalm's
Balm Desert
or
Bahama Mama
. 0.35 oz is $30. (
Swatch below
)
BeautyBlender blotterazzi
This thin, flat version of the Beauty Blender sponge is meant to be a reusable and washable blotting device to soak up oil instead of using blotting papers. Personally, I just feel kind of gross about it and would want to wash it every day if I used it regularly. I don't really see the point in this. I think it is better as a tool to carry in your purse if you need to touch up makeup or blend things out on the go. The full-size product comes in a mirrored case with two blotting sponges for $20.
Ouai Wave Spray
This product is another favorite and especially great for summertime hair. It is a beach spray that gives you texture and volume, but it contains rice protein instead of salt. The rice protein is said to protect hair fibers from oxidation due to solar radiation and protect hair keratin from degradation. This product is also paraben and phthalates free. The scent is a light citrus floral scent. It smells really good! Again, a little is all it takes for me. This gives that texture and volume and a little bit of hold without making your hair feel crunchy or filmy. I find with most beach sprays my hair feels like there is a film or too much product in it. But with this spray, my hair still felt silky and clean. This was another product I tried and just let my hair air-dry. I was really impressed with how great my hair looked when it was dry. I think this will be my go-to beach spray because it doesn't give that filmy feeling, but still delivers all the good stuff. A 5 oz bottle is $26.
First Aid Beauty Skin Rescue Deep Cleanser with Red Clay
I am a huge fan of First Aid Beauty. The
facial mist
,
night cream
, and
repair cream
are all regular parts of my routine. I love this cleanser. It feels gentle, but not drying. It is great for oily, acne-prone skin and people with larger pores. I have all of those! It is a foaming gel texture that just feels really nice. A fun part of using it is that the red gel has some shimmer to it, so I think it looks really pretty also. Not that that matters too much, but it is a fun little touch. This cleanser is paraben, sulfate, and phthalates free. 4.7 oz is $24.
Smashbox Photo Finish Oil Free Foundation Primer Pore Minimizing
When I first started using primers, I only used Smashbox's oil-free formula. It was great, but eventually I started trying more and more products and found things I felt worked better for me. I think this particular primer combines great aspects of my favorite pore minimizing solutions (like
Dr. Brandt's Pores No More Pore Refiner Prime
r and
Benefit's POREfessional
) with Smashbox's light formula. It has the same airy mousse-like texture that glides on smooth. It has staying power and worked well for me on both accounts. A 1 oz size is $39, while a travel size of 0.5 oz is $16.
Nest Citrine
This scent was a bit more floral than I had anticipated. I love citrus perfume scents. This one is very light with maybe a hint of lemon. The citrus notes are not obvious to my nose. Mostly it smells floral to me. It was okay, but certainly not a favorite. 1.7 oz is $68. A 0.27 oz rollerball is $25.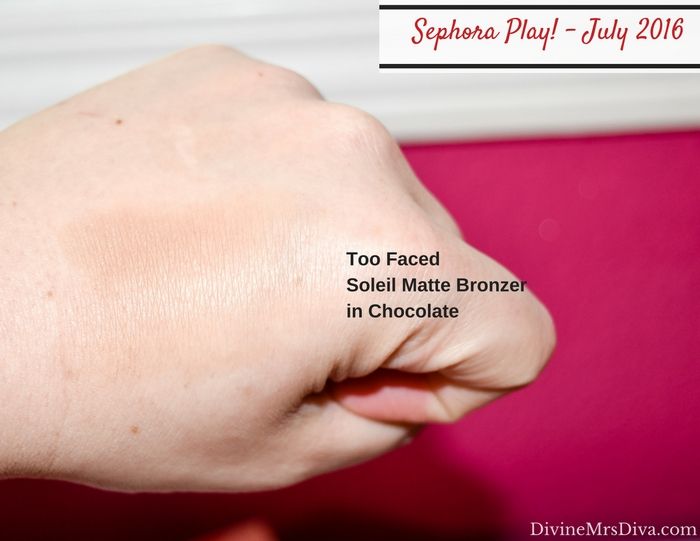 August 2016 - The Eye Openers
Algenist Complete Eye Renewal Balm
I've used this eye cream before and didn't feel any which way about it. I also think that products like this need to be used for a while to do an educated review on them. It was okay, but not my favorite. It does have vitamin C, aloe, and green tea extracts in it and is free of parabens, sulfates, and phthalates. Also it is a pretty expensive eye cream at 0.5 oz for $68. That is probably another reason I wasn't super excited about it. I would personally rather put that money into an all-over face serum or cream that works really well, like
Sunday Riley Tidal
.
Lancome Energie de Vie The Smoothing & Glow Boosting Liquid Moisturizer
Sorry guys, I haven't used this one yet. It has mediocre reviews online, with a lot of people saying it broke them out. I wasn't in the mood for a breakout (
are we ever?
), so I haven't tried it yet. It claims to be "
an energizing antioxidant liquid moisturizer that refreshes, protects, and hydrates tired skin for an instant dewy glow
." It is free of parabens, sulfates, and phthalates. 1.69 oz is $55.
Make Up For Ever Artist Shadow Eyeshadow in I544 Pink Granite
I actually already own this color in a palette. MUFE shadows are very smooth, beautiful, and have great pigmentation. This is my favorite shade from the palette I bought because it is a dusty mauve brown. It is neutral and shimmery and goes with anything. A full-size single eyeshadow is 0.07 oz and $21. MUFE also has multiple palettes to choose from at a great value. (
Swatch below
)
Sephora Collection Contour Eye Pencil 12 hr Wear Waterproof in Love Affair
The Sephora house brand has some great products sprinkled throughout. This eyeliner is definitely one of them. There is a great selection of colors in glitter, shimmer, and matte finishes. Love Affair is a plum shimmer. The color is really beautiful and wearable, plus it is long-wearing. I didn't have any smudging or issues, though I also only wore it on the top lash line and not in the waterline. At 0.04 oz for $10, I think you are getting a great value.
Urban Decay's eye pencils
are the same size and twice the price. I do not like that I have to sharpen these, but I still think they are great. (
Swatch below
)
Urban Decay Perversion Mascara
Again with the mascara.....I have tried this one before in another sample from another box. It is very nice and black and does a good job with lengthening. However, it does smudge on me in a short amount of time. I could get away with wearing this around the house if I am having friends over, but I would never wear it out because I know it would give me raccoon eyes. A 0.4 oz tube is $22. A travel size 0.13 oz tube is $10.
Clean Reserve Warm Cotton
This was another perfume I was pleasantly surprised by. It smells straight up like clean laundry or a nice warm dryer sheet. I like it because it is different, but still smells nice and comforting. For perfumes, I prefer more fruity and citrus scents though. I paired this scent with
Atelier's Pomelo Paradise
while I was at the beach and quite liked them together. A 3.4 oz bottle is $90. A travel spray of 0.34 oz is $25.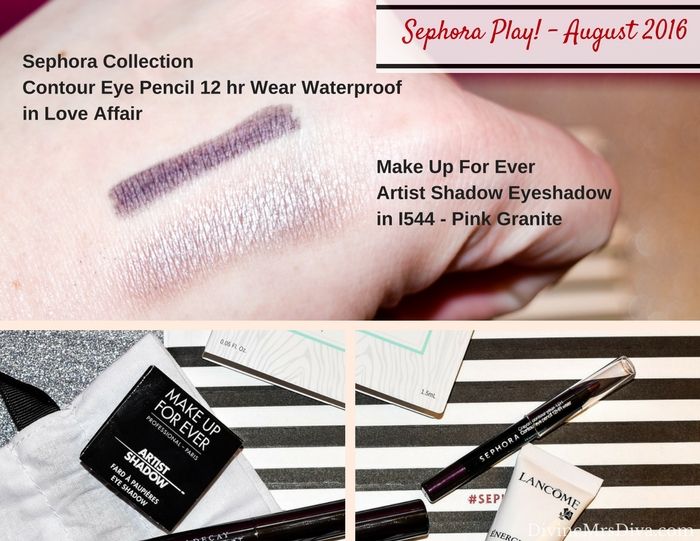 What products did you receive in your Sephora box? Have you tried any of these products before? Do you subscribe to any other beauty boxes you love? I'd love to hear your opinion!