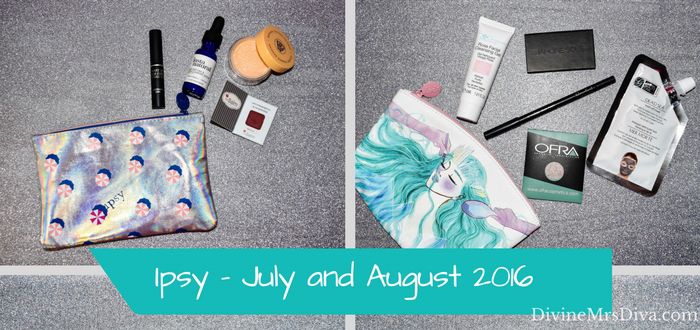 I'm attempting to keep up with my beauty box reviews. I've had some really great samples, so I look forward to sharing my findings. Today's post is an
Ipsy
review for July and August's bags.
If you are unfamiliar with Ipsy, it is a monthly subscription service. For $10 a month, you get a cute reusable bag and five samples of various products that have been chosen to fit the monthly theme and your beauty profile.
Ipsy
tends to carry more drugstore brands and makeup, with high-end brands mixed in here and there. In comparison,
Birchbox
tends to focus on higher-end brands, with more skin and haircare items. Both of these boxes have a mix of skincare, haircare, makeup, fragrance, and nail polish. I also started getting the
Sephora Play
box, which also has a mix of products (mostly makeup) and focuses on the higher end brands that Sephora carries. I love them all and enjoy trying out the products that each supply to my junkie needs. If you want to subscribe to one and are unsure of which to choose, let me know what you want most and I can help you choose the best one for you.

- This is not a sponsored post. I pay for my own Ipsy/Birchbox/Sephora Play! subscriptions. All opinions are 100% my own.-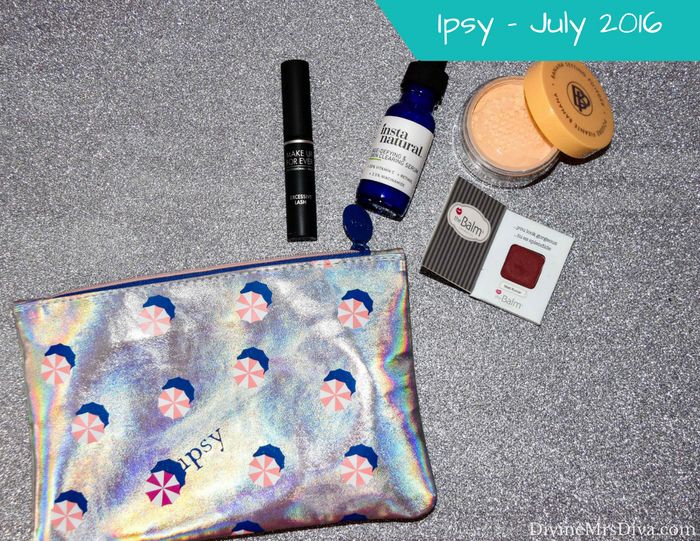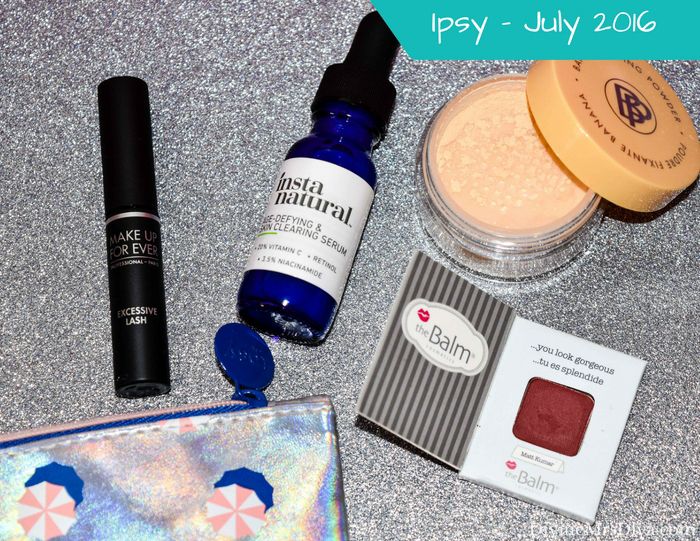 Ipsy - July 2016: Hot Summer Nights
theBalm Cosmetics Meet Matt(e) Trimony Eyeshadow in Matt Kumar
-
This eyeshadow comes in a nine shadow palette. As you may have gathered from the cutesy name, all the shadows are matte. I received Matt Kumar, a matte cranberry color. It is a pretty color, but not super pigmented and a bit patchy. It will probably swatch better on top of a primer and should be build-able, but it just didn't seem up to par with my other theBalm products. The 9-shade palette is $42 and can be found at Kohl's and
theBalm website
. (
Swatch below
)
Make Up For Ever Excessive Lash Mascara
-
This went on well and seems to have a good consistency. The color is dark black and made my eyelashes look long. However, I can only wear seriously long-wearing mascara or I look like a raccoon very quickly. This is why I hate getting mascara samples. Most of them just do not meet my needs. A full-size is 0.15 oz and $25.
InstaNatural Age-Defying & Skin Clearing Serum
-
My sample of this product
just
ran out. I love it so much, I ordered a full-size from Amazon. The company itself makes products that are free of parabens, sulfates, artificial colors, dyes, mineral oil, and formaldehyde. They focus on organic and natural ingredients.
This anti-aging serum contains vitamin c, retinol, tea tree oil, and hyaluronic acid. It claims to help clear breakouts and blemishes, fight wrinkles, dark circles, crows feet, fine lines, and leave you with a clearer, brighter complexion. I've been using it for about two months now. While I generally don't have many breakouts anyway
(anymore
), I do feel that it helps my skin tremendously. My skin feels smoother and softer and looks brighter and more healthy. I also feel that this serum really helps my moisturizer sink in. I pat this serum on after cleansing my face and before I apply moisturizer. The first time I tried it, I woke up to gloriously soft skin that was not oily or greasy at all. I am usually very oily in the morning. I was astounded. I've been using it ever since. I am looking forward to trying more from this company. 1 oz is $22.78 on Amazon or $23.97 on
their website
.
BellaPierre Cosmetics Banana Setting Powder
-
I think this is a good powder and comparable to a lot of setting powders out there. BellaPierre offers great quality mineral makeup in general, so I was excited to try this. I was using the
Make Up For Ever HD Microfinish Powder
prior to falling in love with how well
It Cosmetics Bye Bye Pores Powder
fills in my pores. It is hard to beat that. Still, I thought this was decent. It does provide a slight yellow hue to combat redness, so make sure that jives with your complexion. My foundation is a little too yellow anyway, so this made it more yellow than it needed to be when I used them together. A full-size is 0.14 oz and $35. (
Swatch below
)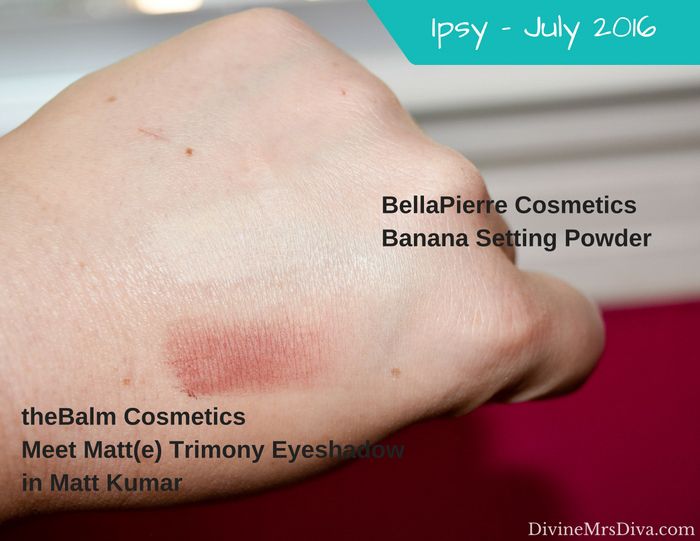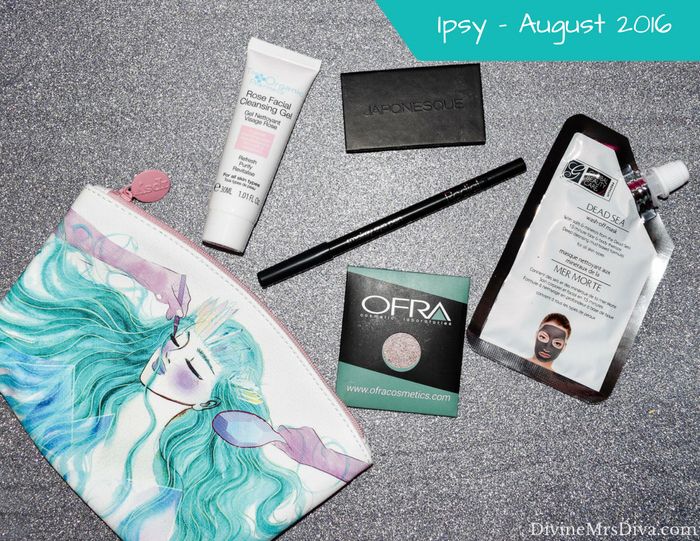 Ipsy - August 2016: Sugar Highness
Rodial Smokey Eye Pen in Black
-
This is called a "smokey eye pen" because you can blend it out into a smokey eye. Therefore, it does not stay put once applied. As discussed on the blog pretty much every time I talk about beauty products, I need long-wearing, stays-in-place stuff that doesn't budge. This doesn't fit that bill for me. The positives are that it is a beautiful ultra-black color and glides on really smooth. A full-size is $21. (
Swatch below
)
JAPONESQUE Velvet Touch Blush in Shade 02
-
This blush is finely milled, smooth, applies well, and is a pretty peachy pink shade. In the container, it reminded me of a non-shimmery NARS Orgasm blush. However, this shade is a bit too light for me. I have to build it up a bit for it to work well for my skin tone. A full-size is 0.229 oz and is $22 at Ulta. (
Swatch below
)
OFRA Cosmetics OFRA x @DupeThat "You Glow Girl" Highlighter
-
This pinky highlighter looks a little dark in the swatch, but it applies beautifully. It is smooth and pigmented and gorgeous. I've only tried some OFRA eyeliners to this point and haven't been too thrilled with them. This highlighter is great though! I've also used it as an eyeshadow. A full-size product is 10 grams and $25. (
Swatch below
)
The Organic Pharmacy Rose Facial Cleansing Gel
-
I've never been fond of the fake rose smell of many cosmetics, but this is a very pretty scent. I was so excited to get another product from
The Organic Pharmacy
because I love the quality of the products and organic ingredients. This cleanser is gentle and feels really nice on the skin. It left my skin very soft and smooth. A full-size product is 100 ml and $85.
Global Beauty Care Dead Sea Wash Off Mask
-
I haven't had a chance to try this mask yet. It has really good reviews online. Its claims of sloughing off dead skin, drawing out impurities, and moisturizing speak to my skin concerns. Unless I can use a mask multiple times, there isn't any definitive info I can give you anyway. A full-size 5 oz container is $4.99.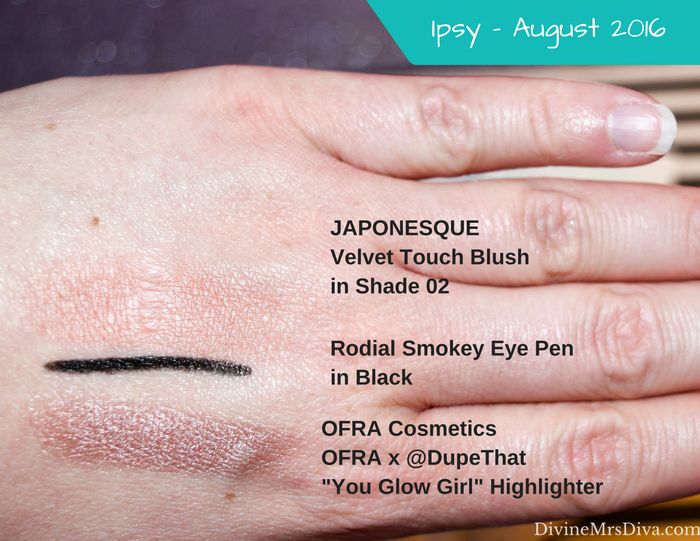 And there you have it! What did you get in your Ipsy bag? Have you tried any of these products? I would love to hear your thoughts!