I am still residing amongst the boxes filled with our stuff. I have no idea how we fit all of that into 1400 square feet. The new place is 2000 square feet and I am not sure how it is all going to fit. The kitchen became too frustrating for me yesterday, so I am taking a blogging break before I go work on the craft room.
This Labor Day weekend will be filled with unpacking and organizing some more, with a side of Bunco. I so look forward to everything being in its place!
You can imagine my delight when I took a day off from unpacking chores to hang out with my husband and get all cute for dinner. I've had the ASOS Lace Print pencil skirt via
Gwynnie Bee
for a few weeks now with nowhere to wear it!
I am wearing the skirt in a US22, which I feel is plenty roomy. (I normally wear a 26.) The skirt is a little shorter than I typically go for and made of a comfortable and stretchy poly-blend fabric. It feels like a stretchy knit which allows for ease of movement. The front is a lace print reminiscent of damask, with the back being solid black.
I felt so sassy in this skirt! My husband was particularly fond of the fit of this item since it hugged my backside just perfectly.
Last time I wore the Cayden
, I also paired it with a black and white skirt. I just love the color combination so much. (
You can also find it on Gwynnie Bee.
) It has been a while since I wore this neon necklace and even the wedges too (they are so comfy). And Tada! It ended up being an extremely comfortable outfit that made me feel super saucy- a great combination!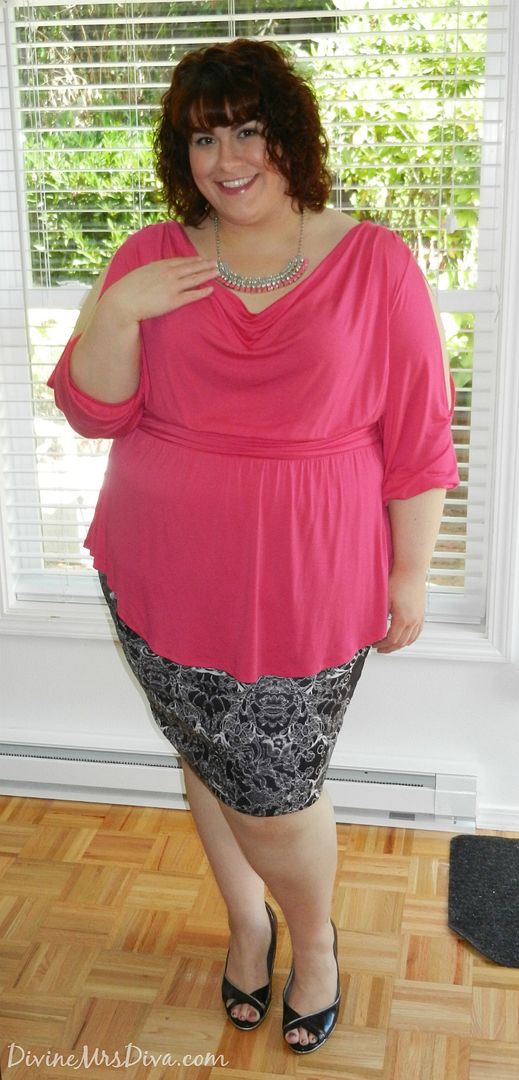 ASOS Lace Print Pencil Skirt
- ASOS Curve via
Gwynnie Bee
Cayden Cold-Shoulder Top
- Kiyonna
Black Wedges - Avenue
Rhinestone and Neon Pink Necklace - JCPenney
While you can try the skirt through
Gwynnie Bee
(your first month is free!), you can also buy it for $16 right now on
ASOS.com
. It is still available in US20 and US22.
PS - This is NOT a sponsored post. I am not affiliated with ASOS or Gwynnie Bee. If you choose to become a paying member of Gwynnie Bee after your free trial, I'll get a free month for referring you.