Hey, y'all!!
Another busy and productive weekend here. We went to my nephew's 8th birthday party on Saturday, followed by a trip to The Container Store and some errands. I LOVE The Container Store! We found a good amount of organizing helpers to use in the new house, especially for the kitchen.
On Sunday, I started unpacking the kitchen and utilized our new items. We also moved ALL my crafting stuff (also keepsakes, New Kids memorabilia, and such) to the room upstairs. It only took us two hours and opened up a lot of space in the downstairs area. Like, now we can go to the backyard from the living room again. lol
I have been staying very busy working on all the house stuff and running errands. We have SO MUCH more to do in the next month as we prepare to host Bunco at the end of September.
On to FMM:
It is time again for Friend Makin' Monday. If you have a blog, I would like to invite you to answer the questions as well. Leave me a comment here, so I know you are playing. Then you can also leave a comment over at All The Weigh, so other folks can check out your answers as well. It is a fun way to connect to other bloggers.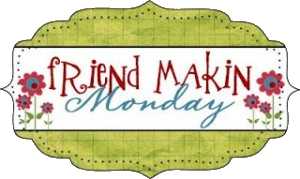 1. What is a typical weekday like for you?
Typically, I start my day letting the boys go potty and preparing my breakfast (always Greek yogurt with blueberries or blackberries and granola). Sometimes I work on house chores until lunch and then start working on the blog in the afternoons. Sometimes vice versa. At lunch, I make meals for my husband and I since he comes home for lunch. Usually we have salads, but lately it has been sandwiches or frozen meals since we still don't have pots and pans and utensils unpacked. After lunch, I work on my afternoon chores or blog stuff (lately I have spent that time unpacking and organizing). Then I get dinner ready. We eat. We watch some TV (started watching Breaking Bad on Netflix last week); and then we work on house stuff or computer-related things before calling it a night.
2. Name one song that never fails to make you happy and one song that you always listen to when you're sad.
Hmmmm.....New Kids On The Block never fail to make me happy. They have been providing cheer to me for 25 years. When I am sad, I typically listen to happy songs or Sarah McLachlan, specifically the
Surfacing
album because I listened to it non-stop when my dad died.
3. Did you watch the VMA's last night?
I DVRed it, but haven't watched it yet. I've seen some pictures and GIFs and the like. I wish people would give more attention to Macklemore and his great song and win than they are giving to Miley.
4. Share at least two talents that you possess.
I'm pretty good at craft projects and figuring out how to transfer what is in my head into an actual item. I'm also fantastic at New Kids trivia.
5. Share one thing that you wish you had the confidence to do.
Take some college classes maybe....or drive. I hyperventilate when I get behind the wheel. It is more so that I have no confidence in the driving ability and intelligence of others that keeps me from wanting to be in charge of a large death trap.
6. Tell us about one insecurity that people might be surprised that you have.
I worry that I am a terrible conversationalist because I get anxiety attacks when I have to be around groups of people. I worry that I don't seem friendly enough or smart enough, though I try really hard to not come off that way.
7. If you could be the CEO of any company, which one would you choose to lead?
I would be the CEO of my own company. I don't know what kind of company it would be exactly....
8. List at least three hobbies that make you happy.
Crafting - I haven't done it very much because I haven't had a great space to work in. My husband is going to build me a desk to work at upstairs so I can get back into it. I am much less cranky when I get to work on creative endeavors. Blogging - I enjoy writing and connecting with other like-minded people. It is another kind of creative endeavor for me and makes me happy. Gaming - Whether I play Skyrim on my on, play co-op on a game with my husband, or watch him play a game like Uncharted or Last of Us, I thoroughly enjoy video games and gaming.
9. Is there someone in your life that you wish you could say "I love you" to?
Sure. I wish my blood-related immediate family wasn't so shitty so they could be in my life. But I try to tell the great people in my life how much I love them when I have the chance.
10. Share one cool thing that happened over the weekend.
My nephew turned 8 this weekend. I cannot believe how fast he is growing up. When we arrived, he greeted us and was telling us about things he was doing and he sounded so adult, talking in whole sentences and staying focused. It is just so crazy. He is really into Halo right now, so we bought him a book with lots of information about the game and characters and ships and monsters and what not. He seemed really into it and, of course, I love promoting reading.
Now it is your turn! I hope you all have a great week!!