Hi, y'all!
I finally have another tasty recipe for your consideration. It was given to me by a friend. While it is very tasty and definitely worth your time, it does take some extra effort. If you are new to cooking, try this one on the weekend when you are feeling adventurous.
That said, it is still pretty easy, just has some extra steps. It is a really popular recipe in my house and makes a TON, so I make sure to share with friends or set aside all the yummy leftovers.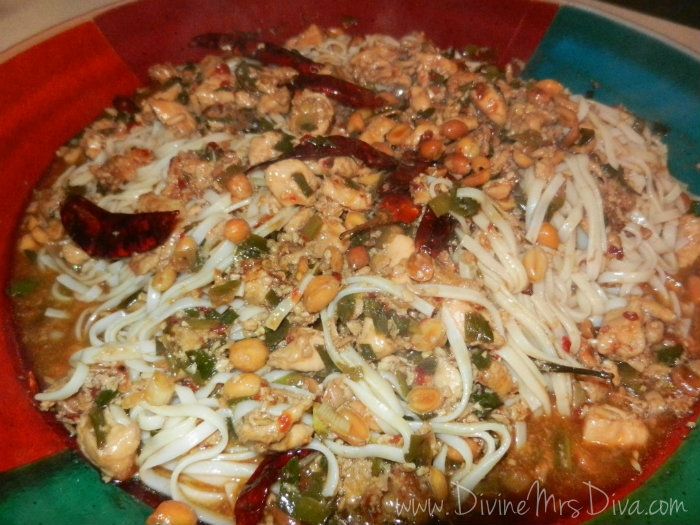 Ingredients
For the Sauce
- 1 1/2 cups chicken stock (
You can substitute vegetable stock
)
- 2 tbsp cornstarch
- 3/4 cup soy sauce
- 1/2 cup dry sherry
- 3 tbsp red chili paste with garlic
- 1/4 cup sugar (
You can substitute agave
)
- 2 tbsp red wine vinegar
- 2 tbsp toasted sesame oil
For the Pasta
- 1 lb dry spaghetti (
I usually use rice noodles. You can find them in the Asian area of the grocery store.
)
- 1/2 cup plus 2 tbsp olive oil
- 1 lb of chicken, cut into cubes (
I use shrimp
)
- 20 whole Chinese dried red chili peppers (
You can find these in the Asian spice area in bags or possibly in your grocery produce section near the onions.
)
- 1 cup unsalted roasted peanuts
- 1/4 cup minced garlic
- 3 cups chopped scallions
Egg-White Cornstarch Mixture
- 2 egg whites
- 2 tbsp cornstarch
- 1/2 tsp salt
Directions
Make Sauce
Whisk chicken stock and cornstarch until cornstarch has fully dissolved. Stir in all of the remaining sauce ingredients and bring to a boil over medium-high heat. Reduce the heat to simmer until the sauce is thick enough to coat the back of a spoon, 15 to 20 minutes. Set aside.
Make egg-white mixture
In a mixing bowl, use a small whisk to stir together the egg whites, cornstarch, and salt until thoroughly blended. Take care not to beat them into a froth. Set aside.
Make Pasta
Bring large pot of salted water to a boil. Add pasta and cook until al dente, 8 to 9 minutes. (
Rice noodles only need about half that amount of time.
)
Meanwhile, in a large nonstick frying pan over high heat, heat the olive oil for about a minute. Add chicken (or shrimp) pieces to the egg white mixture and toss to coat them. Add the coated chicken to the pan and cook like a solid pancake until the egg mixture sets. Then, using a large spatula, carefully flip the chicken pieces over together and, with a wooden spoon, gently separate the pieces.
Carefully stir in the Chinese peppers and roasted peanuts into the pan. As soon as they darken in color, after no more than 1 minute, stir in the garlic and scallions. Once the garlic begins to brown, after no more than 30 seconds, add the kung pao sauce and toss and stir to coat the ingredients.
When the pasta is ready, drain it well and, in a large serving bowl, toss it thoroughly with the sauce.