I love Crockpot meals. It is such an easy way to have a tasty dinner ready at a convenient time. With fall coming up, I am thinking about soups and stews and other warm, comforting meals. The following recipe was written by me. It is the first time I have ever cooked with kale. This turned out to be a hearty, healthy, filling soup. It is very tasty, if I do say so myself!
I am thinking of doing a Crockpot series of recipes. Is that something that appeals to all of you? Let me know!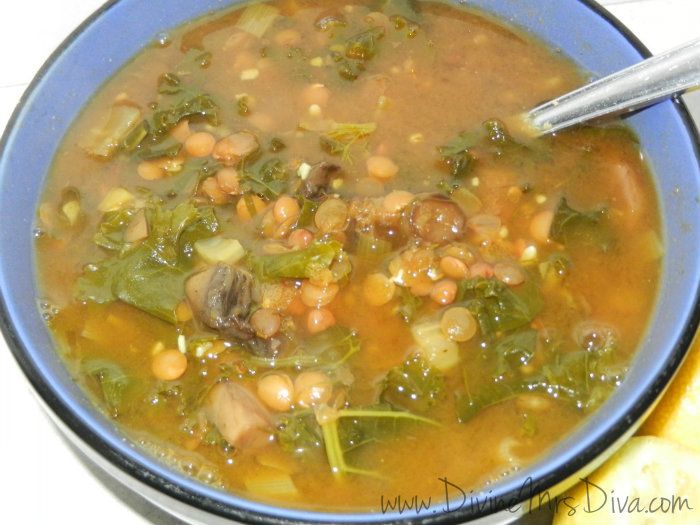 Kale and Lentil Ginger Soup
Ingredients
- 2 cups dry lentils (
I use mixed colors of lentils just because
)
- 2 containers of sliced baby portobello mushrooms
- Big bunch of kale, sliced
- 1 Leek, chopped
- 1 Fennel bulb, chopped
- 1/4 cup chopped ginger (
You can slice it in small, bite-sized matchsticks or mince it
)
- Grated ginger, about an inch or so section of ginger. (
When you buy it at the store, cut off the skin, put it in a baggy, and pop it in the freezer. You can use it for a while.
)
- 8 cups low-sodium vegetable broth
- 2 tsp Worcestershire sauce
- 2 tbsp Red Wine Vinegar
- Squeeze of hot sauce (I use Sriracha)
- 1/4 cup agave
- 2 tsp Smoked paprika
- 2 tsp Turmeric
- Salt n pepper to taste
- 2-3 tsp Mrs. Dash Chicken seasoning
- 2 tsp ground sage or chopped fresh sage
- 2 tbsp garlic, minced (
I use a lot of garlic because I LOVE it!
)
(Optional) Parmesan cheese, sour cream, fresh lemons
Directions
Put all ingredients from the lentils to the garlic into the Crockpot. You may have to add the broth a few cups at a time. As things cook down you will have more room for the liquid. Simmer in Crockpot on low for about 5 hours.
Spoon into bowls and top with Parmesan cheese and sour cream, along with a squeeze of fresh lemon juice.
Enjoy! As always, if you make this recipe, please let me know what you think.