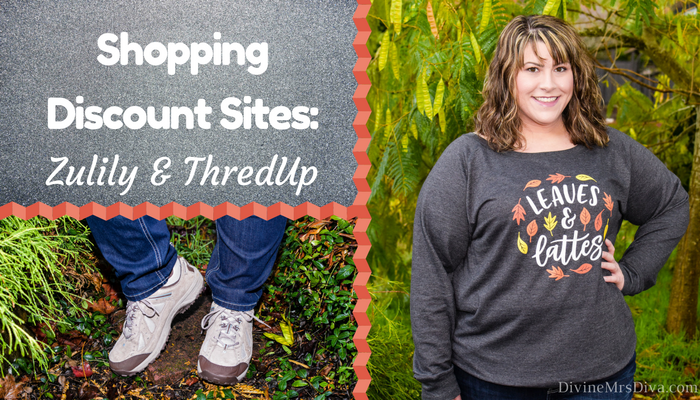 I'm an avid shopper, but I hate paying full price for anything. I will go out of my way to find the best deals I possibly can. I've long utilized sites like
Ebates
and
Honey
to help me get the most bang for my buck. If these sites are new to you, I will be talking about them below. Most of us are budget-conscious individuals who are looking for great deals on great items, so I thought I would share my experience with a couple of discount sites.
I've been shopping at
Zulily
since 2012, but ThredUp is a site I starting utilizing this year. In today's post, I'm giving you the pros and cons of each site experience and talking about the kinds of items you can find at each one. Today's outfit features items from both of these sites!
This post is not an ad. I am not sponsored by or being paid to write this post. I am just very passionate about shopping, and deals and wanted to share my knowledge with you. I am using referral links in this post and will explain the individual details of the referral in the information for each site below
.
Before we get into Zulily and ThredUp, I want to explain Ebates and Honey to those of you that have never heard of them before. Towards the end of the post, I will talk about the elements of my casual ensemble.
Ebates
Ebates
is a site that offers varying percentages of cash back at many, many sites across the internet. If you do a lot of online shopping, Ebates is definitely something you should be utilizing. My most shopped stores for discounts through Ebates are Lane Bryant, Sephora, Ulta, Target, Charming Charlie, Old Navy, Zulily, and Torrid. There are hundreds of stores to choose from! Right now, they also have a lot of the Black Friday ads up for you to browse and ready your battle plan.
I joined Ebates in 2010 and have saved a total of $786 by using the site. This also includes travel sites like Orbitz and Travelocity, as well as hotels and airlines. If you sign up using my referral code, you get $10 and I get $25.
How It Works:
Log into your
Ebates
account and search for the store you want to shop. Click the Shop Now button from the Ebates website and make your online purchase. The allotted percentage amount will be added to your Ebates account, where it can be deposited into your PayPal account or sent as a check via mail. They send out your money every three months. You also have the option of adding an Ebates extension to your browser that simply allows you to activate the cash back with one click while you are on whatever site you are shopping, instead of having to go to the actual Ebates page. This saves time and still allows you to search for brands/sites while reminding you to click the Activate button if you are making a purchase.
Honey
I haven't been signed up with
Honey
as long as Ebates and use it as more of a coupon-finder. You can earn points through Honey as you make purchases, which you can redeem for gift cards at various stores once you accumulate a certain amount of points. If you sign up using my referral code, I get $5 when you make your first purchase.
How It Works:
I primarily use
Honey
as an extension on my browser. When I am getting ready to check out (or if I am browsing a site), I click the Honey button to see what kind of coupon codes are currently being offered. A lot of them are submitted by users, so some work and some don't. You can have Honey try all the codes automatically to see which one gets you the most money off. Honey simply saves me time so I don't have to Google search coupon codes every time I shop online.
Zulily
As I mentioned, I have been shopping at
Zulily
since 2012. I would often snatch up fun
Star Wars
bobbles for Sean that I hadn't seen anywhere else online. Other purchases have included jewelry, home decor, a lot of shoes, clothing, accessories, beauty products, gift items, Christmas decor, organizing bins, toys, pet items, travel accessories, sheet sets, and more. My living room rug is even a Zulily find!
Zulily
offers new items every day, which are on sale on their site for a limited amount of time. This amount of time is typically up to a few days. Items are grouped by brand or by theme in a curated boutique of offerings. There are products for the whole family, including men and children and plus size clothing. Most of my expensive, comfortable shoes have been Zulily purchases because they offer them at such a great discount. If you sign up via my referral link, I get $15 when you make your first purchase.
Pros
Prices
- Zulily offers discounted prices for a variety of items.
Shipping Plan
- While Zulily does charge shipping (
typically $6 to $8 for my orders
), they also have a yearly shipping plan for $49. It is actually well worth it if you shop via the site more than six times a year. I should totally be signed up for it again, but I was trying to quit (
which isn't working lol
).
Payment Plan
- If your order is $49 or more, you can opt for the Smart Payment plan. This allows you to be charged half the price of said items now - along with shipping - and charged the rest of your balance the following month. I find it to be a great feature of the site, though they didn't implement the idea until last year.
Assortment of Products
- As stated above, there is a multitude of items offered across many different categories. There is something for everyone and a lot of great gift ideas.
Brands
- From time to time, Zulily does carry brands like Kiyonna, SWAK, Melissa McCarthy Seven7, and more. I also love the Comfortiva and Rockport shoe sales, but they carry many other popular brands across all categories.
Excellent Customer Service
- I have only had a handful of issues with my orders in the last five years. Zulily doesn't allow returns, but they do have excellent customer service that tries to make your order right however they can. I have been credited back for defective items (
wrong size sent, a body butter that smelled like it was old, something broken or damaged
) and in some cases sent a whole new item (
as in the case when they sent me the wrong size comforter set. They ended up sending the correct size, but I also got to keep the wrong size.
). These issues don't happen often. Because they only have a set quantity of items in their warehouse or from a specific seller, they often can't get you another of what you ordered. It was just lucky that they still had a king size comforter set when I complained about the queen I received instead. But they are always kind and helpful when I have reached out to them about issues.
Cons
Prices
- Sometimes I can find the same or similar product on Amazon for a little cheaper. I always search Amazon for things I find on Zulily to make sure I am getting the cheapest price. If I can get something via Amazon Prime, even if it is just a few dollars more, I go with that versus the Zulily price.
Shipping Cost
- Shipping can be $5.95 or more, depending on what you buy. If you make multiple orders in a day, you only pay shipping for the first order and receive free shipping on the other orders.
Shipping Time
- Typically, I receive my items within two to three weeks. Some items can ship out within a few days, but this also depends on if you want expedited shipping or not. Don't buy something from Zulily that you need right away because you will have to wait for it to arrive.
No Returns
- Zulily does not accept returns. If you have a problem with an item, it is best to email their customer service and explain the issue regardless. I have only had excellent and fast service when things have gone wrong. See Customer Service section on Pros above.
Clothing Sizing
- The more obscure clothing items all seem to run small. I have had straight size and plus size folks tell me the unknown brands Zulily carries all run rather small in sizing.
I've shied away from purchasing clothing in off-brands from Zulily because of the fit issue so many people have had. Earlier this year, I ordered a couple of tanks in a 4X from the LC Trendz brand to see about the fit for myself. (
I talked about them in this post.
) This particular brand has a lot of graphic tees and such. I knew I could wear the tanks around the house or to bed at the very least. The 4X is slightly oversized on me, so I felt confident in getting this slouchy 'Leaves and Lattes' sweatshirt from the same brand. The fabric isn't too thin, but isn't too thick to stifle me. The fit is a bit oversized but I don't mind throwing it on to run some errands, especially in our dreary and rainy PNW weather. The sweatshirt is comfortable, with a larger open neckline. The bottom band isn't very form-fitting and the length is a bit long, so I do have to turn the band inside so it stays on my hips.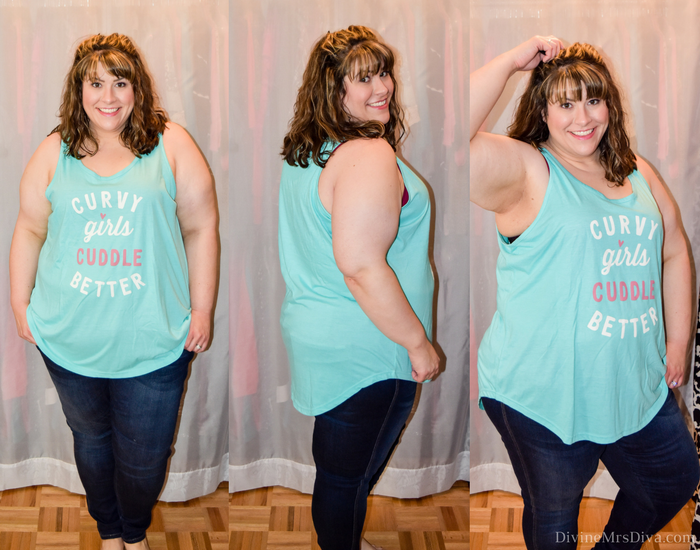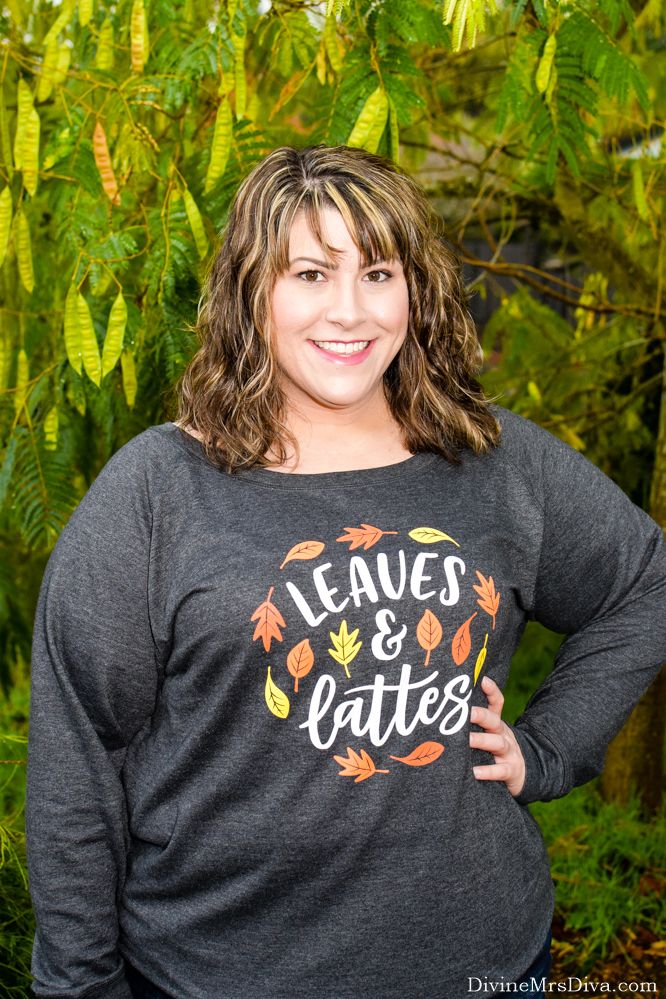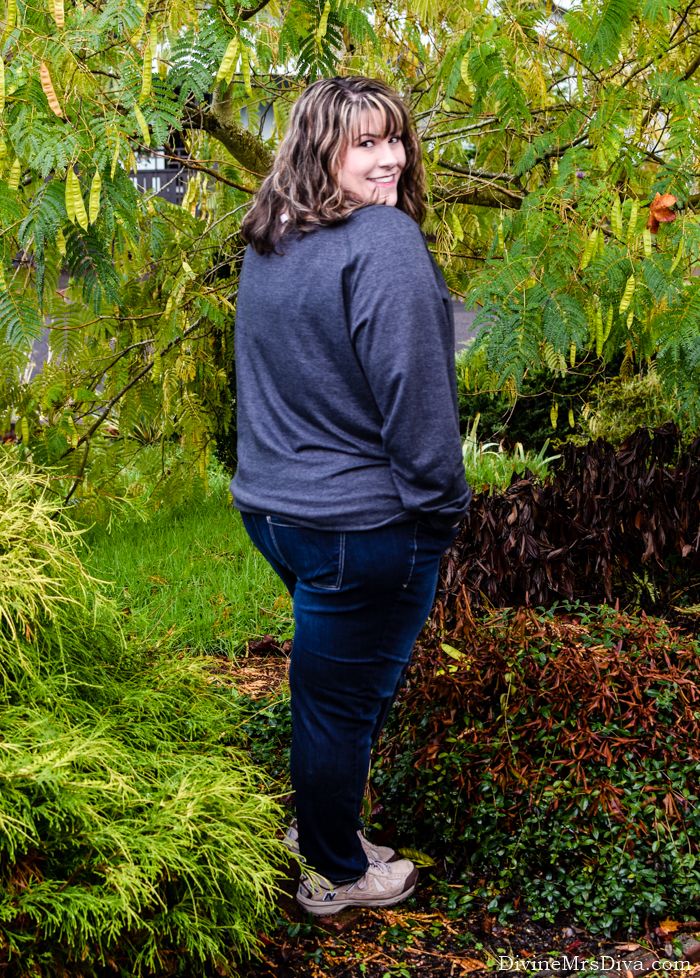 ThredUp
ThredUp
is a website of consignment and thrift finds. You can find secondhand items for women and children, including plus sizes, maternity, shoes, handbags, and more. They also carry designer brands. It is a treasure trove of deals and finds! I just started using it this year and check the site a few times a week to see if any new items have been added. If you sign up via my referral link, you get $10 to spend and I get $10 after you make your first purchase.
I've purchased some handbags and shoes via
ThredUp
so far. They have all been in excellent condition. Though the shoes had been used and had minor wear, they were pretty new looking all the same. Everything has been clean and well packaged.
Pros
Prices
- Great prices and discounts across the board.
Free Returns
- You have 14 days to return items that don't work for you. Handbags and Final Sale items cannot be returned.
Flat Rate Shipping
- Shipping is $5.99, and free on orders $79 or more. Shipping has always been pretty fast in my opinion.
Designer Brands -
Some of my favorite designer brands like Coach, Kate Spade, Betsey Johnson, and more are available.
Cons
Assortment
- Available items are dependent on what the sellers are selling. Inventory can vary, but new things are added all the time. Just recently, there were a lot of Eloquii, Torrid, and Dansko items added.
Used Items
- These are thrifted items. Some are new with tags or hardly used at all. Some have other signs of wear. If wearing and using items that have previously been worn and used grosses you out, you may not want to buy a lot of things from here. As I said, the items I have bought, even when used, have all been clean and in excellent condition. (
I still washed the shoes before I wore them though. lol
)
Below are my ThredUp finds! The Mud Pie Cable Knit Clutch (regular $48, I bought it for $17) and LeSportsac Crossbody (regular $68, I bought it for $20) were my first purchases. They appear to be completely brand new. I also found these ASICS sneakers in a size 11 wide. I had just tried some on at the store and thought they were really comfortable. Regular $80, I got them for $7, which is a pretty crazy deal. They had a little bit of wear to them, but weren't that bad.
The Carlos Santana Messenger Bag I sported in my
Kiyonna Penny Peplum review
was another ThredUp find. It retailed for $60 and I got it for $16. I am also sporting my Zulily Comfortiva Oxford purchase in that post.
My most recent ThredUp purchase was this pair of New Balance hiking sneakers I found in an 11 wide. They are regular $100 and I bought them for $33!! They are super comfortable and really great for this rainy weather.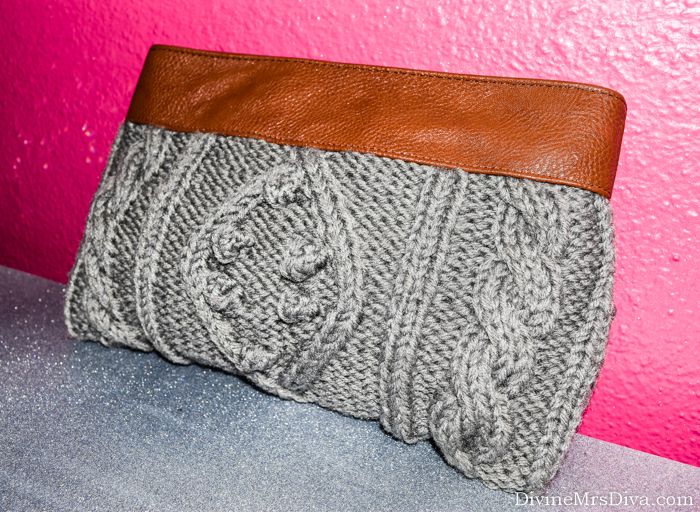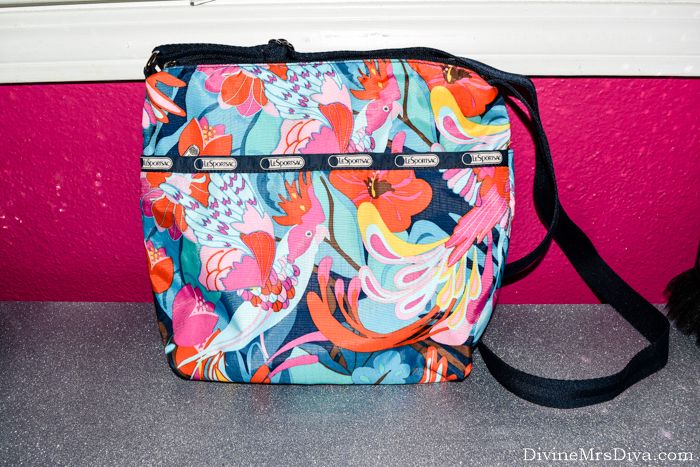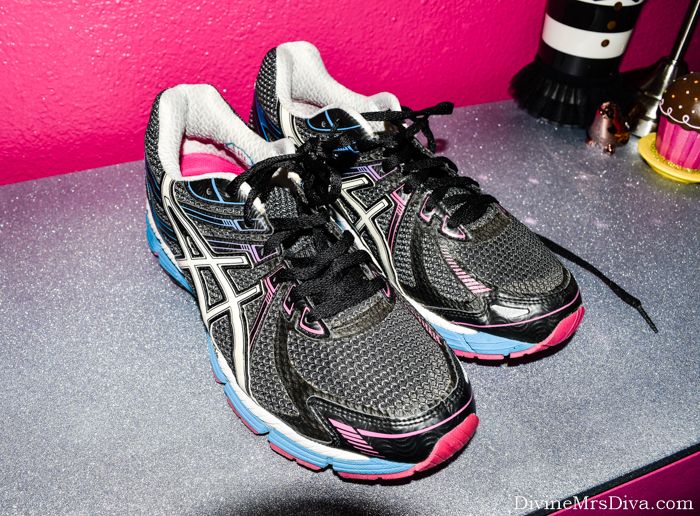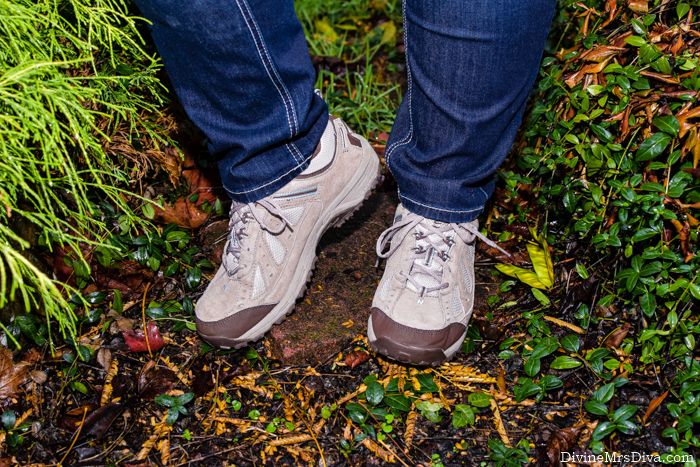 If all else fails, at least sign up for email newsletters from your favorite brands. This can alert you to the latest products and most current sales and coupons.
What's your favorite discount site or tool? Have you used any of the ones mentioned above? Do you have any experience with any of them that you would like to share?