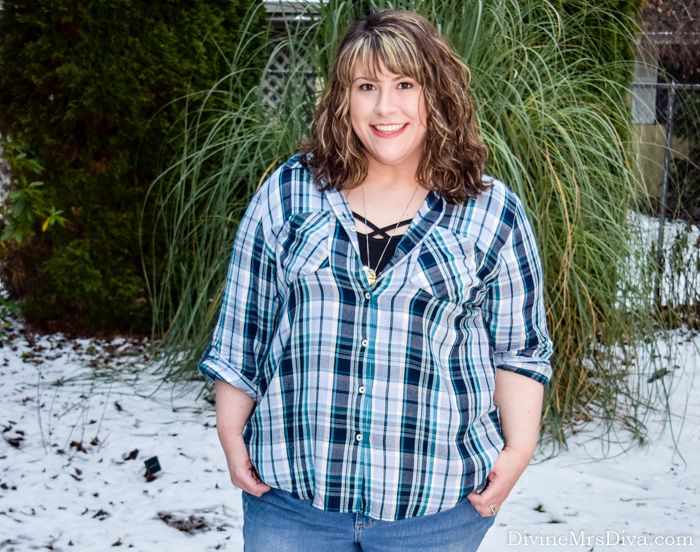 Welcome to 2017!
In today's post, I am reviewing the
Strappy Foxy Cami
from Torrid and the
Plaid Boyfriend Shirt
from Lane Bryant. I bought these pieces in the fall and wore them together for Friendsgiving in November. As you know, life has been pretty busy, so I was finally able to take photos when we were stuck at home during a snow storm.
Just to keep y'all informed, posts will be kind of sporadic through February. I am working on a better work schedule for myself to ensure I can have time to blog and time for all the other projects I need to work on. Things have piled up on the back burner for so long, I have pretty much spent the past two weeks trying to whittle that list down. I am also juggling these back logged projects with trying to finalize our vacation plans and all that entails (packing, making sure Finn is taken care of, cleaning the house, etc etc). In the meantime, I am working on getting organized so I can be a more efficient blogger. I would like to do more posts than I have been doing, but I still can never get extra projects done with the current schedule. It will take some time to work out the kinks, but I am hoping things can settle into a good routine and compromise between everything I want to do and what I actually have time to do.
My goal for 2017 is to not be so hard on myself.

The
Strappy Foxy Cami
is a great layering piece for your wardrobe. Whether you want something a little more interesting than a cami with a plain neckline, or maybe you need something to give a little coverage to cleavage, this cami is a fun option. I initially bought it in a size 3 (22/24), which is my normal size at Torrid. The material is a thicker-than-your-average-cami soft, stretchy, cotton/spandex fabric that is quite fitted. The cami itself is extremely comfy to wear, but because it is so fitted on me, it isn't something I would wear with an open shirt or on its own. Because it is a handy layer to have, I bought another in a size 4. It has a little more room throughout, but is still very fitted. Again, I wouldn't wear the larger size on its own or under an open shirt either. In addition to the look featured in this post, I have also layered the cami under dresses with low necklines. The straps are a sexy detail that I like adding to my ensemble for something a little different than my usual. Torrid carries this style in loads of colors and also has their basic Foxy Cami in lots of colors as well.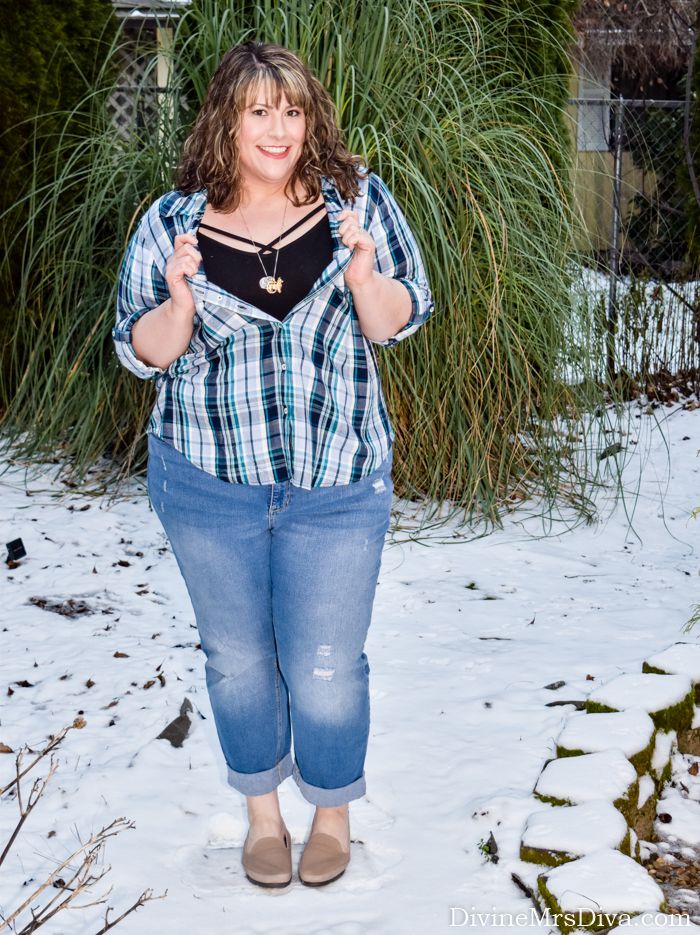 The
Plaid Boyfriend Shirt
is available up to a size 22 online now, but my local Lane Bryant still had all sizes in store as of a couple weeks ago. I am wearing a size 24 in the Blue Madras print of this top. The rayon blend fabric is lightweight and soft, but it doesn't stretch. The upper arms still fit me well, but it was slightly more fitted through my tummy. I can still button it and it doesn't cling to my tummy roll, but if your proportions are different you may need to size up. The roll tab sleeve ensures your cuffs won't keep falling down. The length was shorter on me than it was on the website model, though the back hem is longer than the front. I pull it down now and then to cover my lower tummy because I hate when my shirt is too short. I love the turquoise plaid and was very pleased with the shirt overall. I have worn it on quite a few occasions this fall and winter.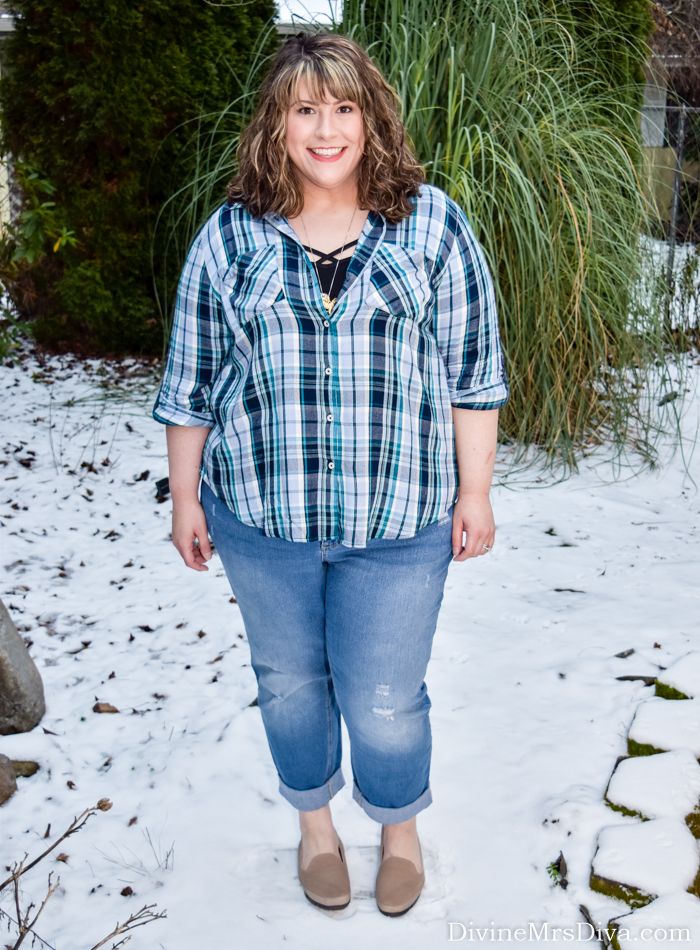 Strappy Foxy Cami
- Torrid (
also available in White, Red, Navy, Blush Pink, Oatmeal, and Mint
)
Plaid Boyfriend Shirt
- Lane Bryant
Girlfriend Jeans - Catherines (
similar
- same style, different wash)
Stretch Sole Skimmers
- Crocs
I am not a fan of New Year's Resolutions because they tend to come from a place of negativity, or at least they always did in my younger days. I do think setting doable goals for ourselves to promote a positive state of mind is helpful though. What are your goals/wishes/hopes for 2017?