I adore maxi dresses, but seldom remember to pull them out in the fall and winter. I associate them so much with warm, breezy weather and forget to utilize their potential year round. In today's post, I am rocking the maxi in winter and reviewing the
Indie Flair Maxi Dress
from
Kiyonna
.
We have had nothing but snow, wind, ice, and rain lately. I hope all of you dealing with this wintery weather are staying safe and warm! It has been annoyingly frustrating juggling our pre-vacation errands and prior scheduled engagements with all the snow and snow-related business closures. We've stayed home and off the roads as much as possible. And in this case, Amazon Prime is a friggin' must-have! I've been able to purchase all of my last minute toiletries and travel items via Amazon without having to worry about braving the cold. But I digress....
Crazy wind forced me to move inside for this shoot. It was so cold out my bones were hurting and I started crying. I have never done that before. Still, we found a warm office building nearby so we didn't have to cancel our photo-taking plans. Enjoy!


- Kiyonna provided me with the dress in this post. All opinions presented are my own and without influence. -
I love the look of the
Indie Flair Maxi Dress
because it shares many attributes with one of my favorite Kiyonna tops - the
Promenade Top
! I was excited to try this dress simply because I love the top so much. And it didn't disappoint. I do want to point out that the Boysenberry color of the dress varies in these photos because of indoor lighting and the flash. The true color of the dress is a darker, plummy purple (
as seen below
). It isn't red enough to be burgundy in my opinion, but does have a red tone to it that makes it appear more deep fuchsia in photos. I feel that the website picture is a good representation of the true color of the dress. Just keep that in mind.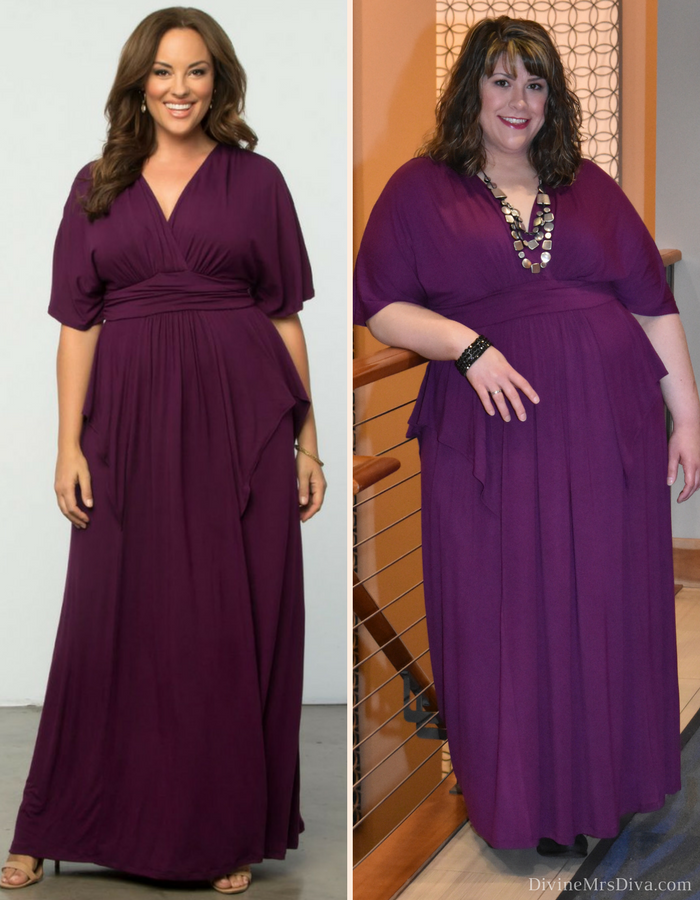 I am wearing the
Indie Flair Maxi Dress
in a 3X and find it fits true to size. For reference, I am typically a size 22/24 and a 3X is my usual size. My measurements are 52/49/58. This particular style is more fitted in the bust, while providing more room in the tummy and hips. The gathered waistband does a great job of defining the area under the bust and giving a feminine shape to the piece. I love empire waists because they tend to skim over my tummy and hips better (
and usually mean I do not feel the need to wear shapewear
). The gathering at the bust and waist help to accentuate curves, along with the draped peplum-like features at the hips. When I first tried the
Promenade Top
, I was worried the layers at the hips would not be a good look for me, but it became a feature I absolutely love. There is something very carefree and feminine about the extra gathering and draping; and it doesn't add any bulk to your shape (
not that I feel that is a bad thing
).
The fabric is a comfortable and not-too-heavy rayon/spandex knit. While I was warm enough in layering this piece in winter, it will be cool enough to wear all summer long. There is a nice stretch to the fabric, so those of you with larger busts than my B cups will also have room and comfort in the top. At 5'9", I found this maxi to be just a little bit shorter than my other Kiyonna maxi pieces. Most of the time the dresses and skirts hit me at the top of my foot. This one was a few inches off the floor and a couple of inches above the top of my booted feet. This did not make the look less desirable, but I thought it was worth mentioning because I know most people are shorter than me.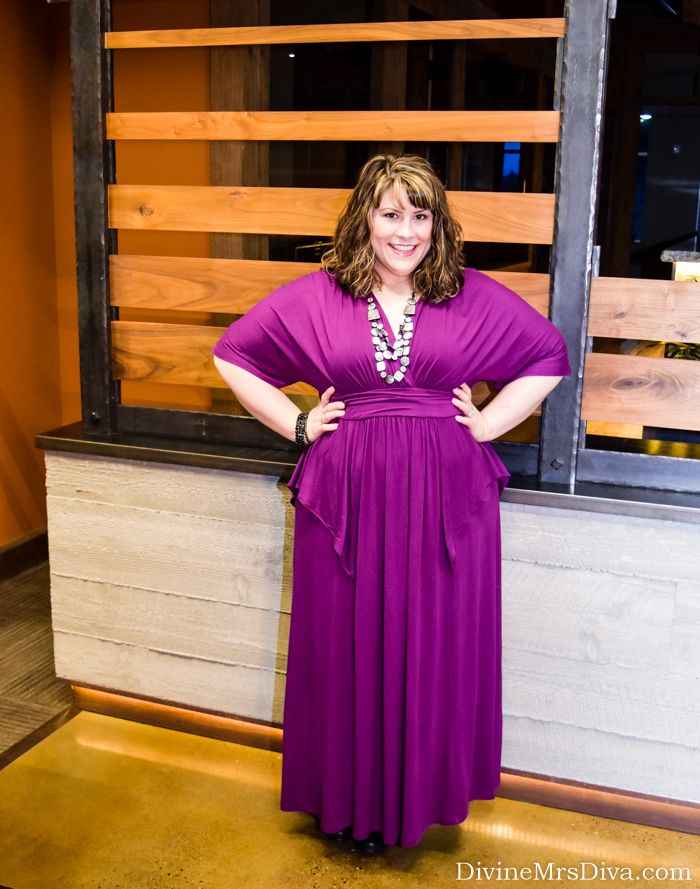 In styling the dress for cold weather, I added ankle boots and a denim jacket for practicality, and sequined scarf for pizzazz. Underneath the layers, I chose a silver and black necklace that mimics the scarf and black rhinestone bracelets to tie in the other black elements of the look. Maxis are simple and chic and easy to throw on, with the added benefit that you look pulled together no matter how you accessorize them. If you are still on the fence about maxi dresses and skirts, give it a go! I put off trying out maxis for a long time because I thought they would look awful on me. Don't hold yourself back from trying new things.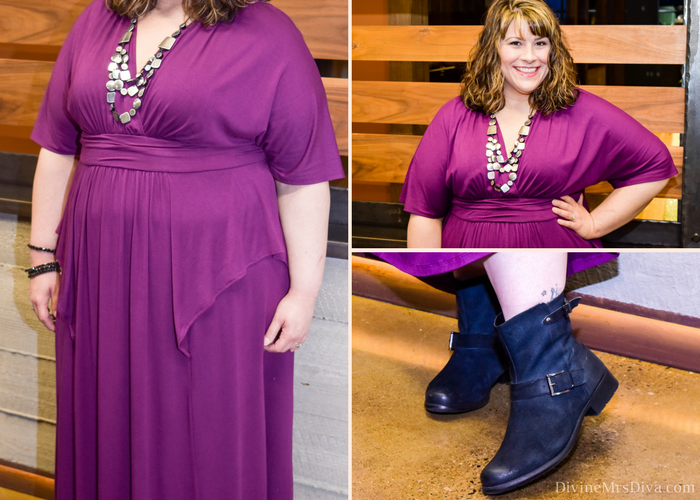 Indie Flair Maxi Dress
- c/o Kiyonna
Denim Jacket
- c/o Yours Clothing (
similar
,
similar
,
similar
)
Clarks Plaza Float Boot
- via Amazon
Necklace and Bracelets - Avenue from years ago
What camp do you fall in - maxi enthusiast or maxi questionable? What are your issues with maxi dresses you have tried? Do you have a favorite maxi dress or skirt in your wardrobe right now?