After the Macy's Fall fashion event, I made my way over to the women's department to look at all the clothing and try some things on in the fitting room. I grabbed items from the clearance racks, as well as some of the pieces I found in my size in the department. I hadn't really planned on purchasing anything, but wanted to get an idea about the sizing for the various brands since I do not have a lot of experience with the Macy's brands. I also want to add that I have found the pieces at Macy's to have pretty steep price tags, but the sale prices are really fabulous. I found so many items to be extremely well-made though. If you see an item you like on their website, keep an eye on it if you can't afford it right away.
PS - For reference, all the items below are a size 3X or 24.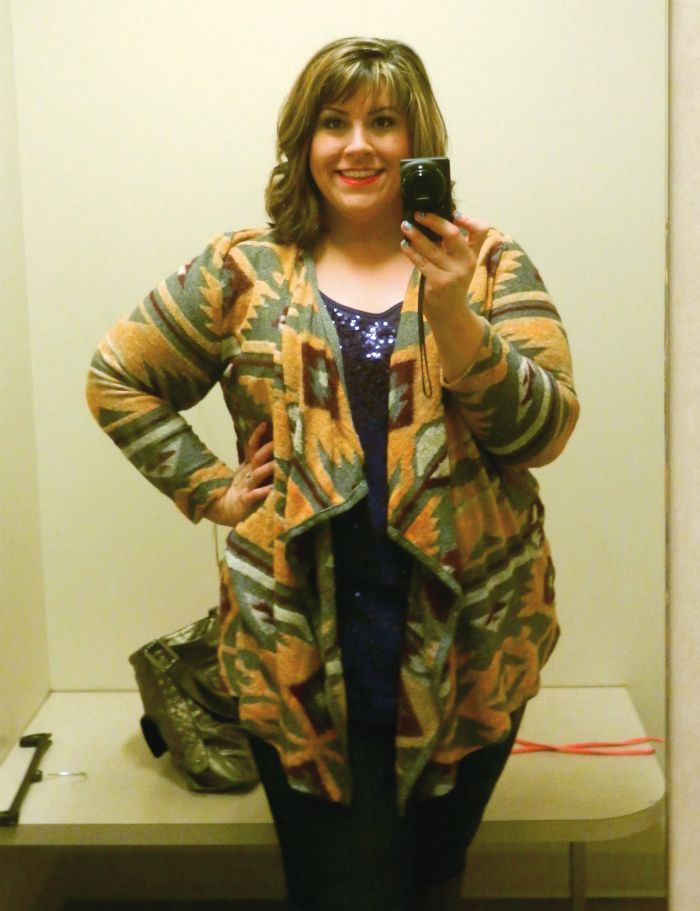 INC International Concepts Plus Size Open-Front Draped Printed Cardigan
This cardigan is different from anything I own, so it seemed perfect to start with. I love the bold Southwestern print and warm fall colors. It went exceptionally well with the jeans and boots I wore that day. The cotton/poly blend material is not too thick, which is great for my personal thermometer that tends to make me run very warm. This was one of the final pieces I was debating on buying and Emme herself told me I really needed to get it. I figured I'd listen to the supermodel. lol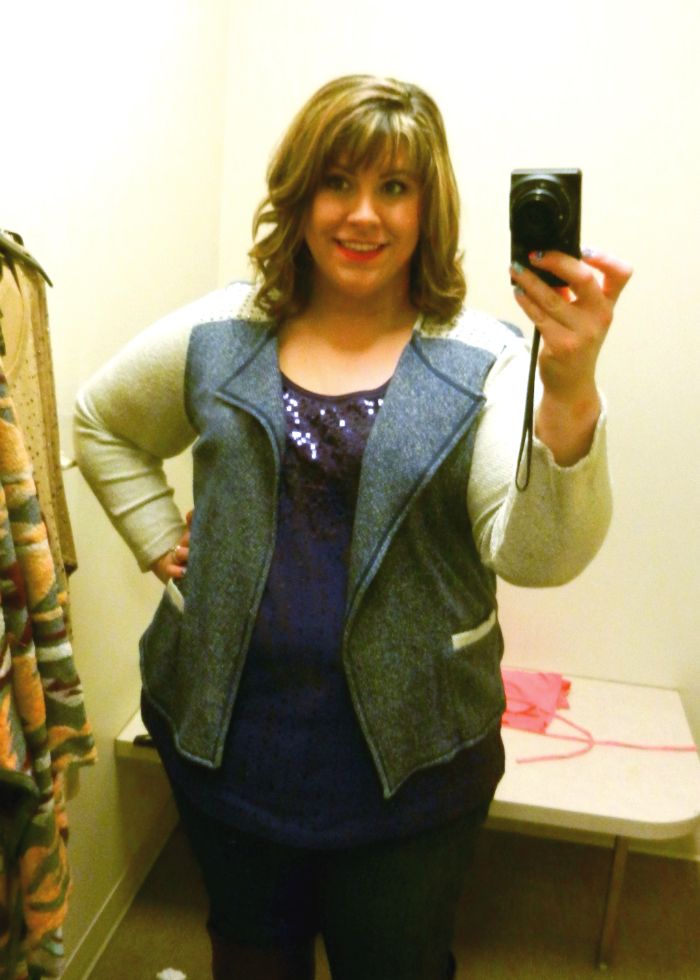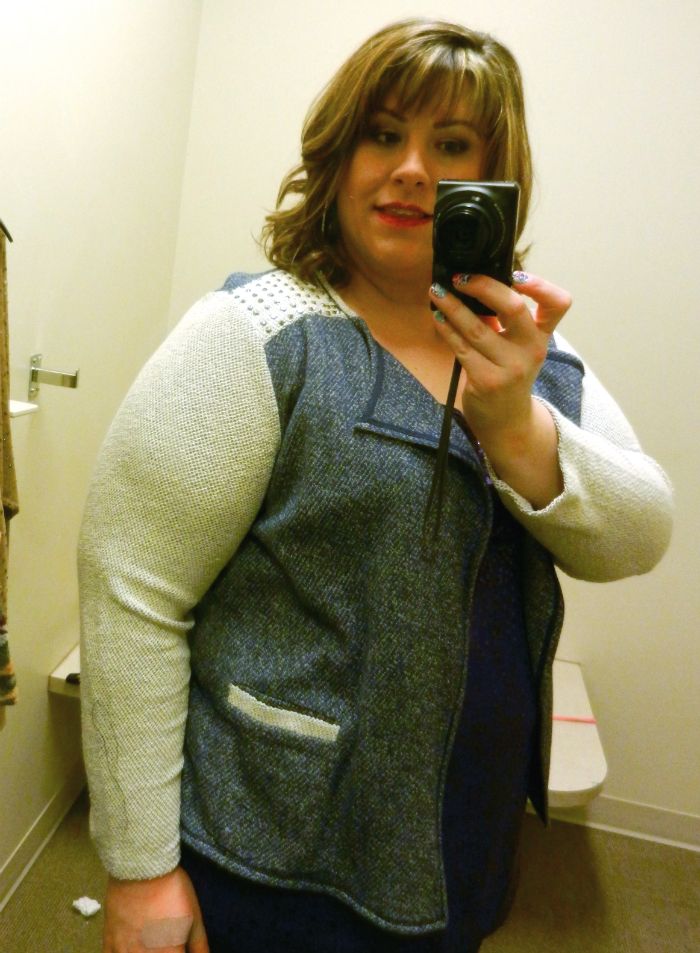 Style&co. Plus Size Studded French-Terry Jacket
I liked this jacket for the denim look with lighter-colored sleeves and the studded shoulders. The stretchy cotton fabric lends to a more comfortable version of a blazer, which is way more practical to my life and use for it. However, on closer inspection, I found the French terry material to look too cheap in person and I didn't like how it looked hugging my upper arms the way it did. I like the idea, but not this particular item.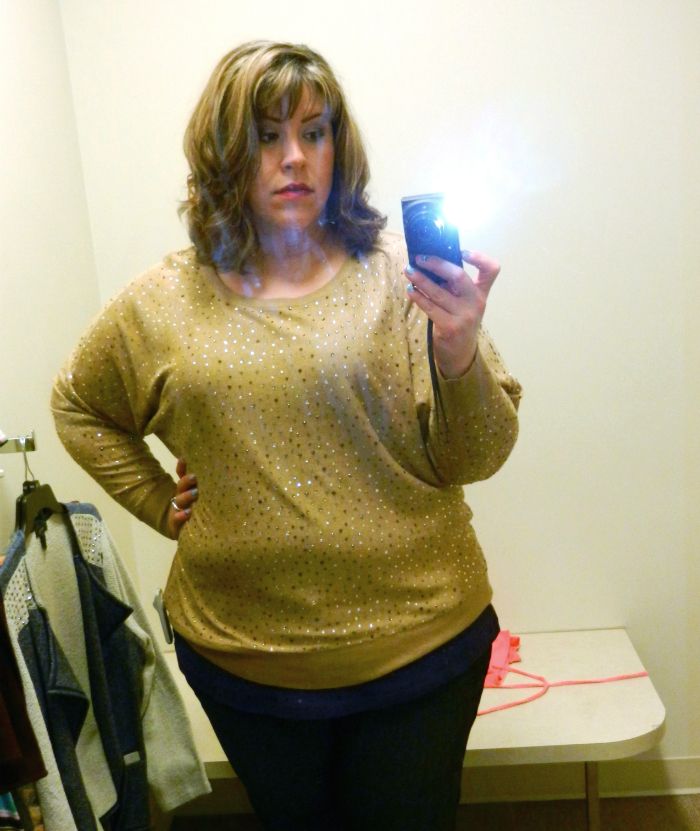 INC International Concepts Plus Size Allover Rhinestone Dolman Sweater
On first arriving to Macy's that night, I spied a sweater with an attached button-down that had rhinestones all over it. I don't care how gaudy you think it is, if there are sequins/rhinestones/crystals involved I probably want to try it on. lol Later that night, I found this dolman-sleeve sweater covered in blue, clear, silver, and bronze colored rhinestones. It was really fun and so me, but I wasn't excited about the fit. If my stomach was completely flat though....I just might have purchased it.
Alfani Plus Size Button-Front Jacket
This blazer was featured in the
runway show
and I really loved the way it looked on the model. I wasn't sure if it would fit by looking at it on the hanger, but I grabbed it anyway. They only had one left in my size! Turns out, I loved it! The burgundy color, thicker (but comfortable) material, and three-quarter sleeves make it a great addition to my fall wardrobe. I have already tried it on with a few of my outfits at home and cannot wait to share those looks with you! The blazer-style is great for pulling an outfit together, while the bottom section has a slight peplum feel. This jacket also comes in grey, black, teal, and zebra.
Style&co. Plus Size Sleeveless Cable-Knit Vest
The cable-knit vest was so cute! I really wanted it to work because it would be such a fun layering piece. I love the fuller bottom portion and liked the way it looked, but buttoning it up made it a little tight on my tummy.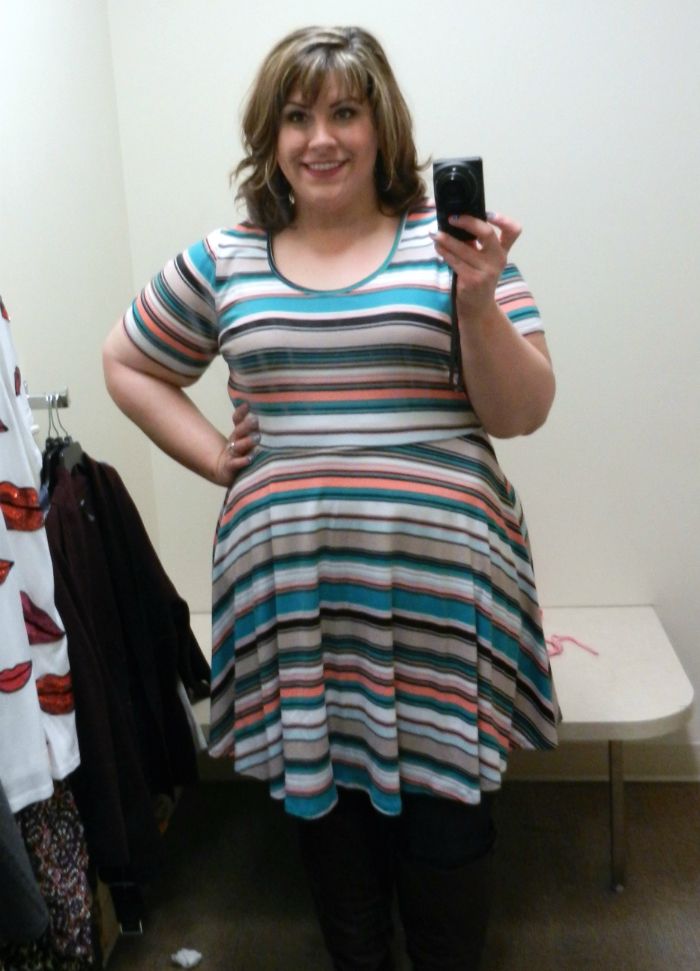 American Rag Striped Dress with Sleeves
This was a find from the clearance rack. I was really drawn to the colors and prints of all the American Rag items. I looked in that area of the department for a while. The Southwestern colors of this dress were fantastic and it fit surprisingly well (it looked really small on the hanger. Again, try things on!!!). In the end, I wasn't a fan of the curved stripes on the bottom portion of the dress. I have seen items like this online and have thought they look great on others, but the curved lines on me made my stomach appear more round and full. From the front - totally cute; from the side - pregnant. No good.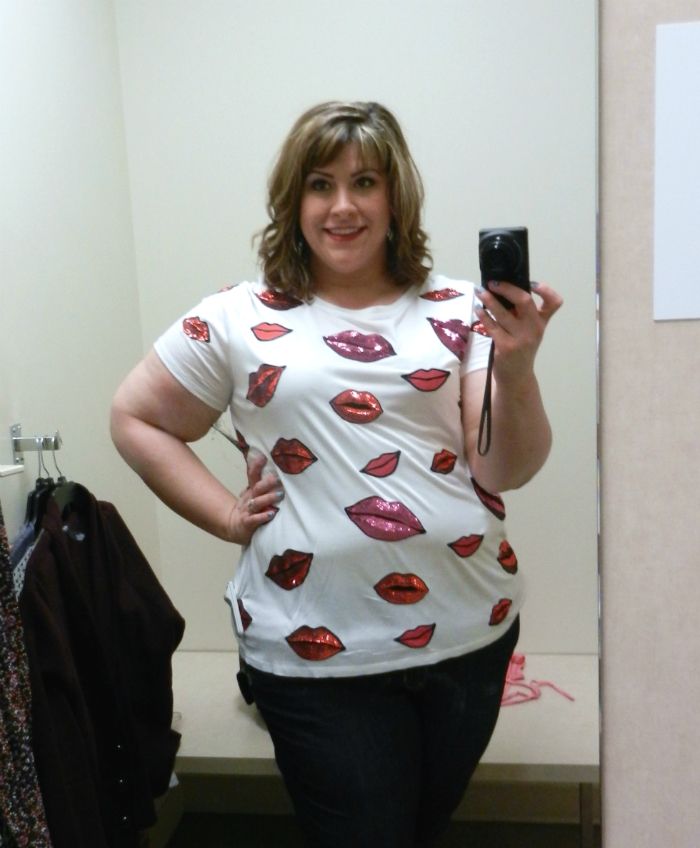 INC International Concepts Plus Size Short-Sleeve Sequined-Lips Top
Sequins. Lips. Pink! Obviously, I was going to try it on. lol I am not a fan of white shirts for myself, but they do carry a similar top in black online. The fit wasn't ideal unless
maybe
I was wearing a Spanx tank underneath and the sleeves were too short. However, I freaking love the sequin lip print. It was too cute!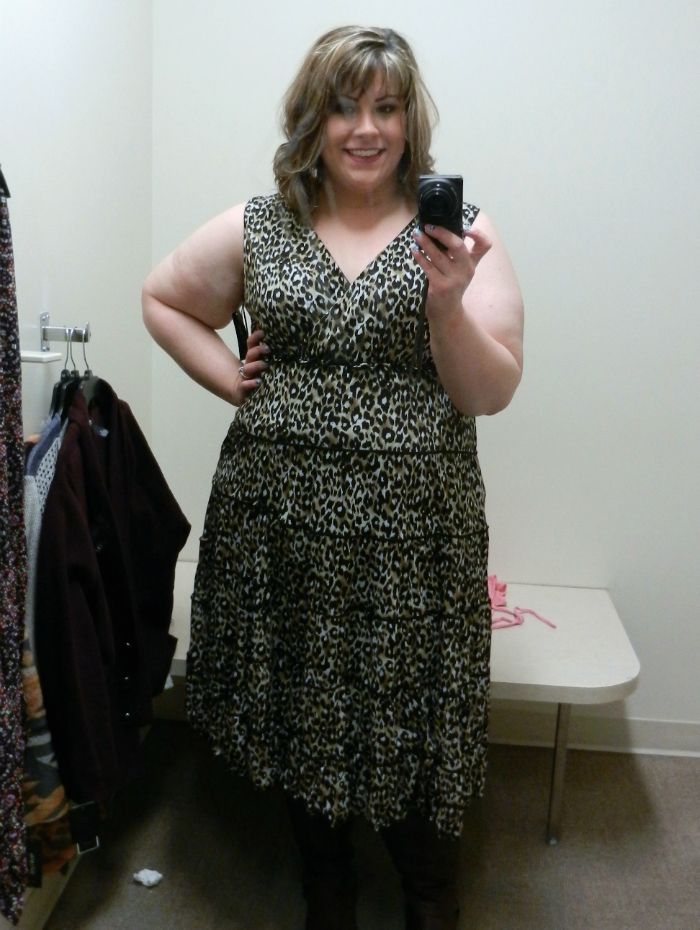 Style&co. Plus Size Printed Tiered Sleeveless Dress
Another clearance find. I'm a fan of the tiered dress and leopard print. It was made of a comfortable, stretchy material, but I felt like the wide tier under the bust was awkward and one tier too many. It was a little clingier in that section than I would have liked. I think if I was better at tweaking clothing, I would have bought it and moved the tiers up one.
Style&co. Plus Size Roll-Tab-Sleeve Button-Front Shirt
This rayon shirt was soft and silky and cut really well. I loved the gorgeous teal color and tab sleeves and felt that it fit me better than any button-down shirt I have tried on in quite some time. However, the price tag was a bit high for me at the time and I wasn't thrilled with the way it would cling to my tummy roll when I moved a certain way. Overall, it is a great shirt!
American Rag Plus Size Printed Soft Pants
While I thought the models looked great in their soft pants ensembles, I already knew the trend wasn't really "me". For the sake of the blog, I wanted to try them on anyway. I imagined that, based on the style of pant, they wouldn't even fit me through the hips and thighs. The 3X looked smaller on the hanger. Boy, was I surprised when they fit well! I had a nice amount of room in the thighs and seat for them to look good and feel very comfortable. They are made of a lovely rayon which feels like a soft, silky pajama pant. The pattern and colors were great too. It just isn't my aesthetic. If these intrigue you, please try them on! I think you will be pleasantly surprised!
So there you have it! I had a lot of fun at the Macy's event, with trying on new-to-me brands definitely being a highlight. I'm looking forward to going back when I have more time to try on more items and push my boundaries further!
Do you have a favorite piece from this post? Do you have a favorite Macy's brand? Do tell!!