I'm back after a VERY busy weekend. I was able to spend a lot of great time with my family as we came together to say goodbye to their grandpa. We celebrated his life on Sunday.
In between family gatherings, I didn't get any other blog stuff done or any house stuff for that matter, so I have been pushing myself today to try to catch up. Productivity was had this morning and then I kind of dropped the ball. However, in working on chores this morning, I started rewatching Roswell from the beginning and just love it all over again.
I hope all of you had a great weekend. Let's get going with the questions!
It is time again for Friend Makin' Monday. If you have a blog, I would like to invite you to answer the questions as well. Leave me a comment here, so I know you are playing. Then you can also leave a comment over at All The Weigh, so other folks can check out your answers as well. It is a fun way to connect to other bloggers.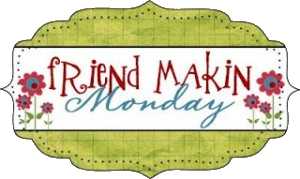 What If?
1. If you had something in your teeth would you want someone to tell you, or would you prefer to figure it out on your own?
Oh my gosh, please tell me. If you are my friend, you will tell me.
2. If you had to listen to one song on repeat all day today, which song would you choose?
Hmmmm, right now I think I would choose "Let's Go Out With A Bang" by NKOTB.
3. If you could trade places with someone famous, with whom would you trade?
Maybe a boy band member so I can find out what all that adoration feels like. Maybe I'd be Donnie Wahlberg or Nick Carter. lol
4. If you could speak another language fluently, which one would you speak?
Spanish would probably be the most helpful.

5. If you could read one person's mind right now whose would you choose?
I think that is more trouble and drama than I care to take on. Maybe my mom or brother so I could try to understand why they are so delusional.
6. If you were forced to go back in time, which period of your life would you choose?
Gosh, this is pretty difficult. From 11 to 25, I was miserable and depressed, so reliving any of that seems terrible. Maybe I would go back to before I was 8 because things felt happier and we did fun stuff. Or, I would choose my mid-teens and maybe I could deal with things better and stand up for myself. Or maybe I would go back to when I was 20 and lived in Boston and take better advantage of that time.

7. If you had to be trapped in a TV show for a month, which show would you choose?
The Office, if I could get with Jim Halpert. Roswell for some hot alien action. Parks and Rec because everyone is so funny.
Blue Bloods so Donnie can handcuff me
. Er, I mean, I am having trouble thinking of stuff.

8. If you had to give up twitter or Facebook, which would you choose?
Well, Twitter provides more useful information. Facebook lets me say more and show more pictures blog-wise, but also allows me to keep in touch with family and friends. I wouldn't want to give up either, but it is easier to keep up with Facebook.
9. If you could have a present today, what would you want?
I'd want a hired landscaper to come work on the yard. It needs weeding and tidying up.

10. If you had to choose between celebrating Halloween or Christmas, which would you choose?
I love Halloween, but most of my friends are busy with kid stuff now so there aren't any parties or the like. With Christmas, at least most people are having gatherings and there are a ton of fun things to do. Plus, I get to see family and friends and celebrate my husband's birthday.
Now it is your turn! Have an awesome week!!