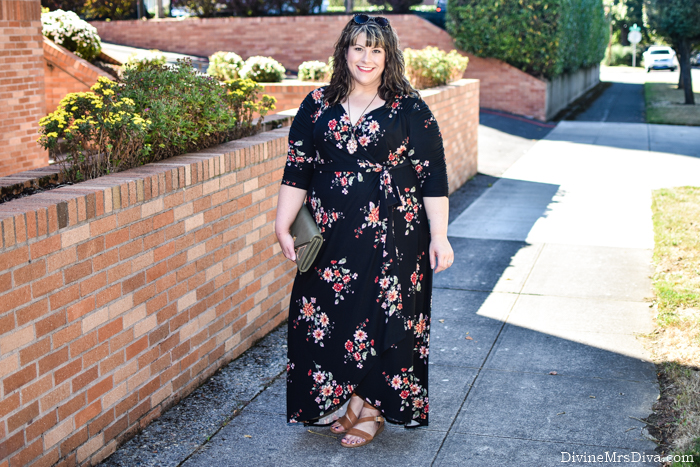 As I have mentioned before, Kiyonna is such a great destination for gorgeous dresses (and tops and skirts) that flatter your curves. You can check my
many previous Kiyonna review posts
to see what I mean. From special occasions to work to vacation, and casual in-between times, they have you covered with dresses and separates in solid hues and beautiful prints.
I've been a member of Kiyonna's Blogger Brigade since 2012, which affords me the opportunity to try different styles from them on a regular basis. After six years, I am still working with them because I adore their styles and the quality of their products. Their fit is consistent, their customer service is excellent, and they do have some rather wonderful deals throughout the year. And I am not just saying that because they gift me items. I have made purchases of my own on multiple items throughout the years. Sometimes I want that same top or dress in all the colors, or just know how awesome something is going to be because I love Kiyonna! I've even purchased pieces as gifts for friends.
All this to say, today I am bringing you another review from their latest dress offerings, the
Meadow Dream Maxi Dress
. As per usual when I wear Kiyonna, this dress garnered no less than five compliments in a couple hours time when I wore it to film my latest Afternoon Live segment.
P.S. - You can see this dress in action during my segment in
this post
. The video is now live!


- Kiyonna gifted me the dress in this post. All opinions presented are my own and without influence. This post contains affiliate links and I will be compensated if you make a purchase after clicking on my links. -
Before we get started, I am 5'9", typically wear a 22/24, wear a 40B bra, a size 11 wide shoe, and my measurements are 52/49/58.
I am wearing the Meadow Dream Maxi in a 3X. While I find it fits pretty darn true to size, it also would qualify as being more generously cut. Before they sent it out to me, they did suggest that I could totally size down if I wanted to. I generally worry about my larger upper arms and tummy rolls, so I stuck with my usual size. I do think I would have been fine sizing down, but I also am totally fine in my usual size. It is a little more roomy, but does not look sloppy or too big or ill-fitting. The sleeves are fitted, but not tight. Since I have a smaller bust I usually have room up top, but a wrap dress does offer a little more flexibility and personalizing of fit. And because of the beautifully flowing skirted portion of the dress, my tummy and hips and booty and thighs are all free to be.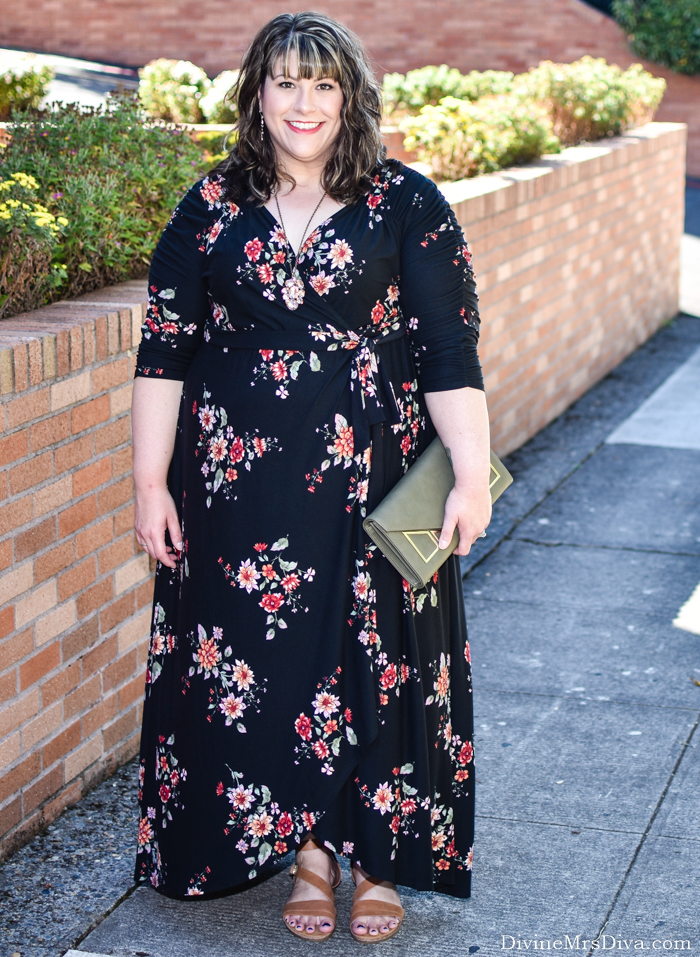 Now, let's talk about the fabric! I was so focused on the pretty silhouette and pattern that I didn't even pay attention to what kind of fabric it was made out of before I received it. The tag says polyester/spandex, but it feels like a really soft jersey knit to me. It is SO SOFT. The fabric has a nice stretch to it and, while it is lightweight, also has a great weight to it so it flows nicely over the body. The black background is scattered with a pretty floral print (
they look like dahlias to me
) of persimmon, scarlet, lavender, and olive. These colors allow for a variety of accessorizing, which you know I love to do!
It is a true wrap style, which means there are two ties that go around you and tie at the side. The ties are easy to work with and stay in place. The only nitpicky thing I can say about this dress is that, since the underside of the fabric is white, when the tie is stretched around you it appears a lighter color than the rest of the dress. It wasn't anything anyone else noticed but me; and I only noticed because I have to scrutinize everything for the blog and writing a review. It certainly isn't a deal-breaker for me because this dress is wonderful! I also prefer this slight high-low hem to the more diagonal ones out there. Oh, and the ruching! I don't know why ruching makes me so happy, but I love it. There are ruching details on the shoulder above the bust, and down the outer part of the sleeves. It just adds something extra to the dress with texture and more visual interest.
Obviously, I adore this dress. It comes in four different prints, though the previous ones are selling out fast. The
Floral Bouquet print
in this post is still available in sizes 0X(10/12) to 5X(30/32).
I kept my accessories really simple for this look. The beauty of a great maxi and wrap dress is the ease of wear and its throw-on-and-go capabilities. You get a gorgeous, pulled-together result without all the extra effort. Neutral accessories in tan and olive mimic the colors in the dress. I added shine with a peach rhinestone necklace and rose gold earrings. My lipstick is
Dream Easy
from Colourpop's Lux Lipstick line.
My shoes are Comfortiva's
Corvina Sandal
, which is on sale right now. I bought them from the Comfortiva website during a recent sale. I was surprised they still had an 11W left. The sandal is pretty comfortable, with strappy details. I find the ankle to be roomy enough and fit well. However, the over-the-foot strap is a bit big. I need to poke another hole in the buckle so I can tighten this strap. My heel moved around in the shoe a lot because the strap wasn't able to be tightened more.
Meadow Dream Maxi Dress
- c/o Kiyonna
Olive and Gold Clutch - Charming Charlie (
similar
,
similar
)
Corvina Sandal
- Comfortiva
Peach Rhinestone Necklace - Vintage find
Do you have a favorite Kiyonna piece in your wardrobe? What fall fashion elements are you looking forward to in the coming months?