I often encourage you all to step out of your comfort zones from time to time and challenge yourselves to try something new, or something you are wary of. Usually that pertains to fashion, although I think it is important to try new things in many aspects of our lives. I practice what I preach, pushing myself to tackle things that I find a bit intimidating. This practice teaches me more about my style likes and dislikes, but I often learn more about myself in the process. I've never stepped out of my comfort zone and come away with nothing. Life is an adventure. Learning about yourself and trying something new is part of the fun!
Today's post is a review of Kiyonna's
Stop and Stare Ruched Dress
. It has been a while since I wore a more bodycon style, so I wanted to push myself to test it out again. The latest Stop and Stare offering is a gorgeous pink and purple floral pattern called Midnight Bouquet. It made me feel classy, sassy, feminine, and frisky! Read on for my review.


- Kiyonna gifted me the dress in this post. All opinions presented are my own and without influence. This post contains affiliate links and I will be compensated if you make a purchase after clicking on my links. -
Before we get started, I am 5'9", typically wear a 22/24, wear a 40B bra, and my measurements are 52/49/58.
Back in 2014
I tried the leopard print version
of this dress through
Gwynnie Bee
. It was the first time I had ever worn a bodycon dress, so I was really surprised with how much I liked it. The dress made me feel really sexy and was so unlike other dresses in my closet, so I bought it from Gwynnie Bee in a size 4X. While the 4X fit great in the body, the bust was a little big for my small boobs. Fast forward three years to present day. My body is a little different than it was back then (
I weigh about the same, but have a bit more muscle tone now
), so I decided to test out this style once more. The pink and purple floral pattern was screaming my name!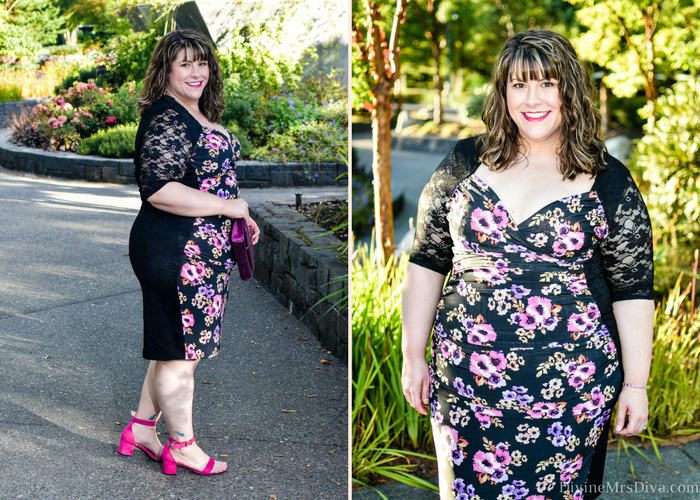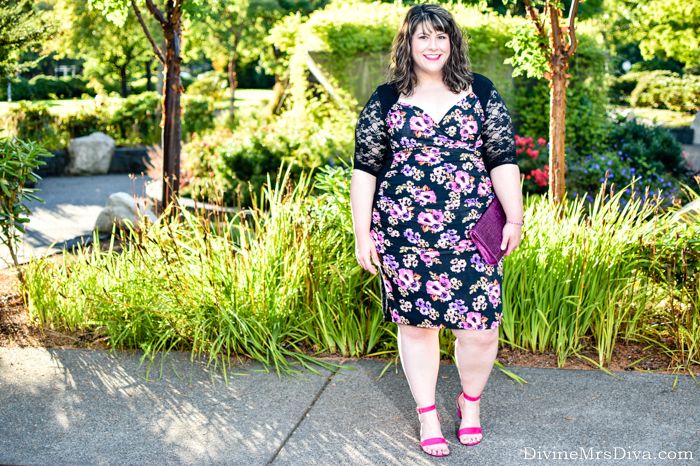 This time around I sized down to a 3X in the
Stop and Stare
. Out of the package, the dress seemed a little small and made me think I was going to have some trouble getting into it. However, this did not come to pass. I was able to slip it over my head and shimmy it down with no problems. The 3X is certainly more form fitting than the 4X, but I think it works well for this style. The bust, in particular, fits me amazingly well in the smaller size. If you have more weight in your midsection
and
boobs, I think you could get away with sizing up and still have a great fit.
The front of the dress is made from a stretchy spandex that is ruched from under the bust to about the tops of my thighs. The lining and lace are also stretchy and extremely comfortable to wear. While the sleeves are only lace, the back of the dress is black with a lace overlay. Even with the stretch and form-fitting nature of the dress, there wasn't any part that was see-through or looked sketchy. It is incredibly well-made. In comparison to the larger size, the more fitted 3X does tend to gather a little around my waist in the back. This just means I have to occasionally pull the dress down to smooth it out. It was not something that bothered me or made me feel anxious. The neckline is very low cut, requiring me to wear my plunge bra, but it feels very secure. I never had to yank on it or adjust it during wear time. I actually forgot it was so low cut until I looked down to fix my shoe while taking photos. The hemline hits right above my knee. This length looks great, but it can be a little short when I sit down. I wish it was a smidge longer for my own personal preference, but this doesn't really take away from the dress at all.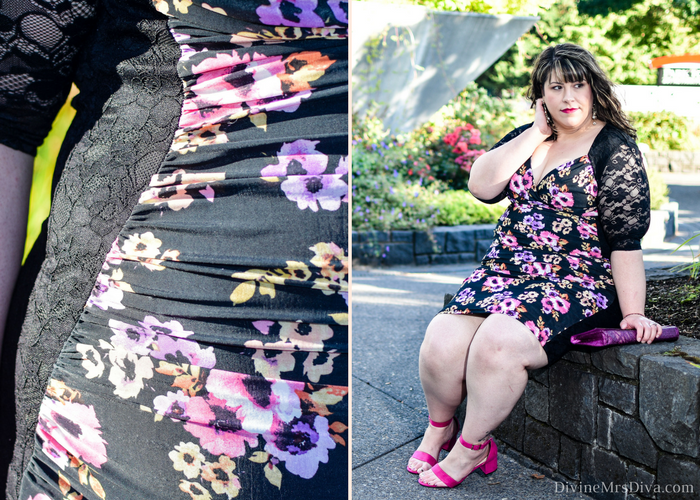 Because I prefer a smoother silhouette, I am wearing my
Spanx Slim Cognito shaper
. It goes from under the bust (and hooks to my bra) all the way down to mid-thigh. This thing is tight, but it smooths me out the way I like. I'm in the market for a new one to try, so if y'all have a favorite piece of shapewear, let me know!
Overall, this is a killer dress! I felt so sexy and womanly. It made me feel confident, beautiful, and hot to trot!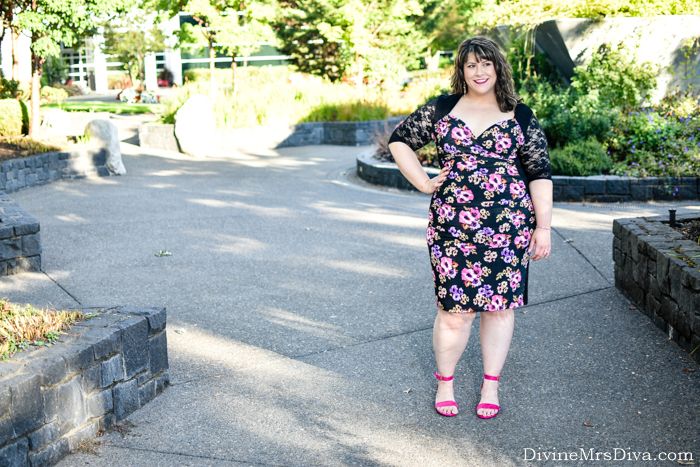 In styling the dress, I wanted to play up the pink of course. I kept the jewelry accessories simple and sparkly with rose gold chandelier earrings, a diamond and pink tennis bracelet, and my normal rings. The clearance Ashley Stewart block heels I bought over the spring/summer to test out the brand were the perfect color to pair with the dress. I don't normally wear an ankle strap shoe either (
my parents always told me how fat my ankles were
), but I think these fit great and look so sexy! The final touch was a dark fuchsia clutch. While the clutch isn't matchy matchy or the same tone as the shoe, I think it complements the colors in the dress very well.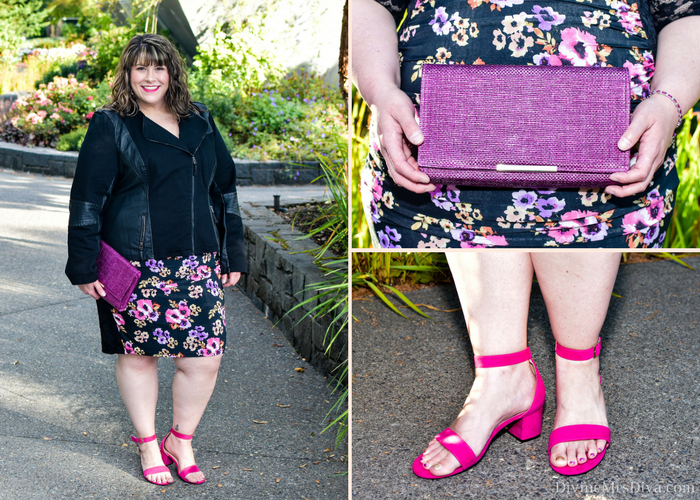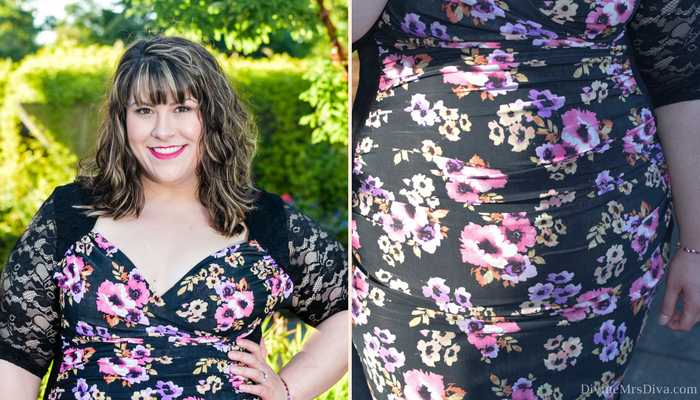 Stop and Stare Ruched Dress
in Midnight Bouquet - c/o Kiyonna
Faux Suede Block Heel Sandal
(available in Wine & Navy) - Ashley Stewart (
similar
,
similar
,
similar
)
Diamond Tennis Bracelet - Gift from my sister years ago (
similar
,
similar
,
similar
)
Rose Gold Chandelier Earrings - H&M circa 2015 (
similar
,
similar
,
similar
)
Spanx Slim Cognito High-Waisted Mid-Thigh Shaper
Mixed Media Jacket - City Chic (
similar
,
similar
)
Lipstick -
I Heart This Lippie Stix
from Colourpop
Is there a style of clothing you are nervous to try? What's holding you back? When was the last time you stepped out of your comfort zone, fashion-related or otherwise? Do you have a favorite piece from Kiyonna's new arrivals?