In today's post, I am giving you a HUGE swatchfest of the various collections and items I have bought from Colourpop this year. This post covers the Pressed Powder Shadows (minus the fall ones which are on their way to me), the Spring Monochrome collections, Summer, Concealers, Pressed Powder Highlighters, Blotted and Ultra Blotted Lips, collabs with Alexis Ren/Sonya Esman/ILuvSarahii, the 5 Million items, and a few other things thrown in!
You can check out my previous swatchfests for the brand
here
.
I've tried to keep this post as organized as possible by grouping specific collections together. Links to the products will be the header of the section or as captions underneath for individual items. My thoughts on the items are going to be under each header. Enjoy!
Although I love the Super Shock Shadows and their creamy consistency, I was happy to try the pressed powder shadows when they came out. Sometimes I am in a total powder shadow phase and do find them easier to blend and easier to mix with other products from other brands. I've been utilizing my Super Shock Shadows more lately and am still really happy with their staying power. While the Super Shock Shadows can be shinier and more sparkly, the powder shadows have more of a metallic sheen.
The pigmentation is wonderful and they feel very smooth. I haven't had issues with a chalky appearance or patchiness when applied. While I like the texture of Makeup Geek's Foiled Shadows better, I think Colourpop's Pressed Powder Shadows are pretty great. Below, I have swatched the Metallics first, followed by the Mattes and a separate palette.
I was super excited when they launched the concealers! I ended up studying as many swatch pictures as I could find to determine what shades I needed. I was totally right. I use 15 for some brightness and highlighting. It is definitely way lighter than my skin. 20 is pretty spot on for matching my skin, though it does go on a little lighter. These do oxidize just a bit, which I think is why 20 ends up working out for me. 30 is more of a subtle bronzer color, while 55 is great for contouring. I have used these as all over foundation as well as just concealer with my normal foundation (It Cosmetics CC Cream). If you watched my InstaStory on these, you already know my findings.
The coverage is really great and I like the finish. They aren't completely matte, but have a slight illuminating quality to them. I haven't had any creasing under my eyes nor had issues with the coverage fading throughout the day. They hold up well. Using these as foundation, I found they were a bit dry-looking on my skin, especially around my nose and forehead. I have very oily skin, so I found this to be a bit odd and unexpected. But as spot concealers and the like, they are really wonderful. They blend out amazingly well and feel really smooth and nice on the skin. And the flexible paddle applicator makes them really easy to apply. I've since stocked up on these so I won't run out soon.
The Ultra Blotted Lips are a long-wearing liquid lipstick that look more like a lip stain than a really opaque liquid lip. The formula has a really velvety smooth finish, but is still pretty drying. I moisturize my lips like crazy before any liquid lipstick, but things dry out and feel SUPER dry in a few hours. Still, I am willing to go through this to have a kiss-proof pout and not have to retouch my lipstick all day long. I should add that these do not feel as drying as the Ultra Matte Lip though. And these liquid lipstick tubes are easier to carry in my purse because I find the heat can make regular lipsticks break. The color Out of Beach was my go-to over the summer.
The Crystal Collection included crystal infused Priming and Setting Sprays, Liquid Highlighter, and Lip Balm. I purchased the Amethyst and Rose Quartz sets, as well as the Aquamarine Balm, and Aventurine Setting Spray. The Amethyst and Aventurine Sprays are best for oily skin. I like the sprays. They have fresh scents, like cucumber and grapefruit, but the actual sprayer is a bit direct. I wish it did more of a mist. While they perform well, I still think my Skindinavia sprays work best. I tend to layer these sprays when I really need things to hold throughout the day.
The Liquid Highlighters are gorgeously sparkly! They are so beautiful! I find the tint of the highlighter doesn't really matter too much because it is really subtle once they are blended out. I tend to mix a little bit of it with my foundation for an all-over glow.
I love the balms! I reach for them a lot for a little swipe of sparkle. They definitely add some color sheen to your lips and aren't as subtle in shade as the highlighter. And they look beautiful layered over other lipsticks. I have the purple (Amethyst), blue (Aquamarine), and pink (Rose Quartz) balms. The balms are really smooth and hydrating and last for a while. The Amethyst one has a cucumber/watermelon rind scent I am not super fond of, but the other two smell of citrus.
Do I need more highlighters? No. But I love to try new things. I bought three of the new Pressed Powder Highlighters in colors I thought were best suited to my light/medium skin. Some of them seemed too dark/bronze/gold for my particular skin tone. These are really smooth and build-able, but I do wish they had a smoother, softer texture. I think they are closest in comparison to The Balm's Mary LouManizer, which is a great highlight. I just think these need to be blended a little more because they are a little more dry in texture.
Blotted Lips, Lippie Stix, Ultra Matte Lips, and More
The Blotted Lips are the lipstick version of the Ultra Blotted Lips. I love lip stains and the look of them, so I decided to try these. While they aren't as long-wearing as a stain or the liquid lip products, once they dry down they do stay on for quite a while. The Alexis Ren collection (yeah, I don't know who she is either. No shade.) contained three Blotted Lips, so I tried those first. Exotic is a warm coral color that I wore all summer! I do find that these tend to break off at the base of the lipstick, especially in a warm purse. That is kind of a bummer. It hasn't ruined them, I just have to be careful when I open them mostly.
In this section, we also have some Ultra Mattes and Ultra Satins from various collections. The Ultra Mattes are super long-wearing liquid lipsticks (but very drying), while the Satins are more comfortable on the lips but aren't kiss-proof. The Lippie Stix dry down and wear for a while, but still transfer and need to be reapplied after eating/throughout the day.
Faded, Sure Thing, Thistle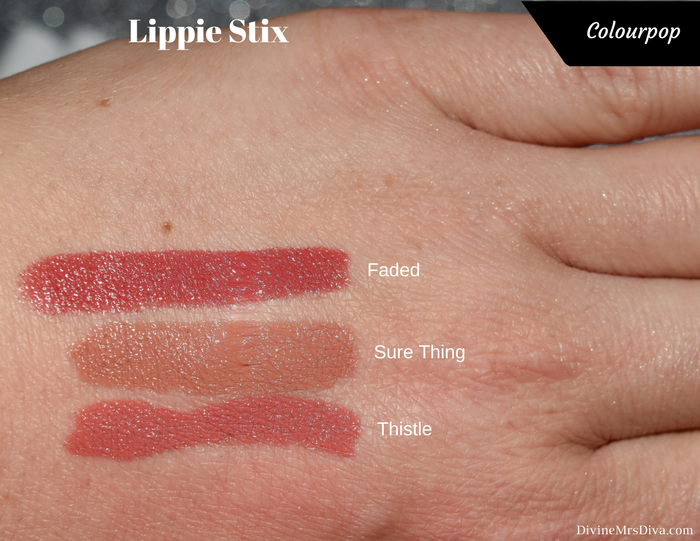 Faded, Sure Thing, Thistle
Everything Else
This category includes blushes, Super Shock Shadows, Blush and Highlight Palettes, Limited Edition 5 Million Collection, Brow Boss Pencil, and Brow Gel.
The Double Play palette was one of the first pressed powder products from the brand. I bought it because the colors were more suited to my skin tone compared with a couple of the other palettes like it that were introduced in the spring. I like the highlighter in it and the tone of the blush is nice, but I prefer more pigment. The Sonya Esman palette was the first (and only?) Super Shock Cheek palette, meaning it has the creamier consistency items in palette form. They have not dried out on me. I love the blush in this palette because it has a golden sheen to it and looks so lovely.
The Drop of A Hat Super Shock Cheek blush has been my favorite of all time from the brand. I used to wear Quarters mostly, but Drop of A Hat has a pretty sheen to it and just looks so beautiful on. I also included a blush comparison with my similar faves.
The 5 Million collection were free items with purchase during the celebration of Colourpop making it to 5 million followers on Instagram. I also have a comparison of that lip with other ones I thought were most similar from my personal collection.
And I want to give a shout out to the new Brow Boss items. I have been using the
Precision Brow Pencil
since they first came out and love the fine tip. The
Brow Boss Pencil
has a finer tip and is actually a little less pigmented for drawing in hairs and making things look a little more natural. I used it for the first time this week and LOVE it. So now my brow routine consists of both pencils (the precision for shaping, the boss for filling in) and my Anastasia Beverly Hills powder, followed by my ABH brow gel. I used the
Colourpop Brow Gel
for the first time this week and like it. I just want to use it some more before I decide which one I like better.