I LOVE grits! I really do. I was born and raised in the South, so grits have always been a staple of my household. I've lived in the Northwest for the majority of 12 years now, but I always try to keep some grits on hand (even if that means having relatives ship me giant bags of it.)
Typically, I make it for breakfast now and again and season it with butter and pepper and sometimes cheese and bacon. But I am always looking for new ways to prepare this beloved food. I'm lucky that my non-Southern husband is open to trying new cuisine and therefore loves all the Southern things I have cooked and/or made him try.
When I saw this recipe on the Food Network feed on Facebook, I knew I
had
to make it; and I may as well make it for dinner!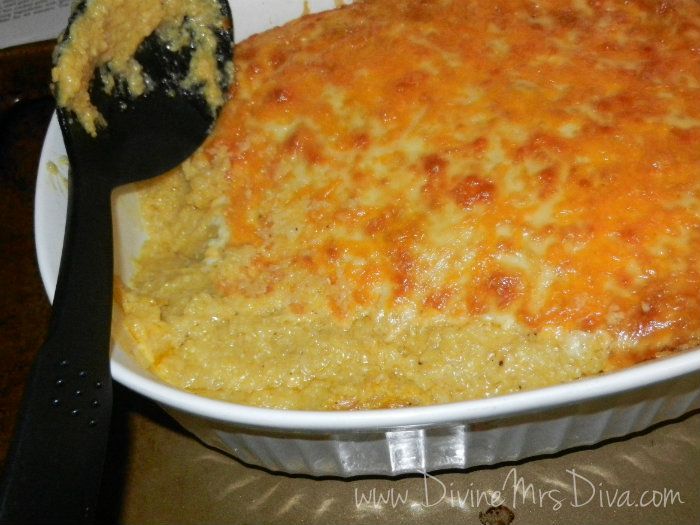 Baked Garlic Cheese Grits
Ingredients
6 cups chicken broth
1 teaspoon salt
1/4 teaspoon pepper
2 cups regular grits
3 (6-ounce) rolls cheese with garlic, or any garlic-cheddar spread, diced (recommended: Kraft)
1/2 cup milk
4 eggs, beaten
1/2 cup butter
1 cup grated sharp Cheddar
(Instead of the cheese-garlic spread that I didn't have in the house, I used 5 finely diced cloves of garlic and a fourth of a big brick of Velveeta and half a container of chive and onion cream cheese. I also sauteed a half a red onion prior to boiling the broth and added the onion in when I added the milk and cheese.)
Directions
Preheat the oven to 350 degrees F. Grease a 4-quart casserole dish.
Bring the broth, salt, and pepper, to a boil in a 2-quart saucepan. Stir in the grits and whisk until completely combined. Reduce the heat to low and simmer until the grits are thick, about 8 minutes. Add the garlic-cheese and milk and stir. Gradually stir in the eggs and butter, stirring until all are combined. Pour the mixture into the prepared casserole dish. Sprinkle with the Cheddar and bake for 45 minutes, or until set.
We dug in before it set because we were hungry and it smelled REALLY good. It was still thick enough to not be a mess and set very fast. It is also very creamy, which I like, and not too dry.
Mr. Diva gives it an A+. I will definitely be making it again in the future.